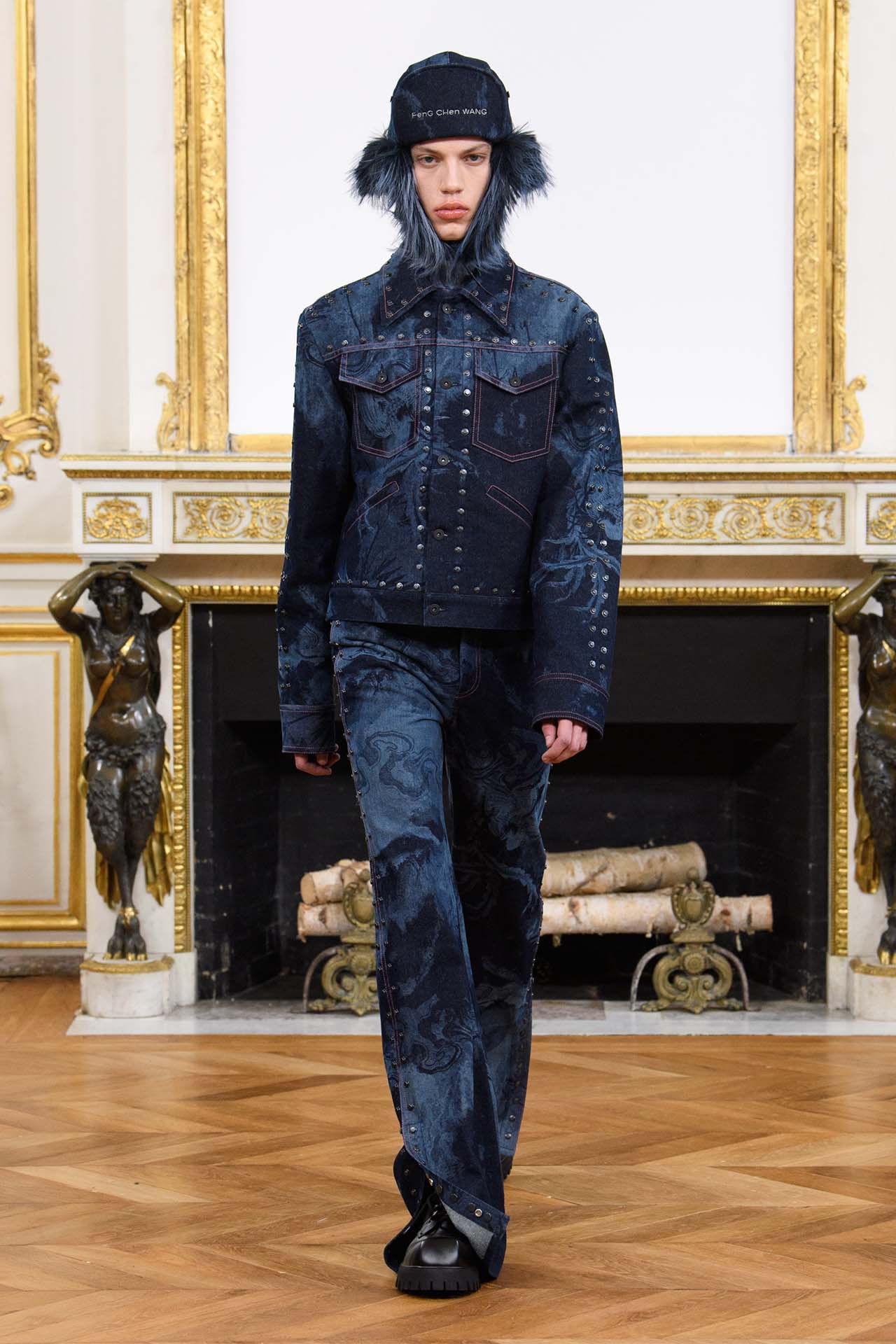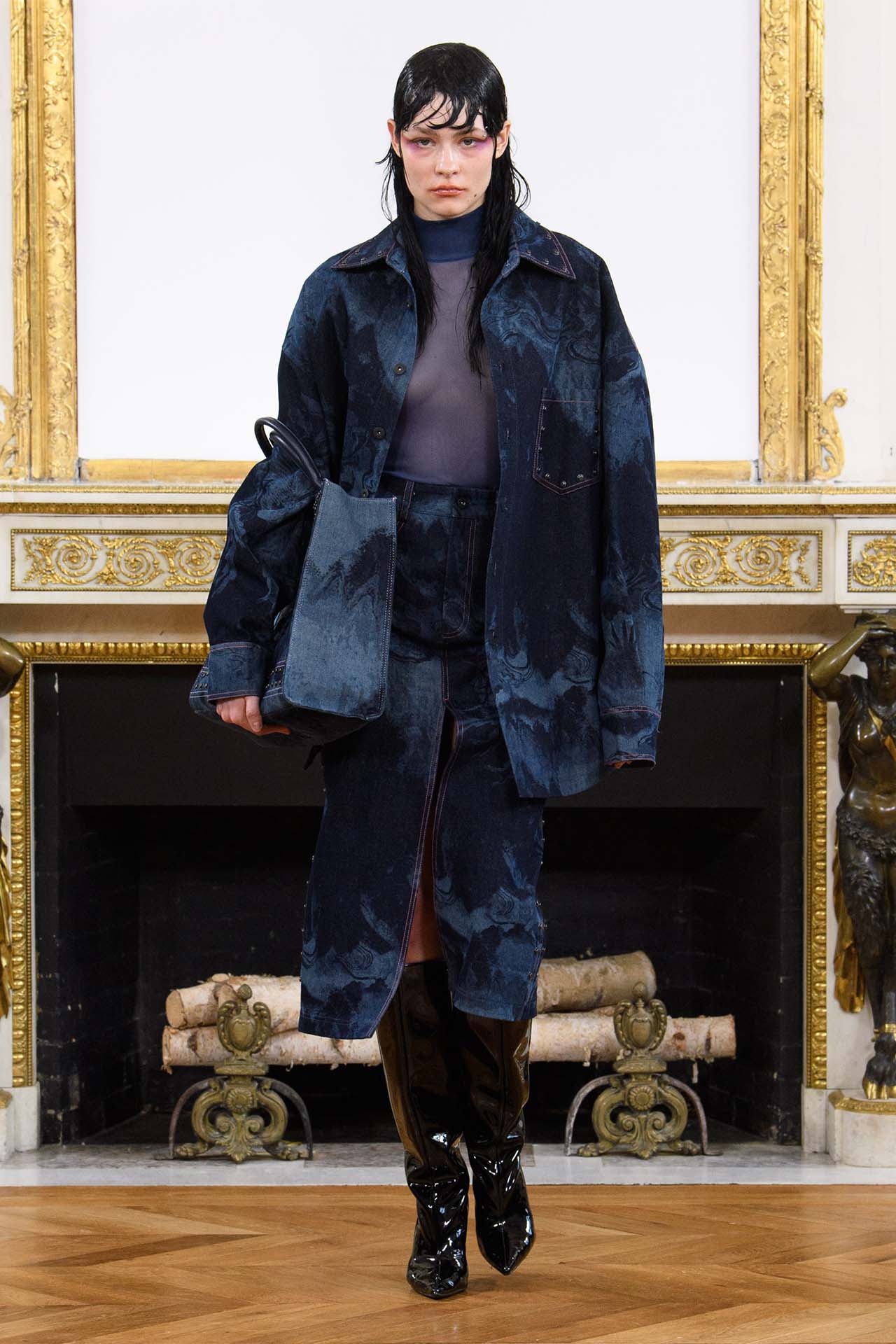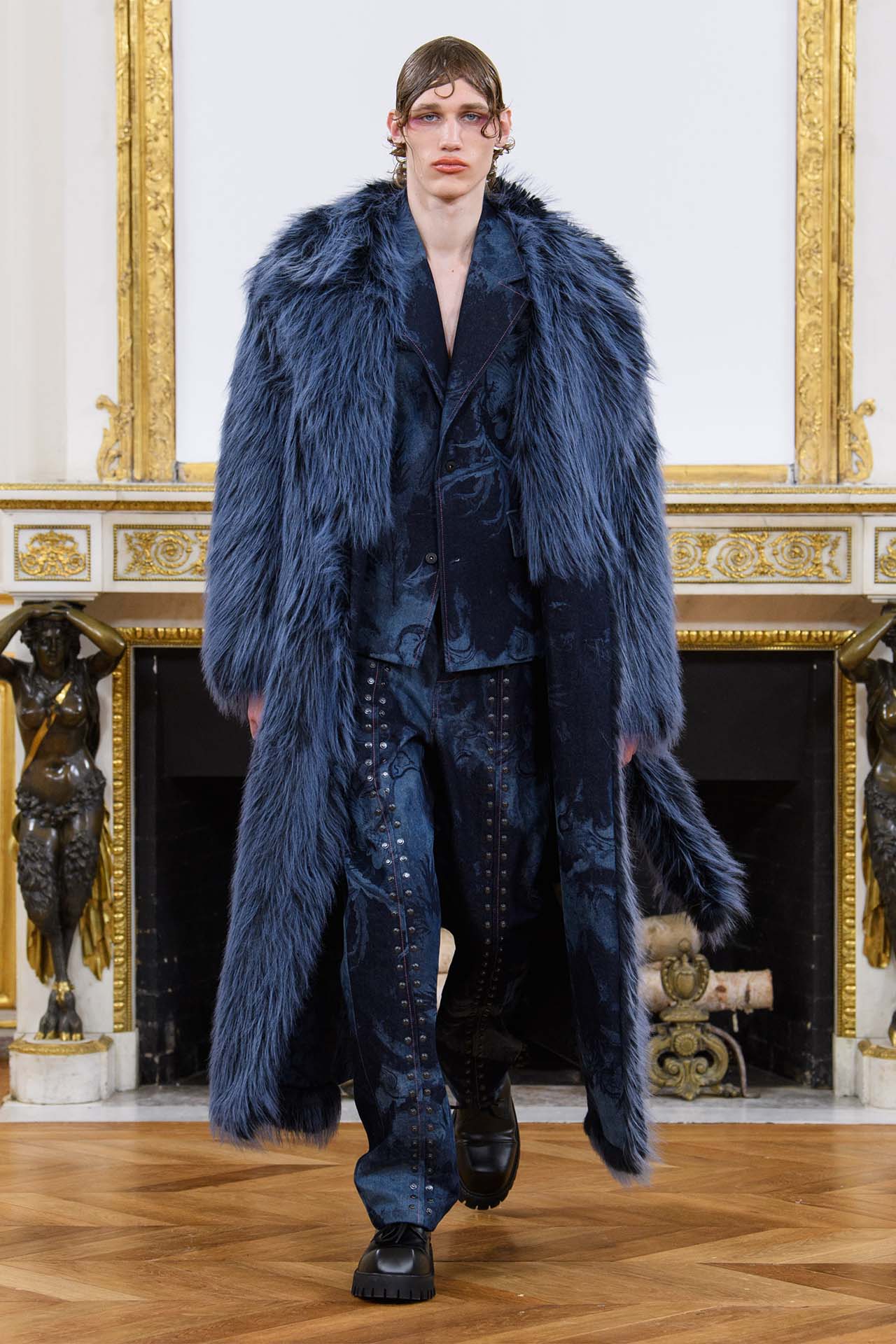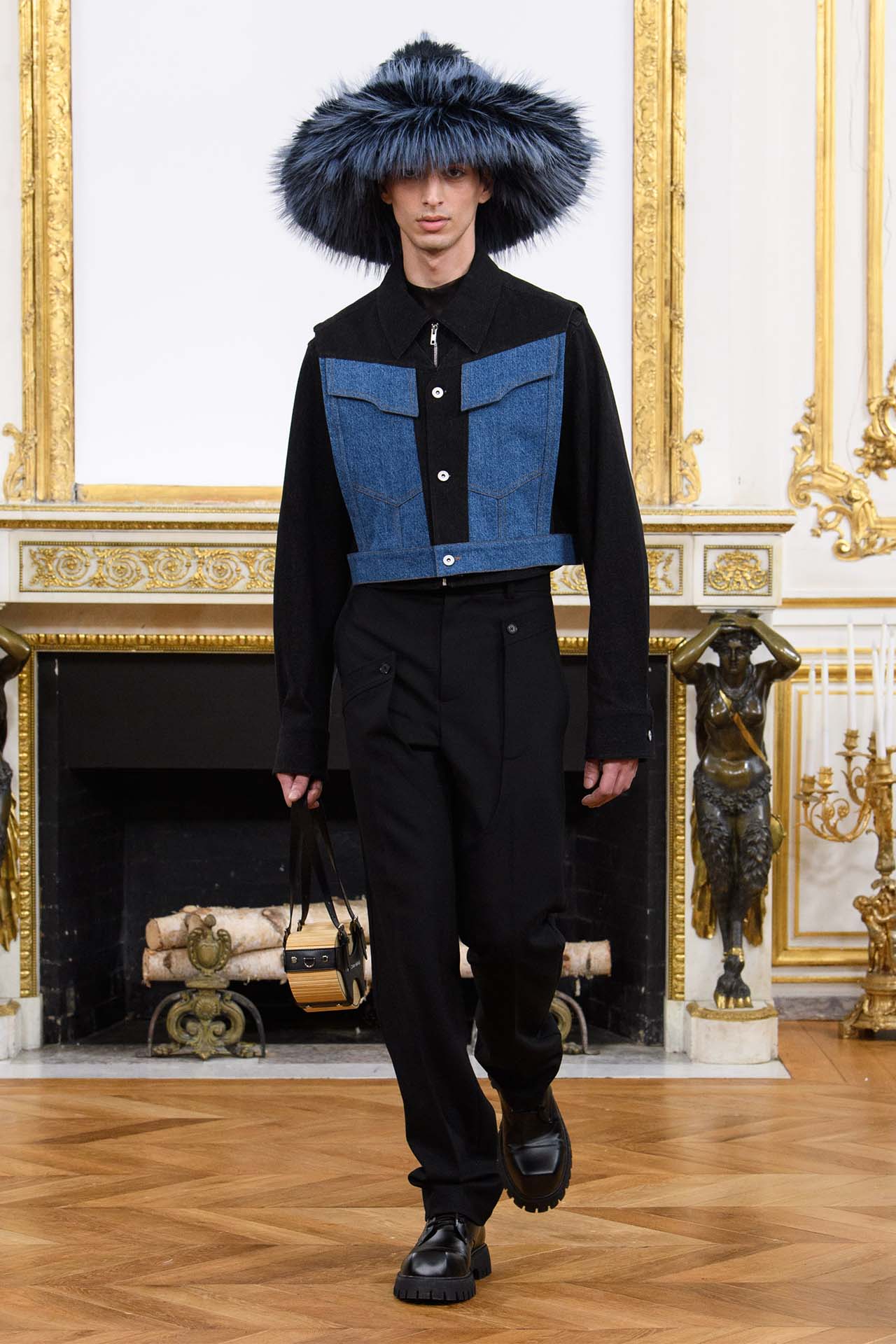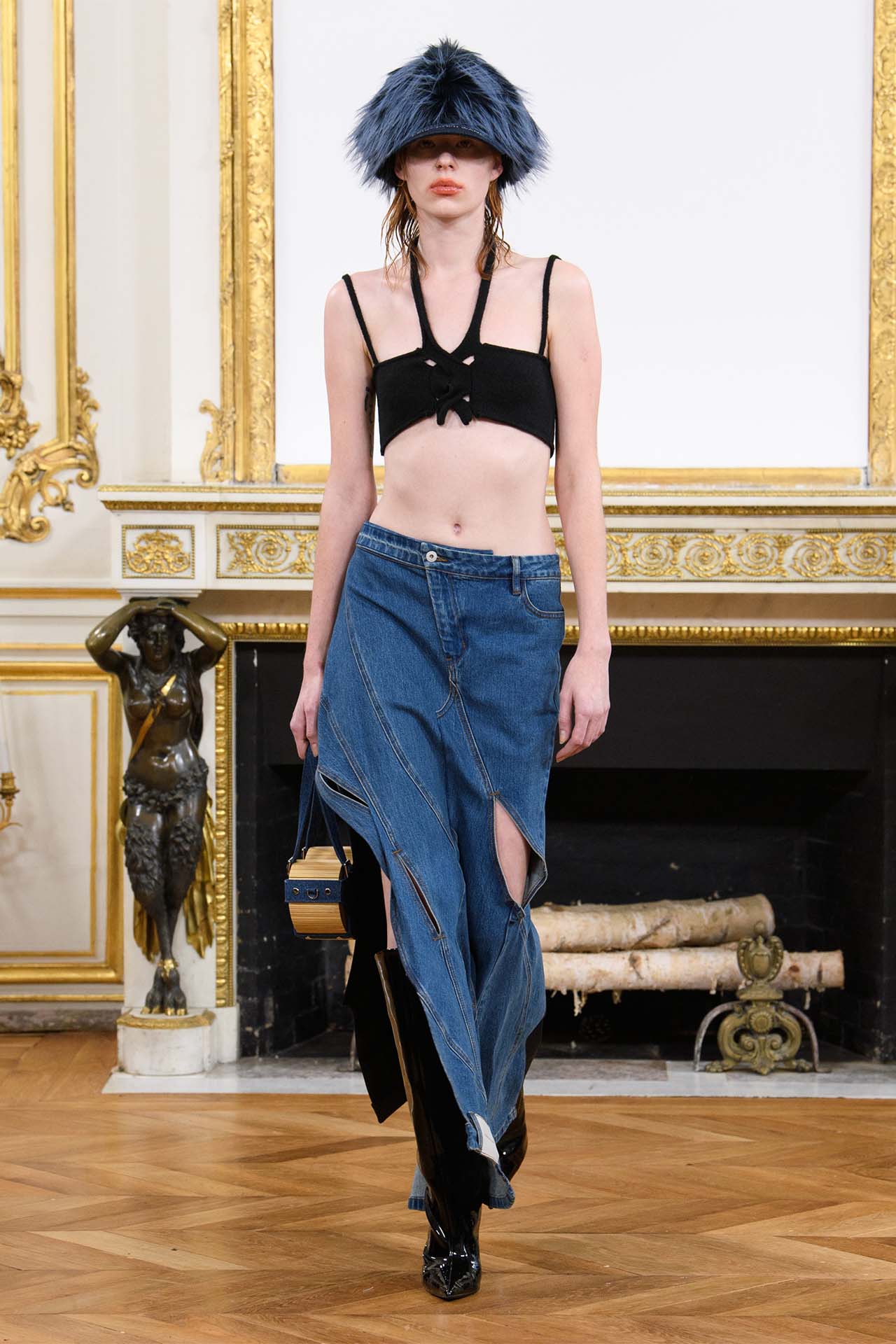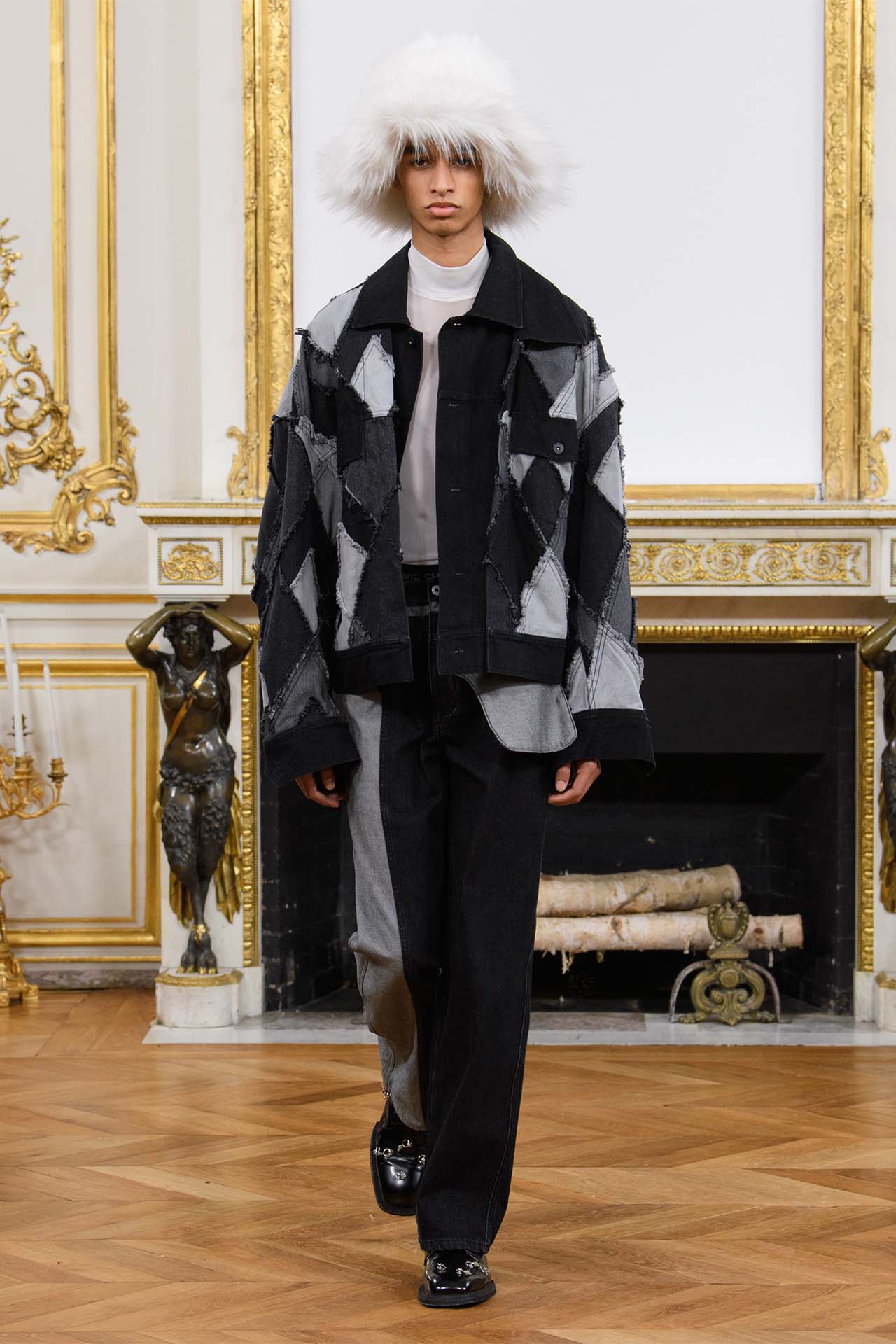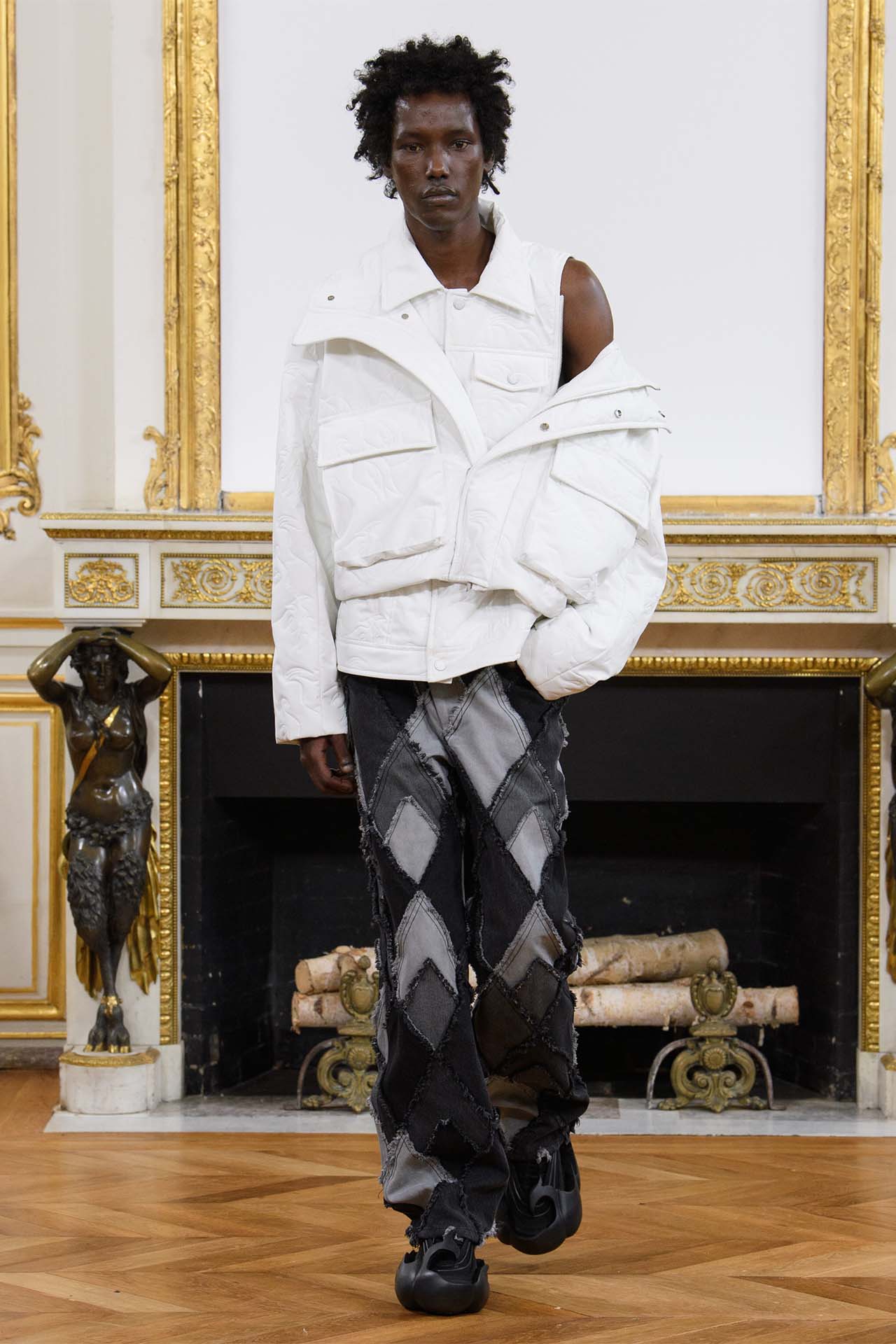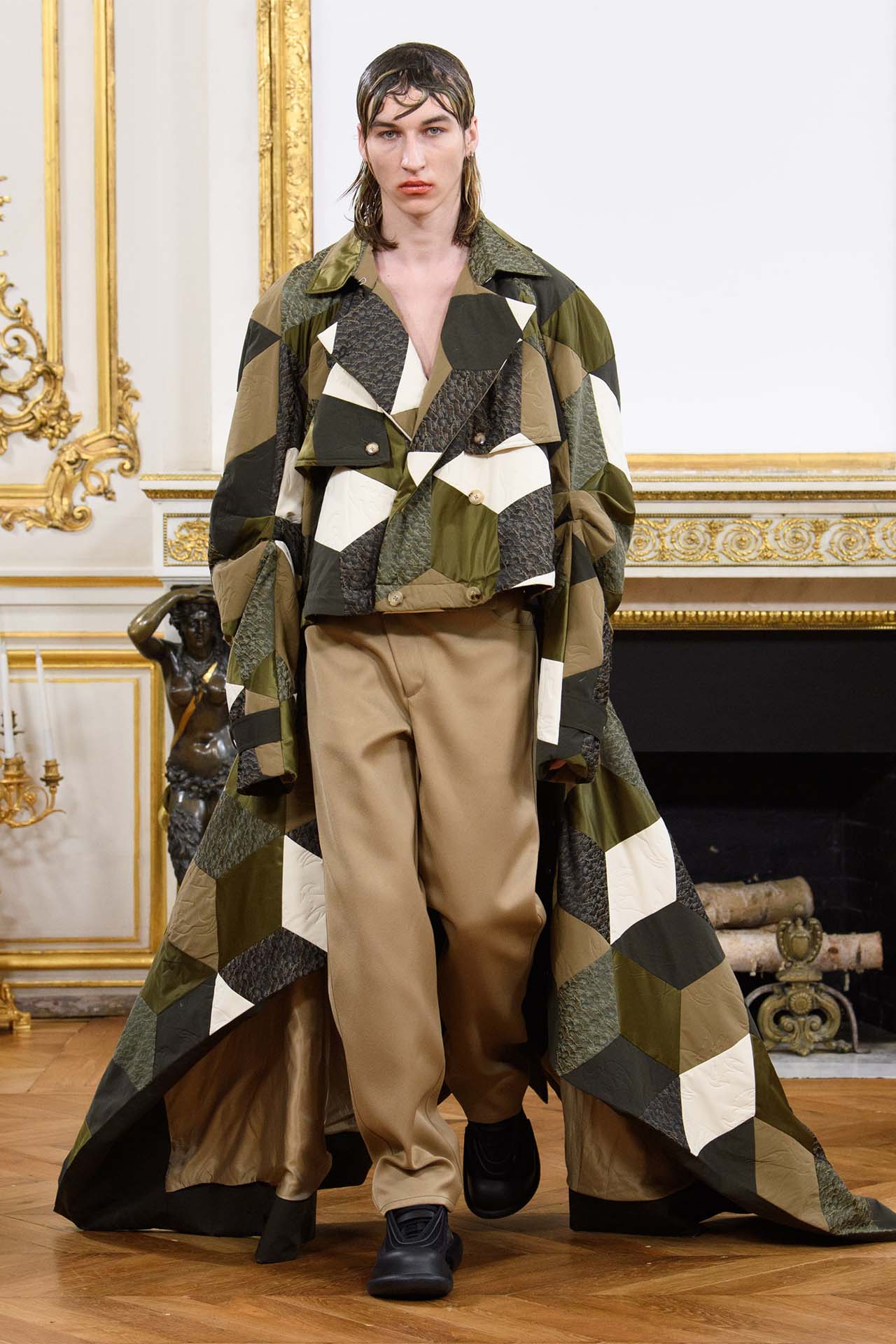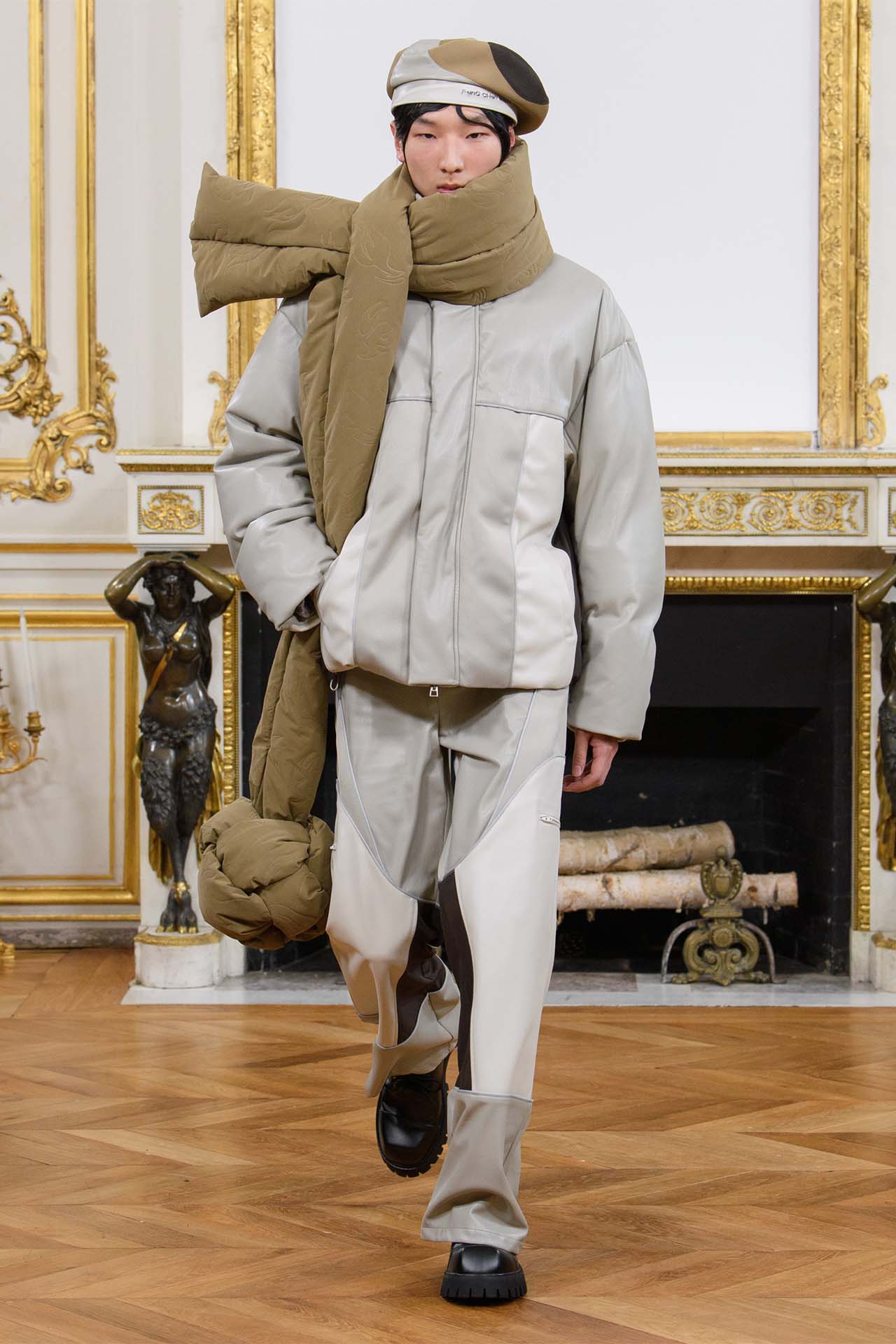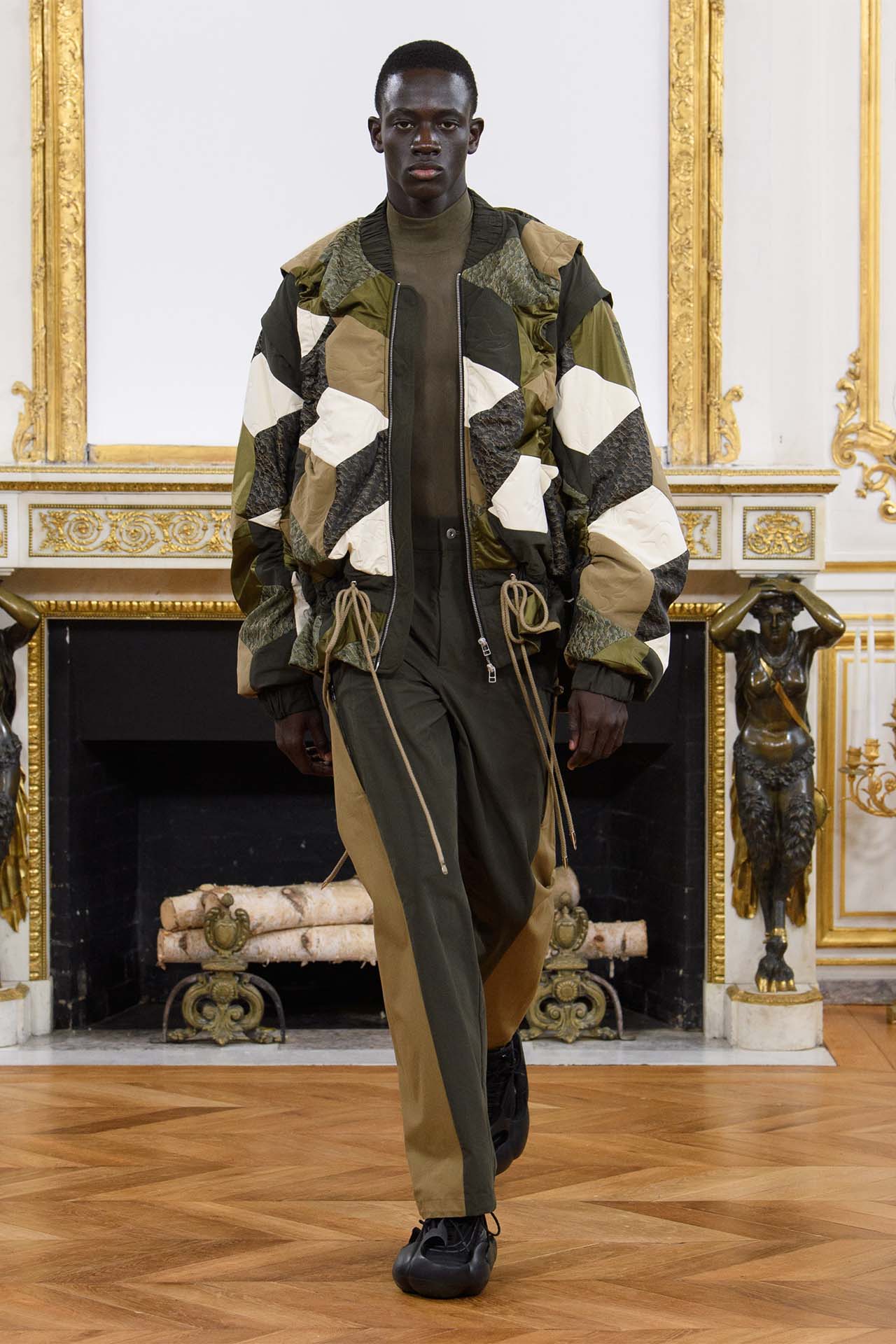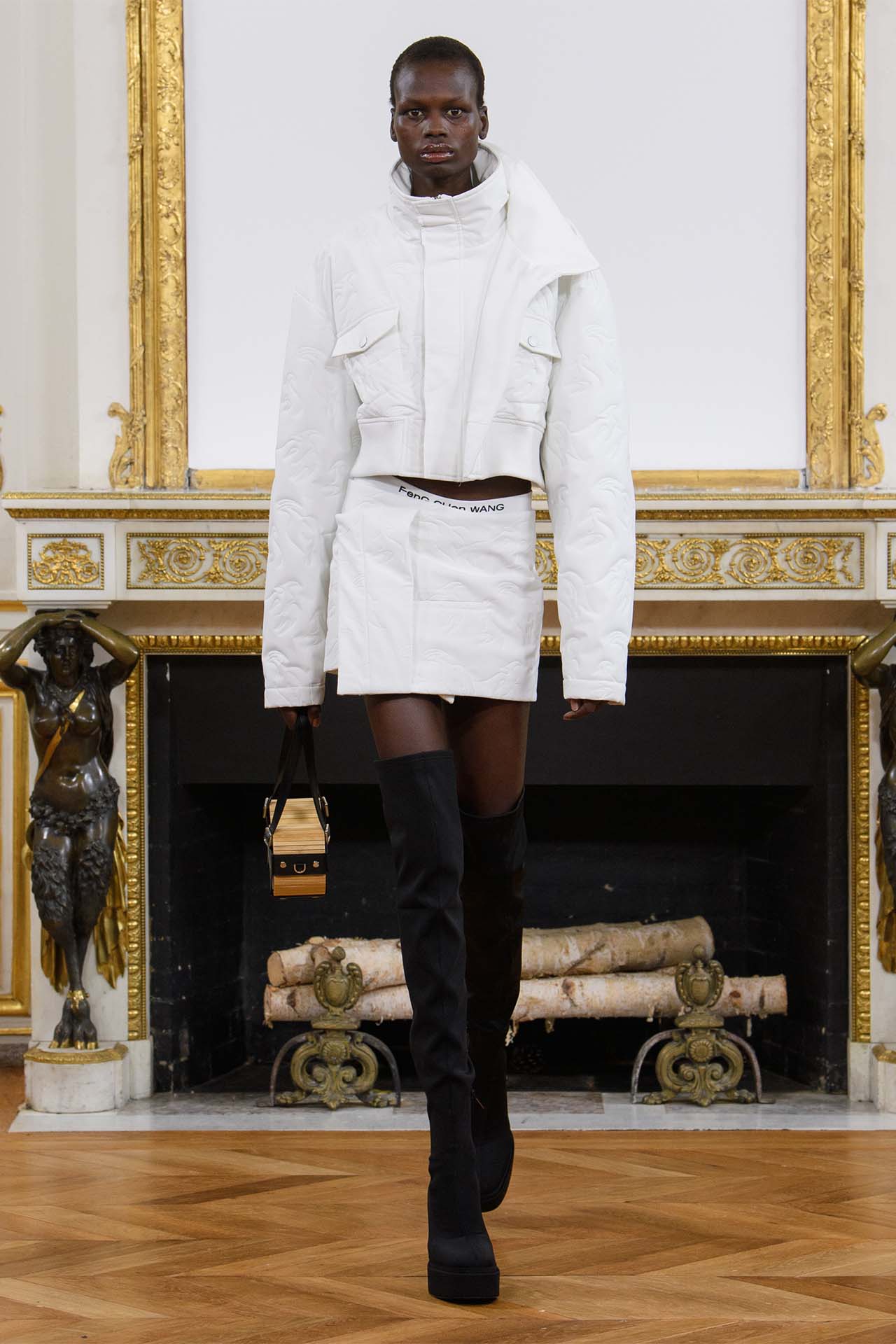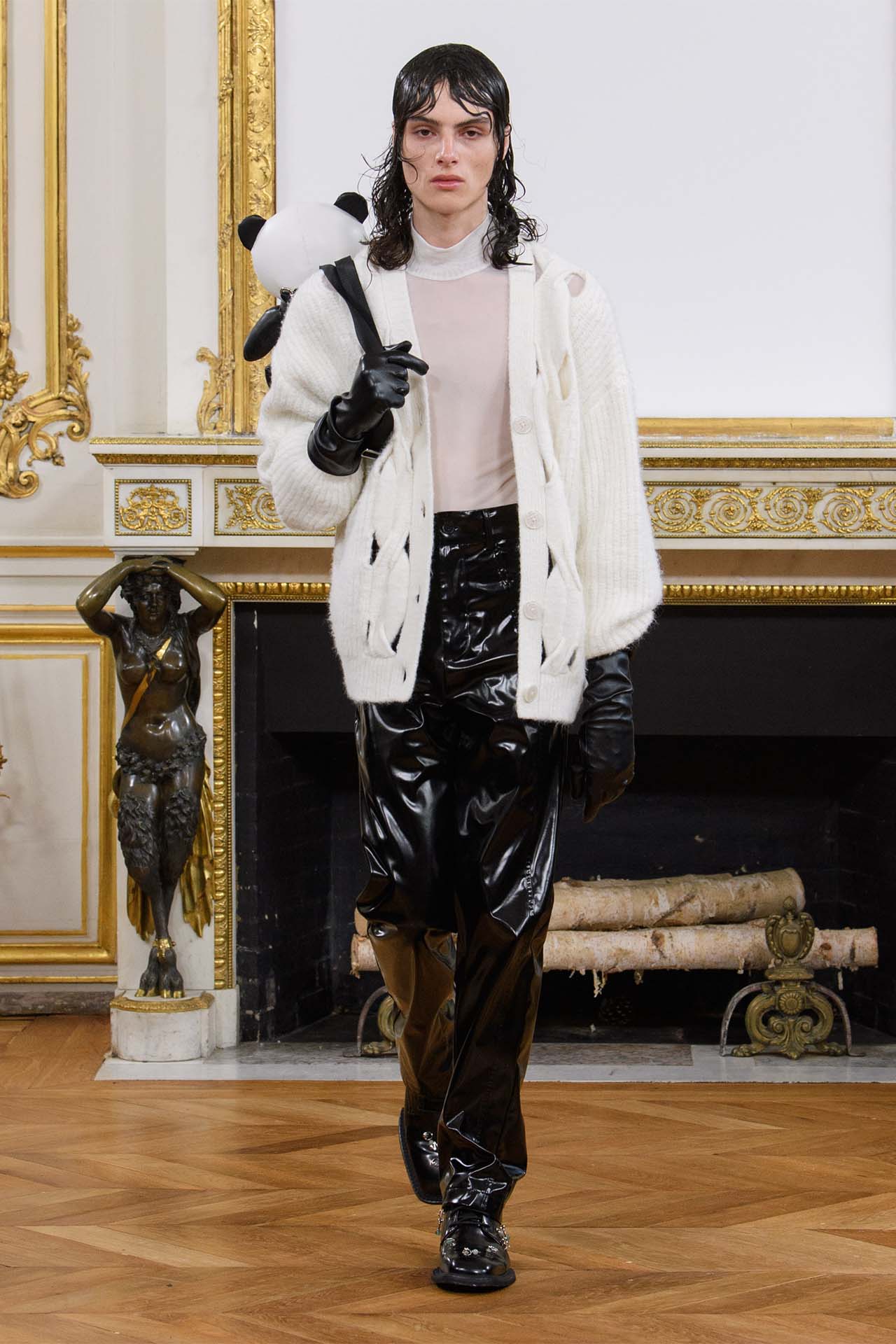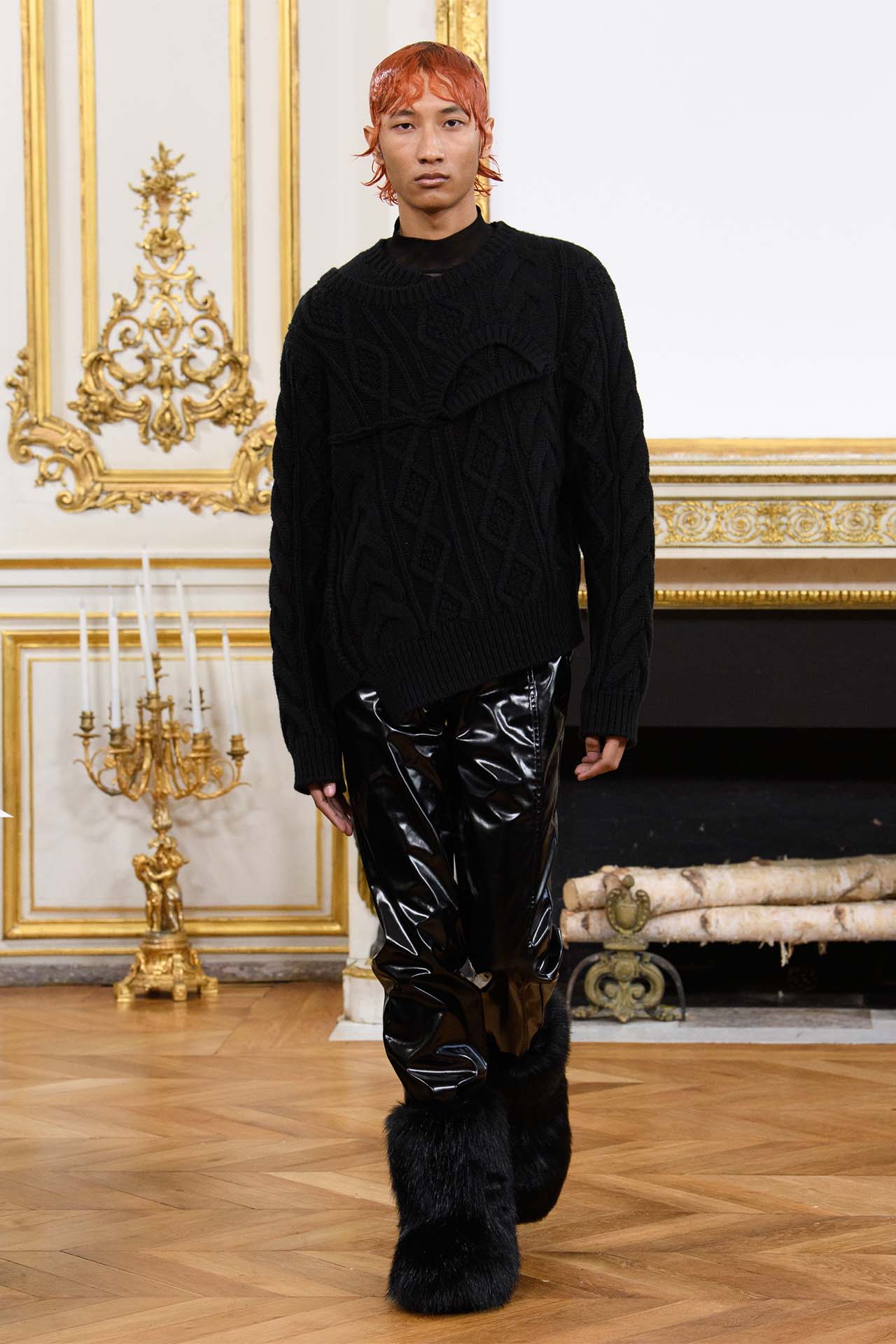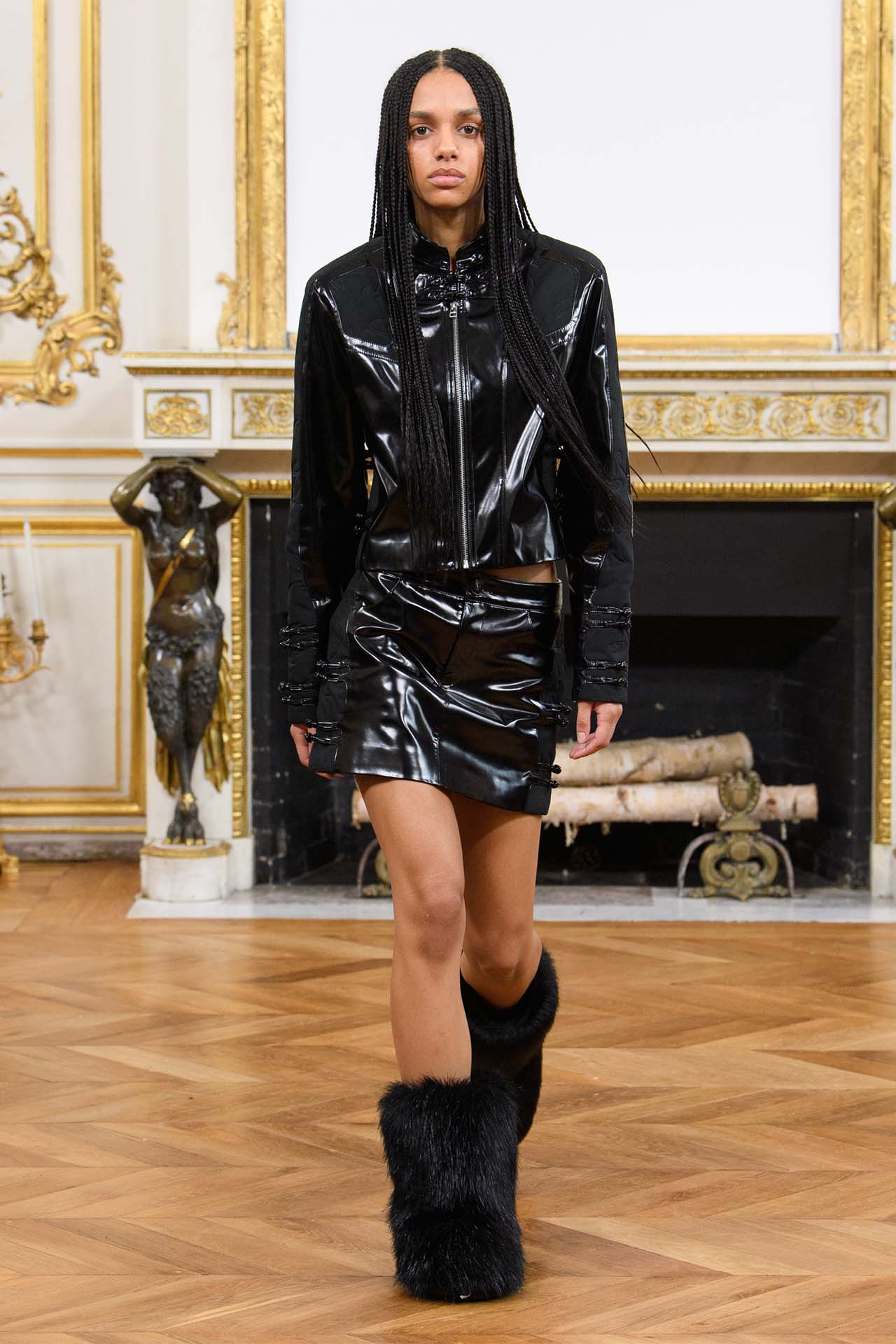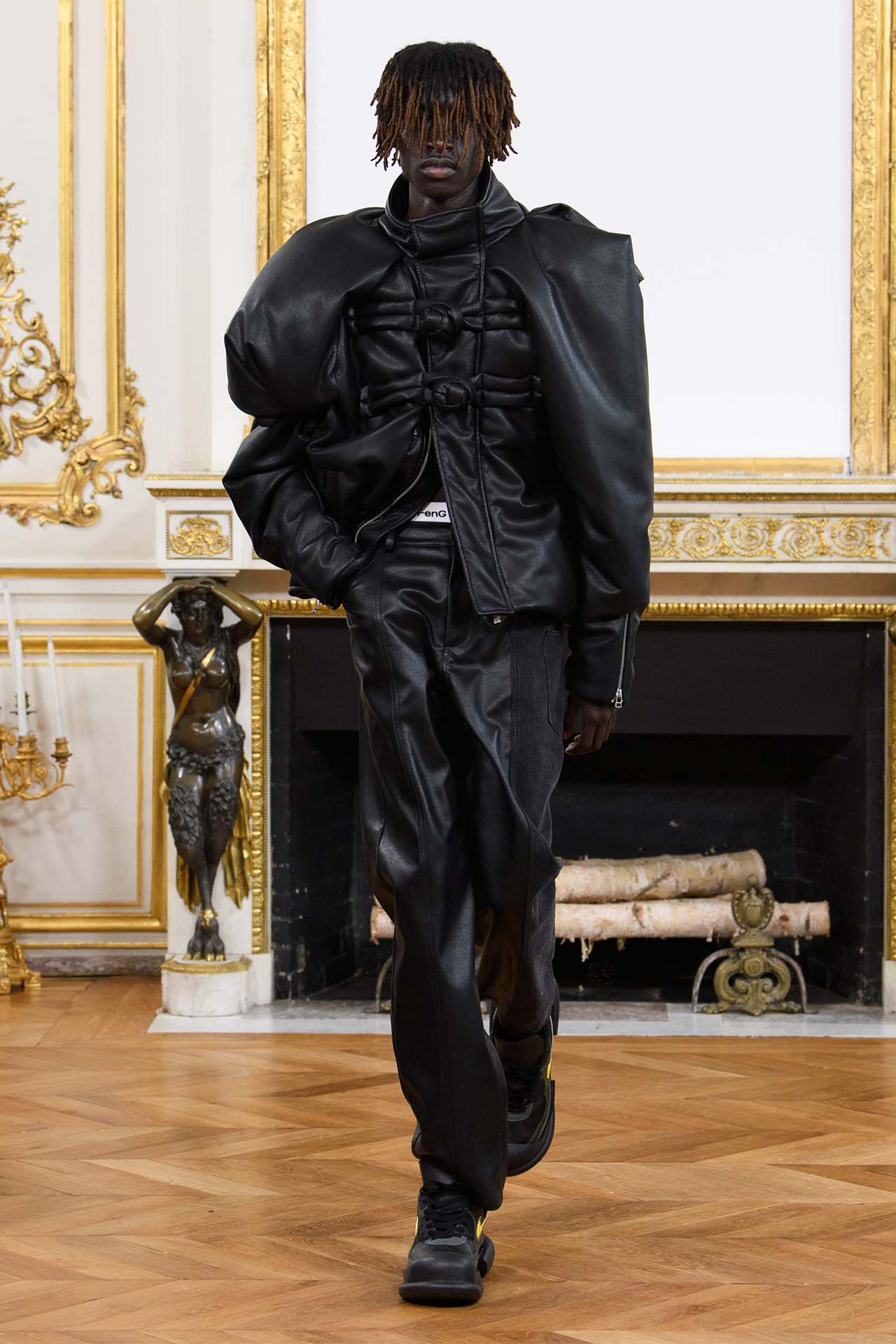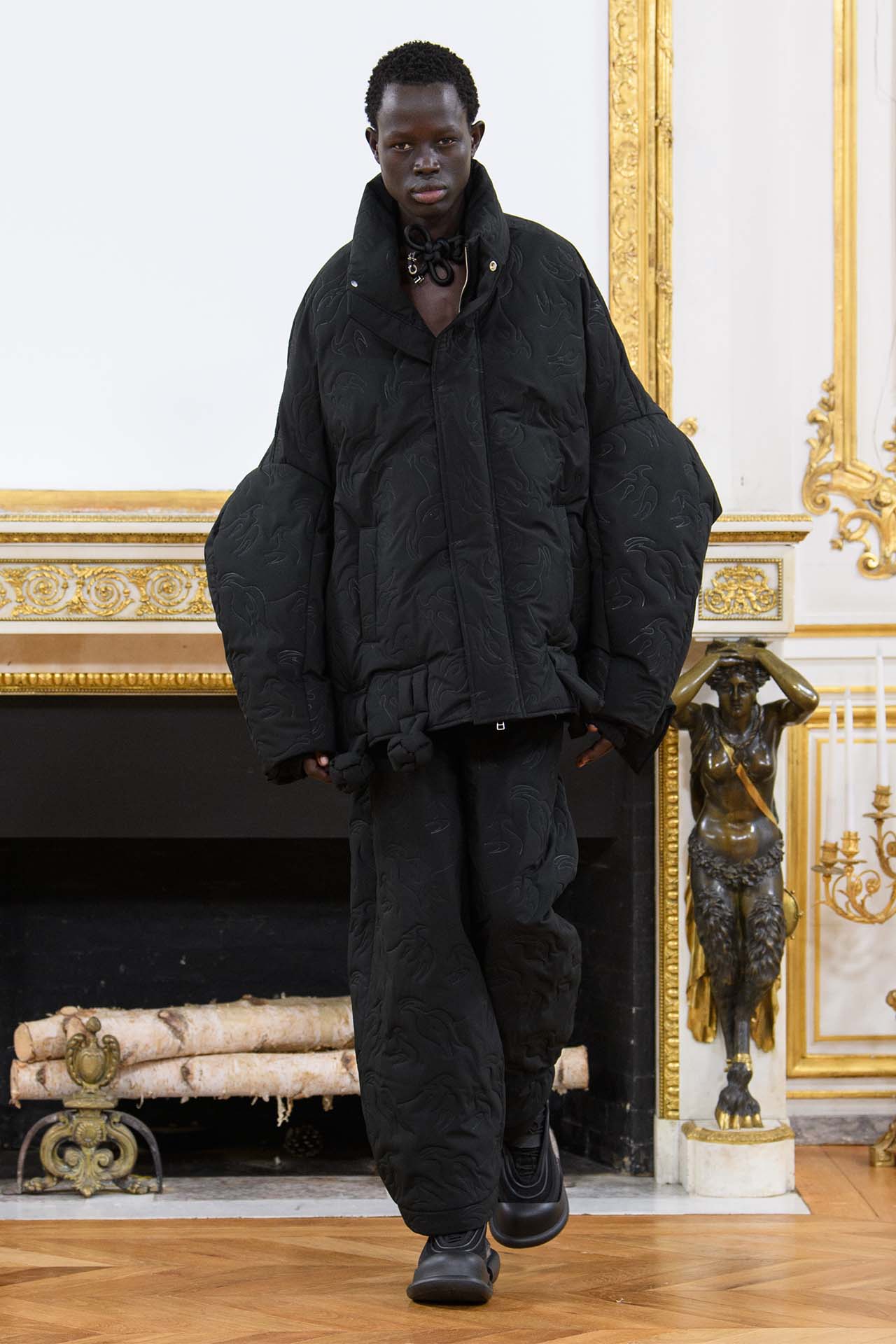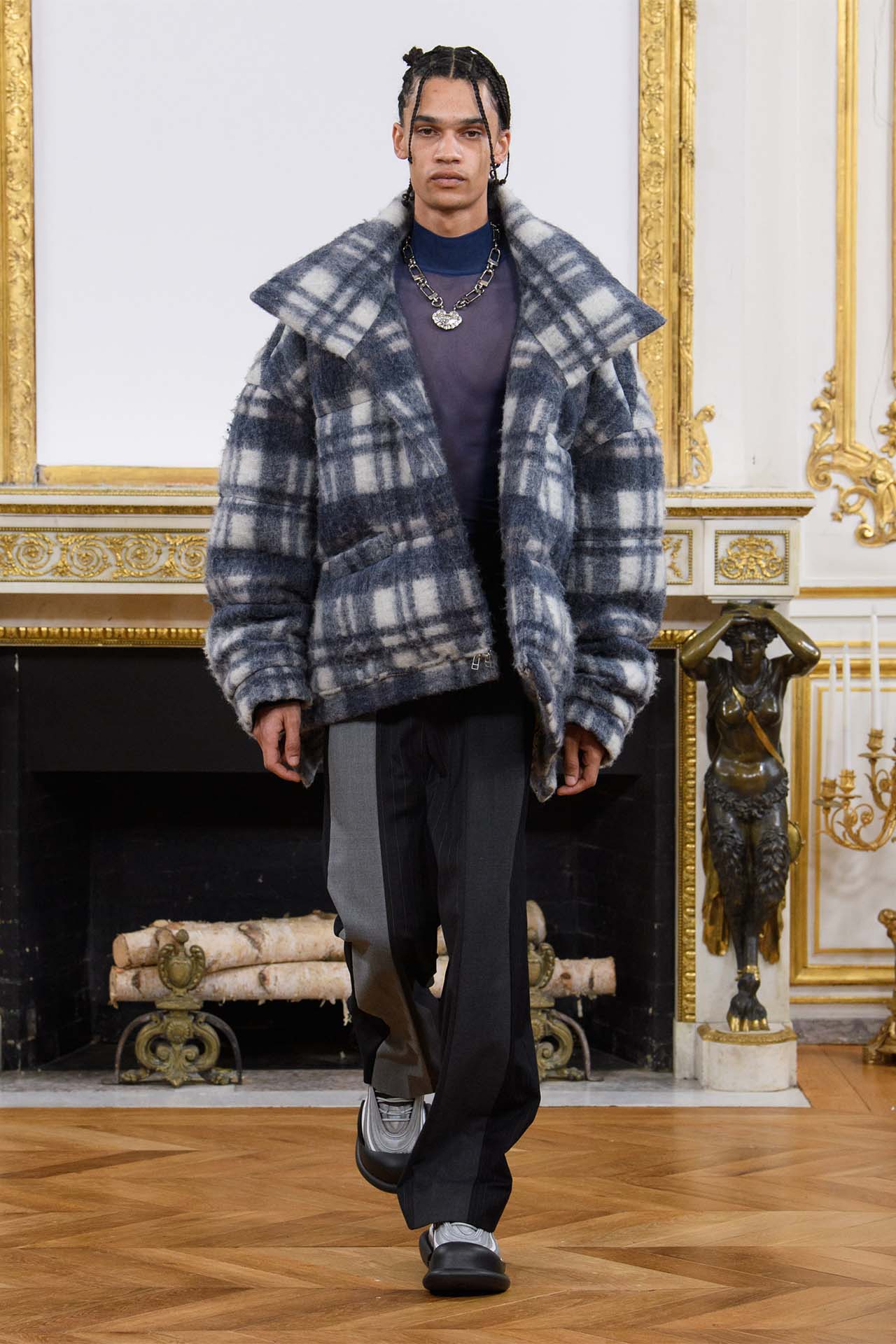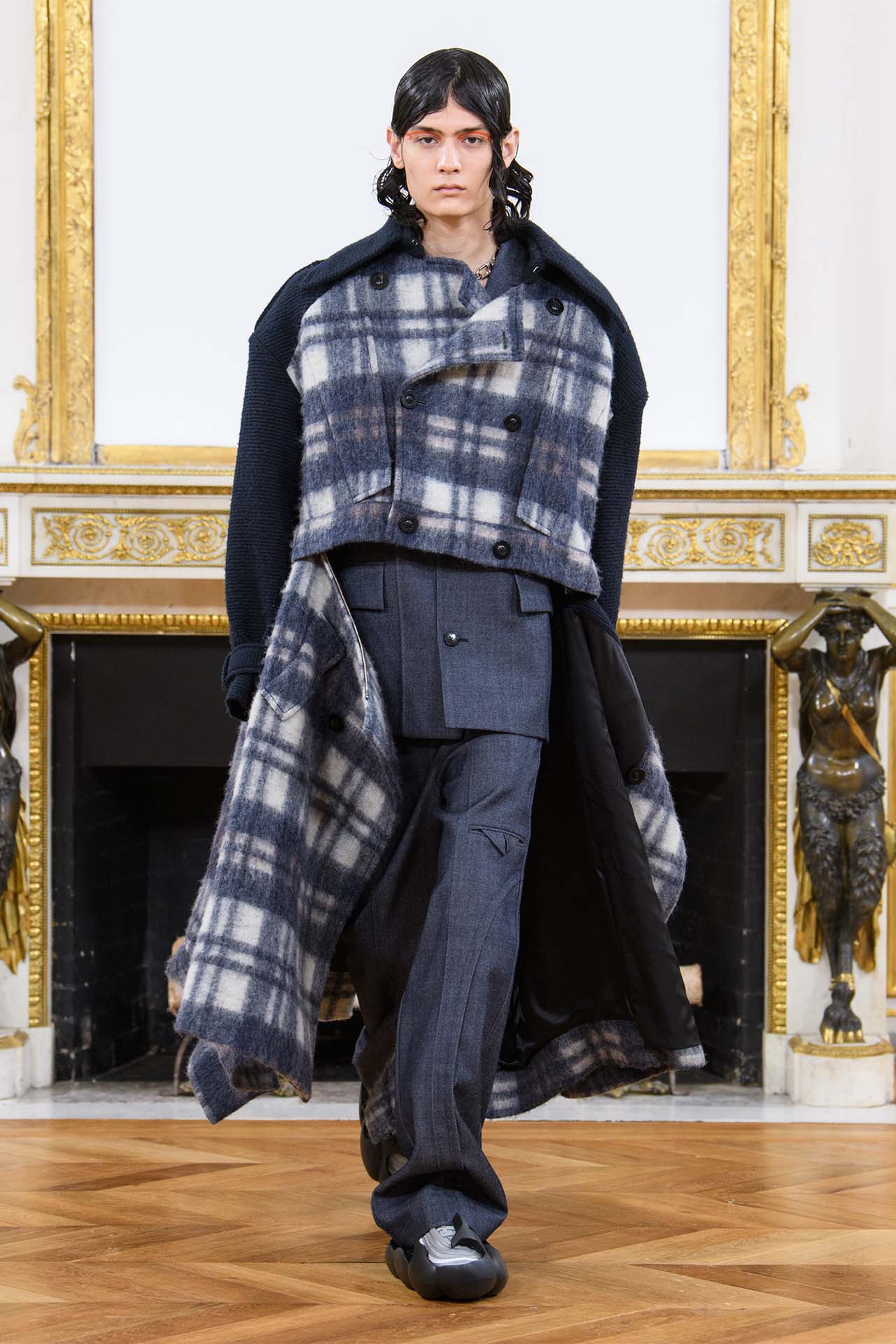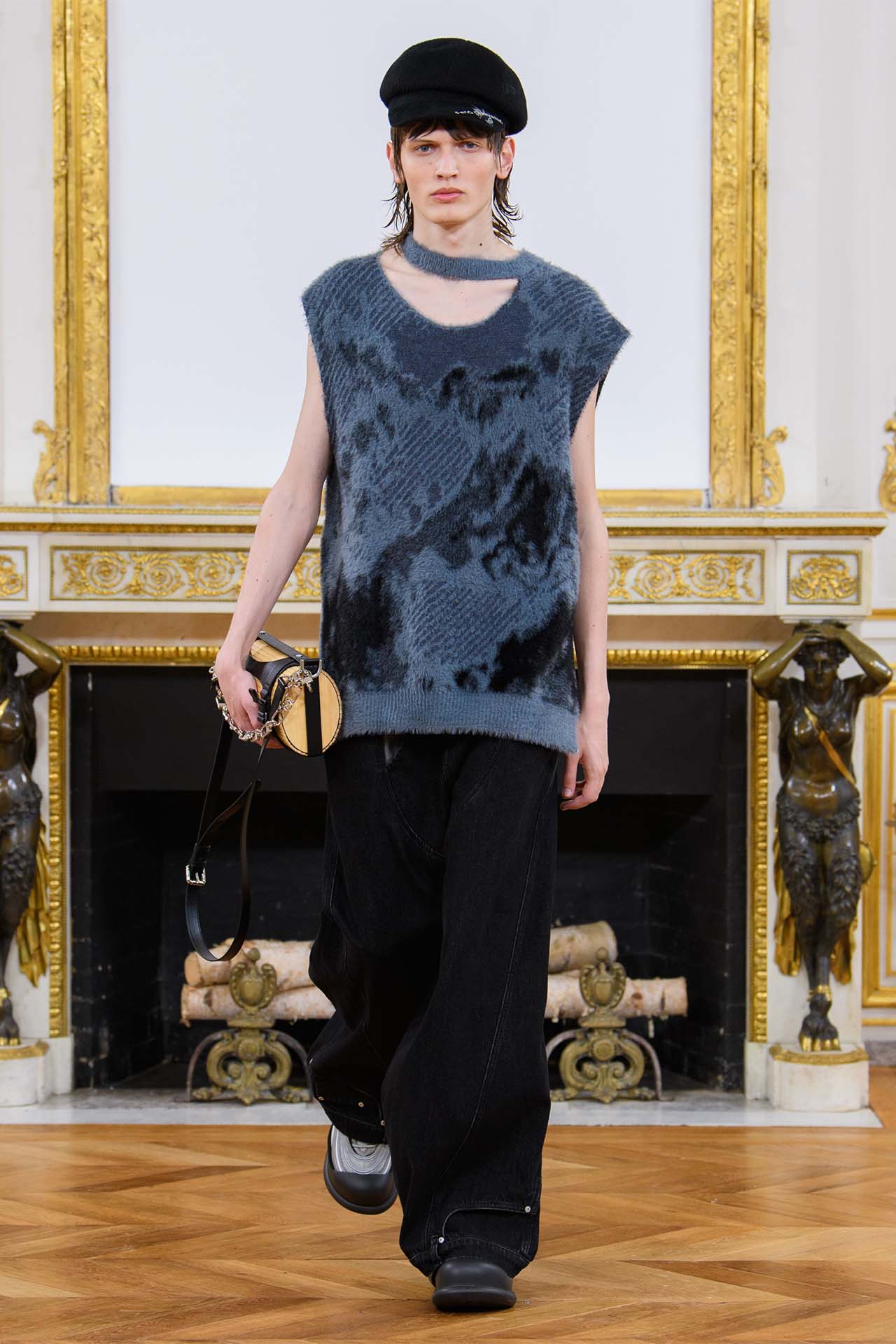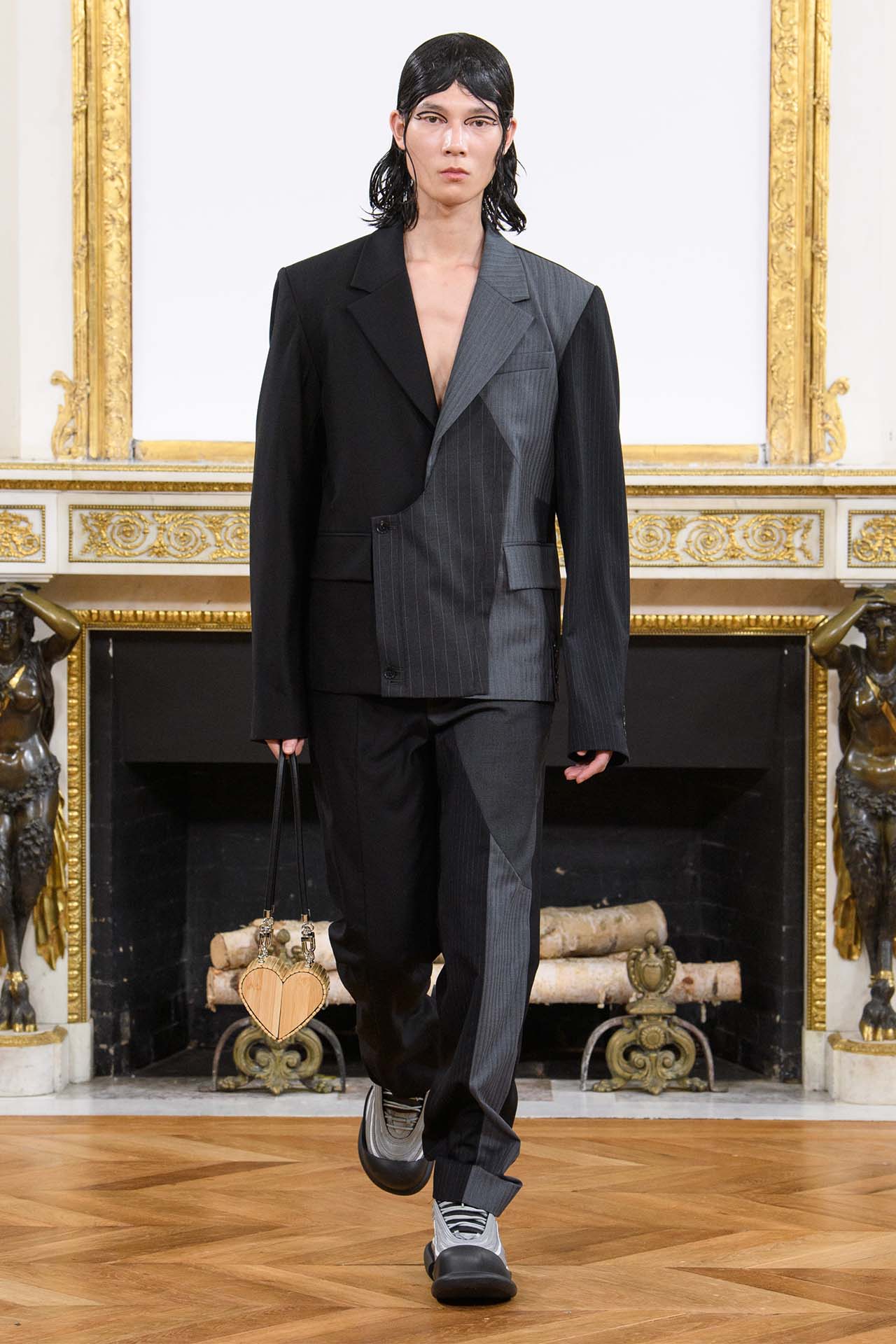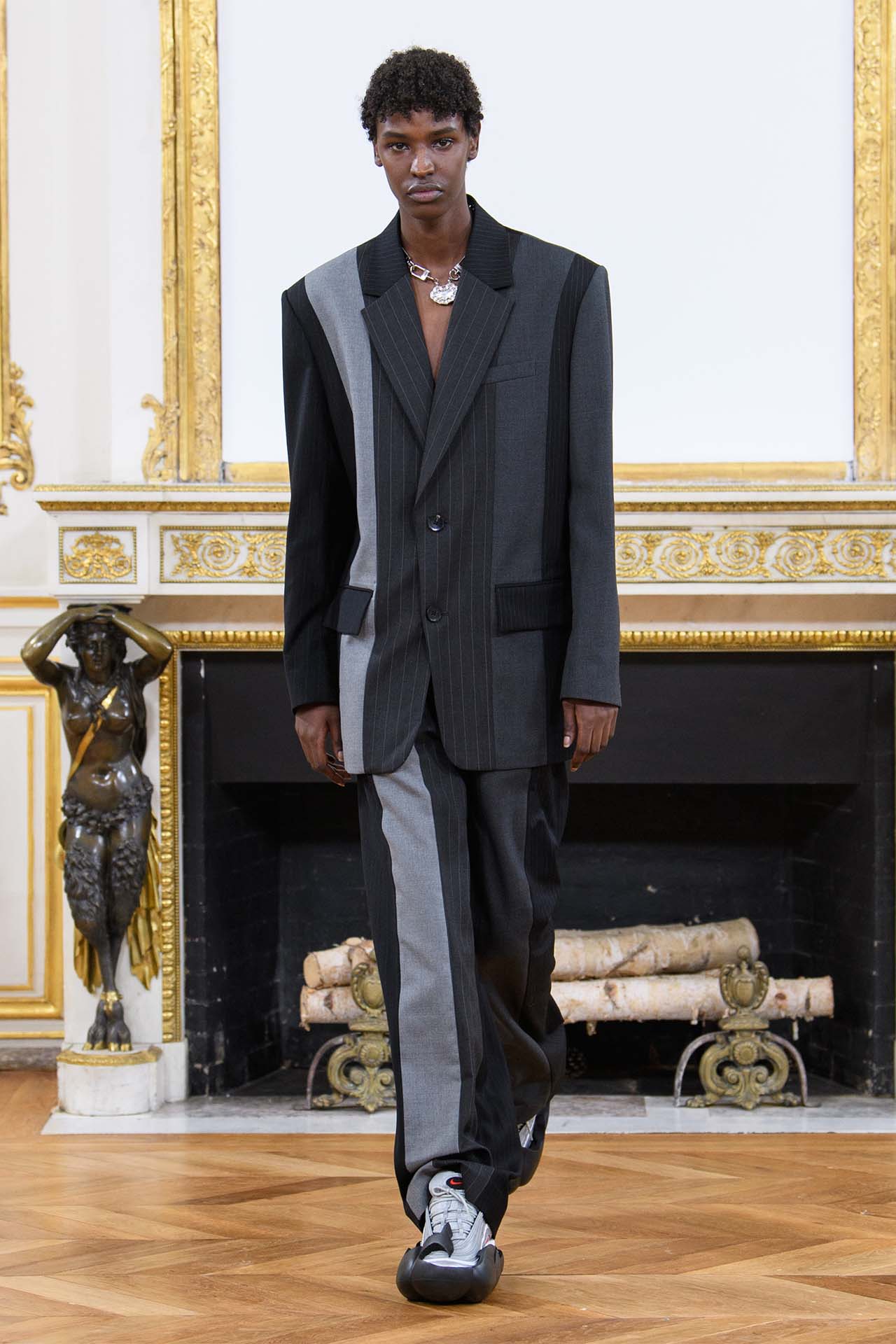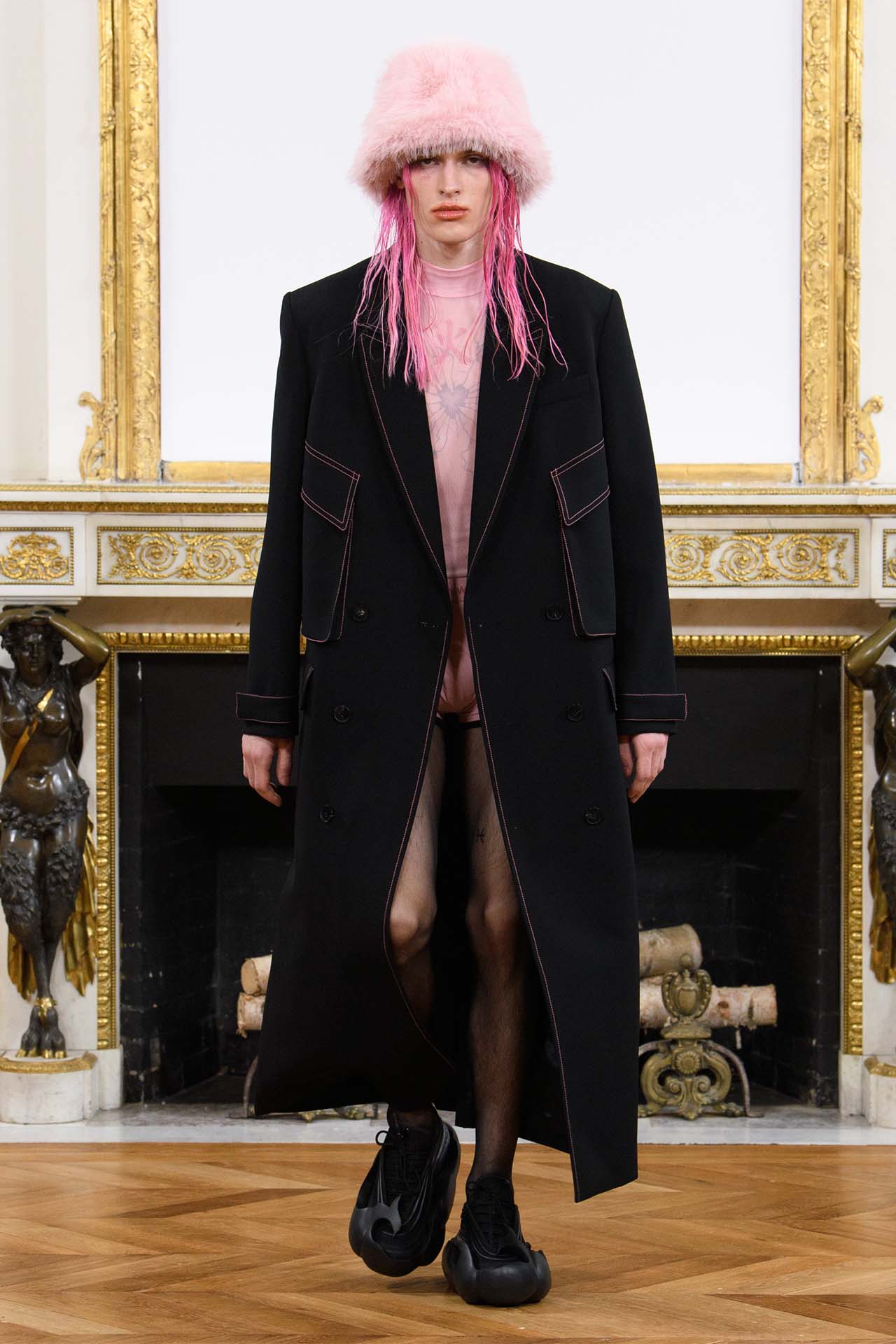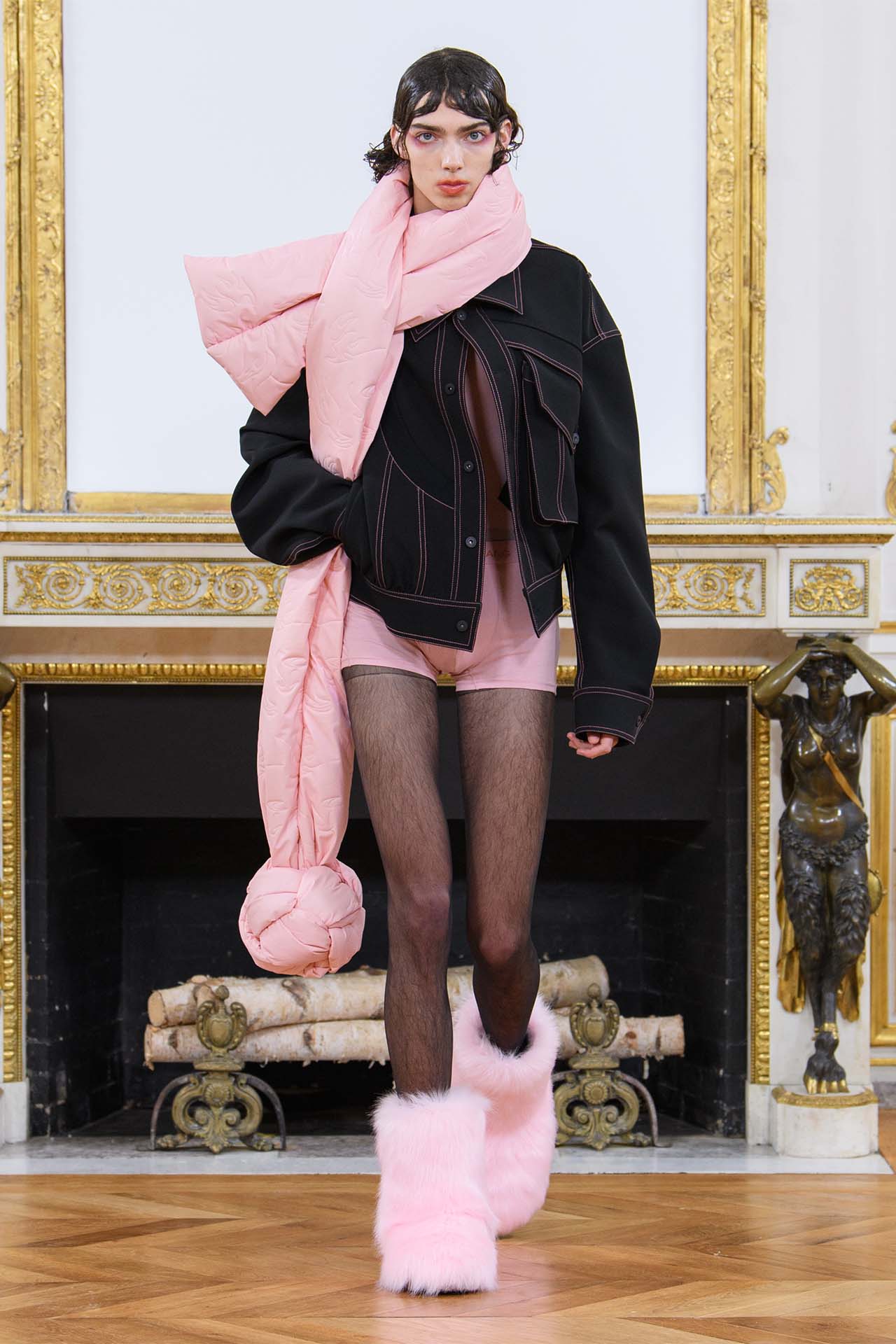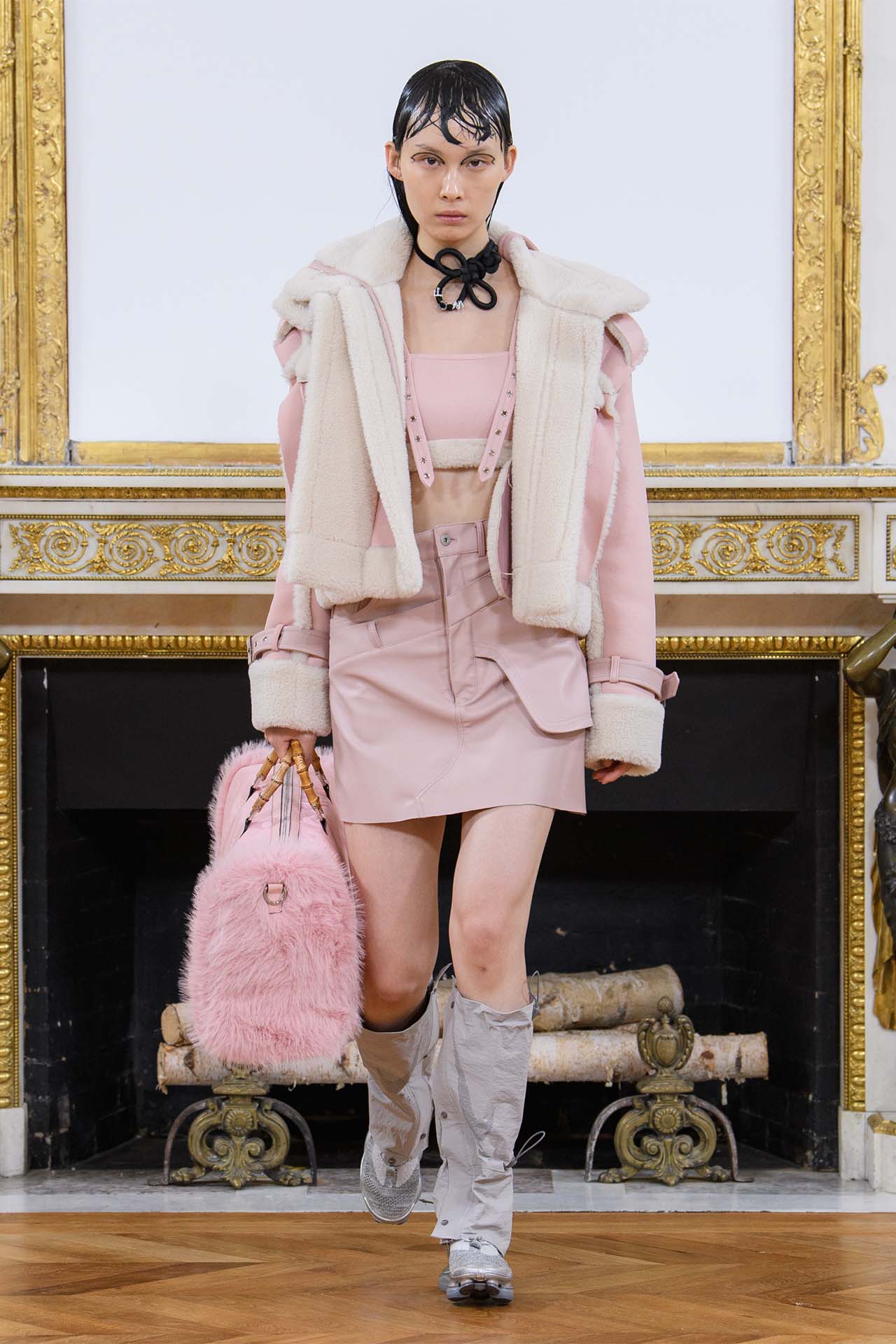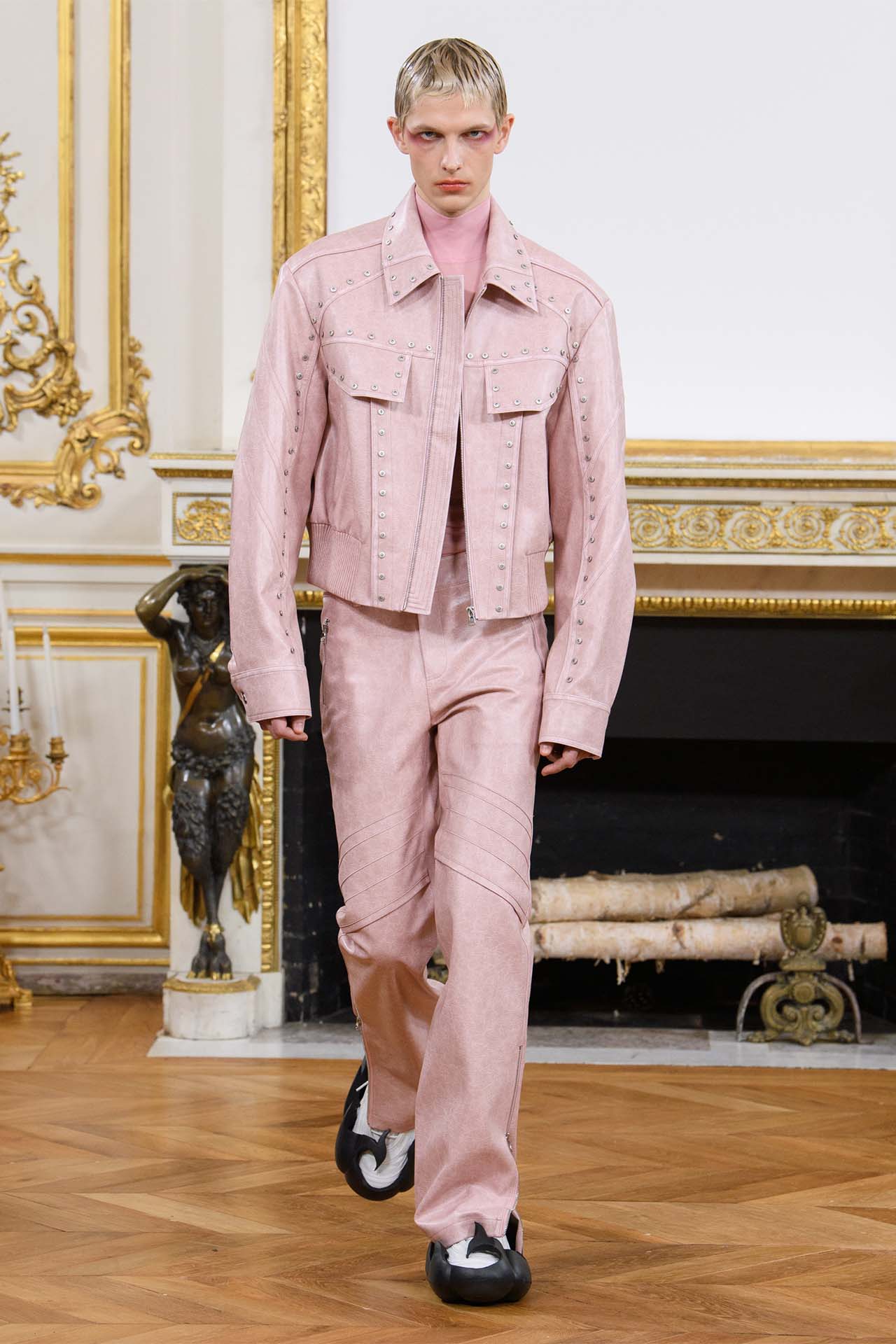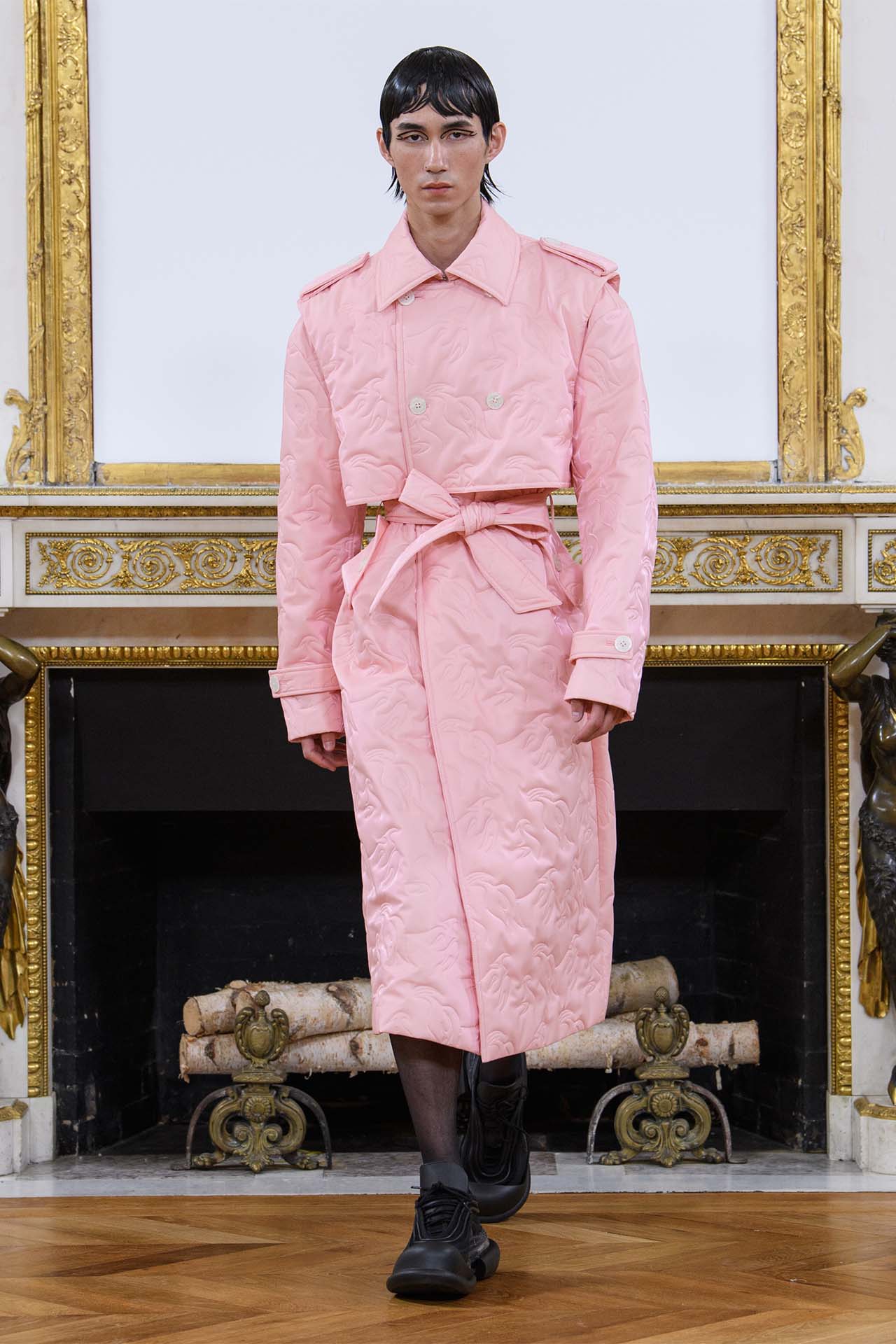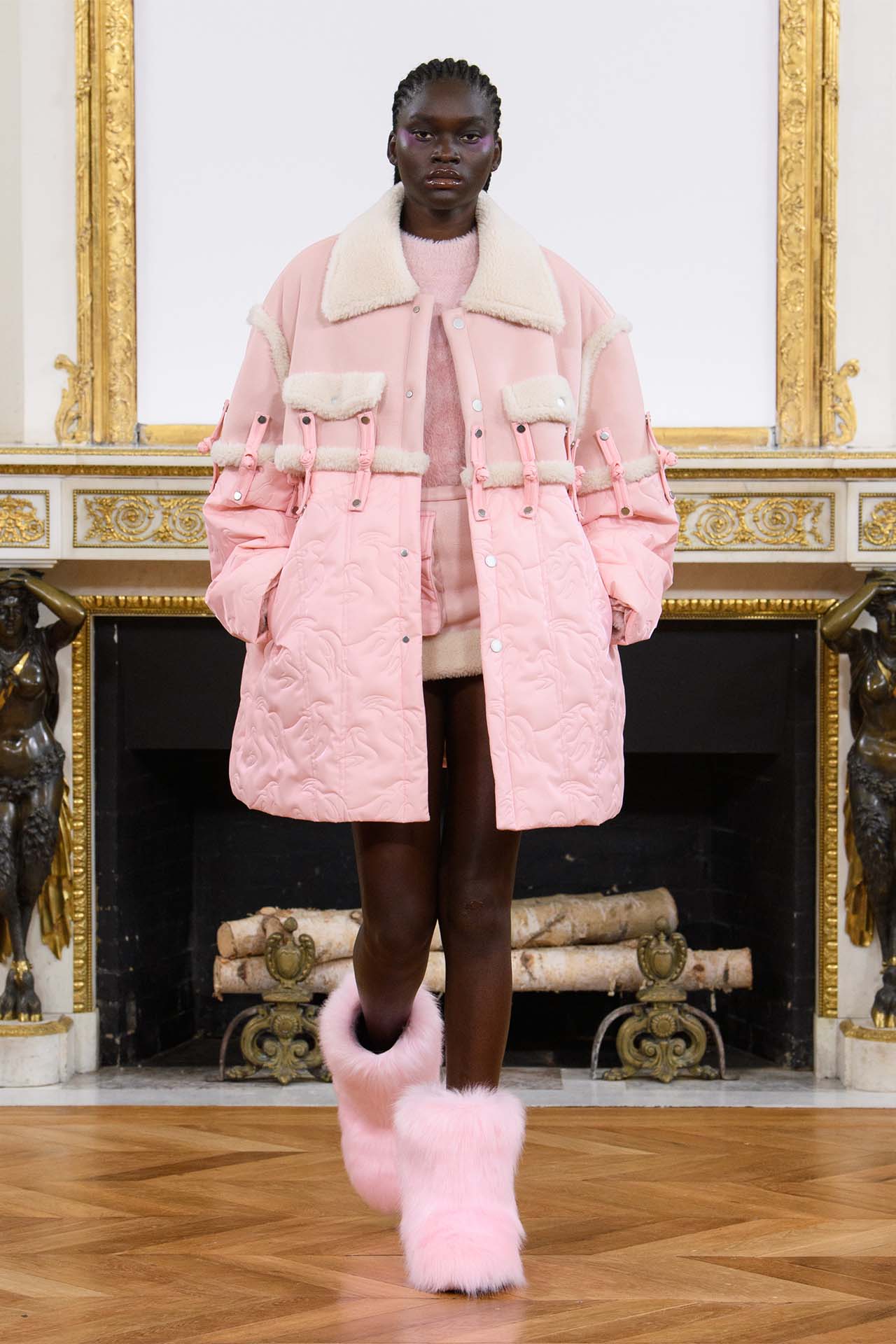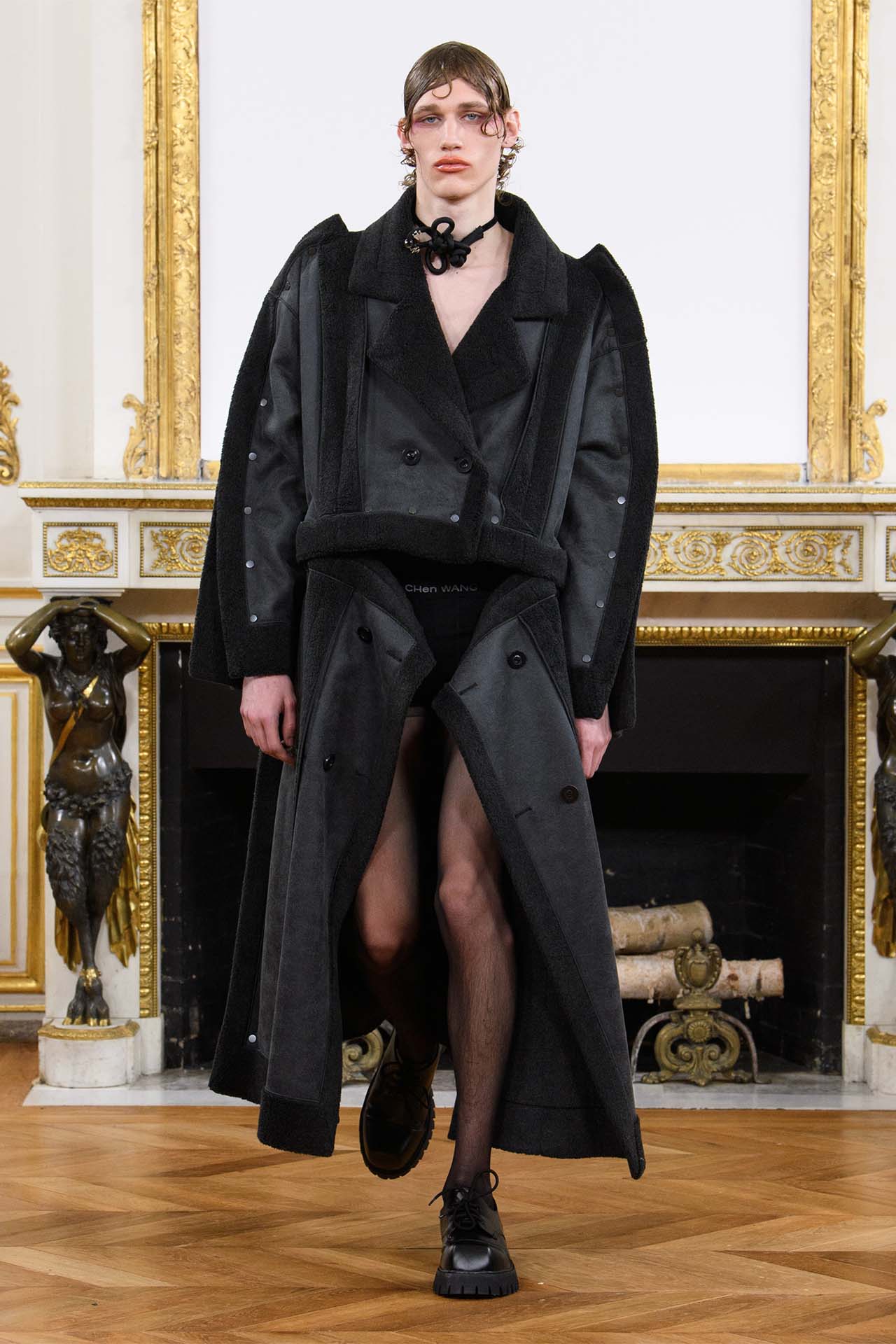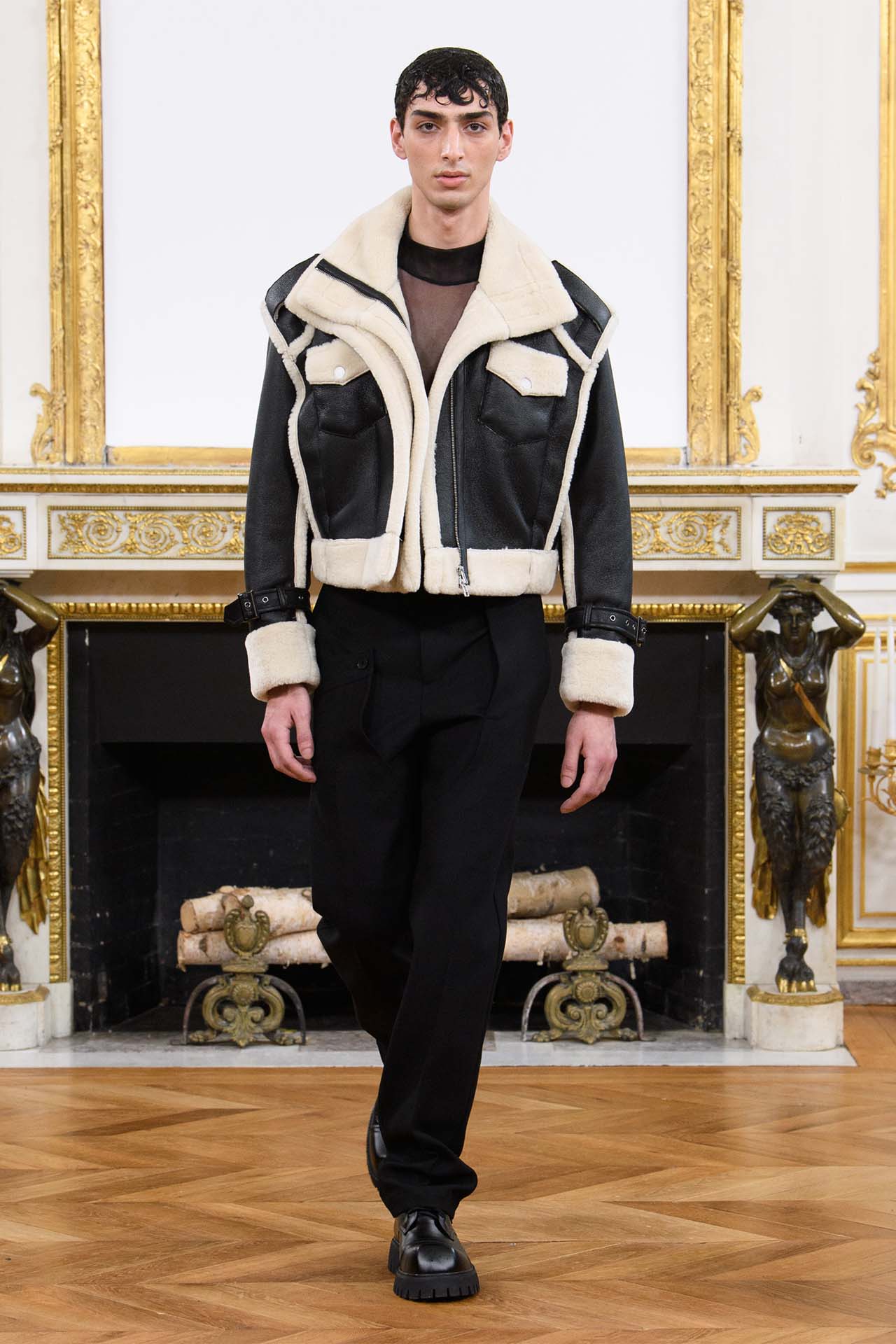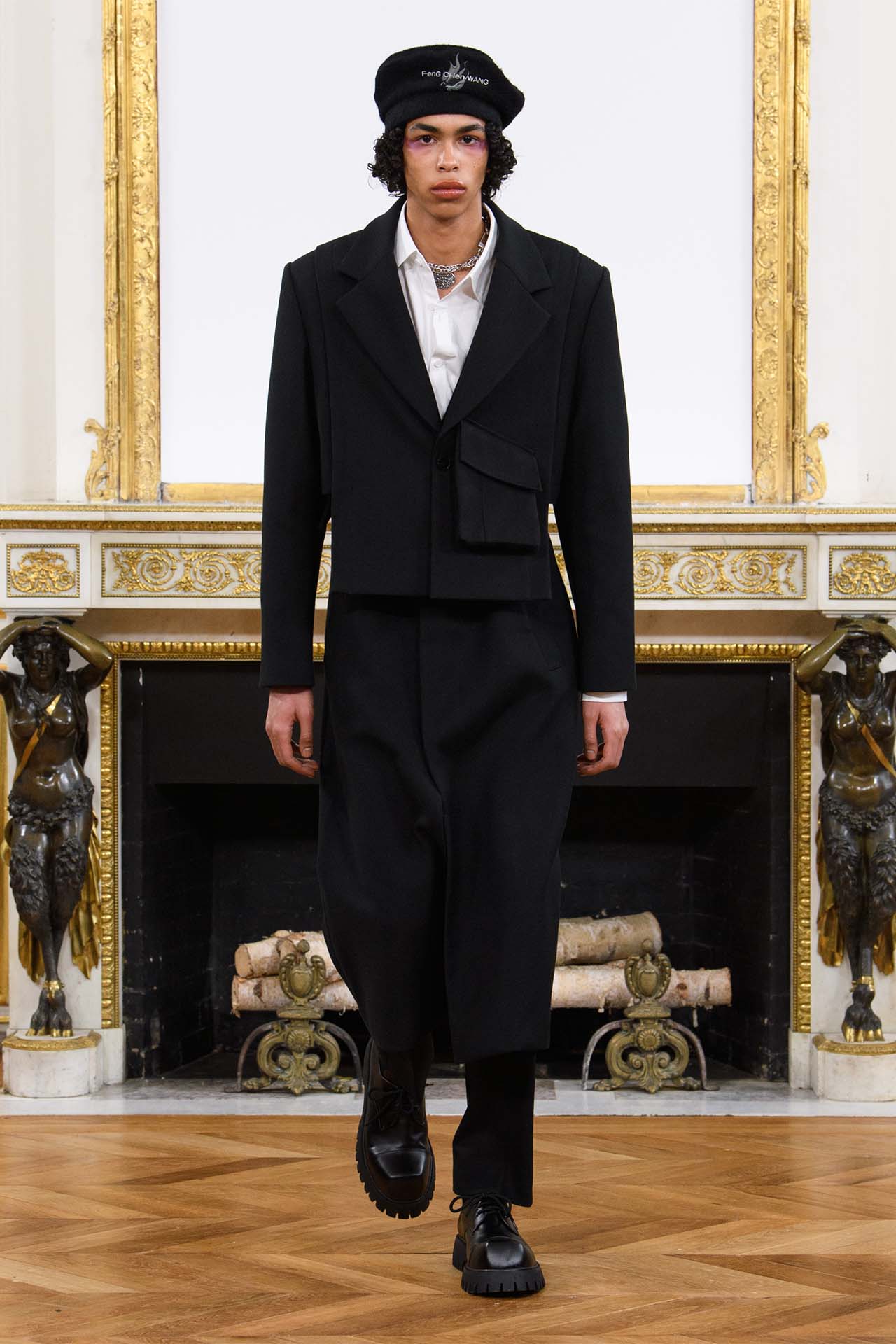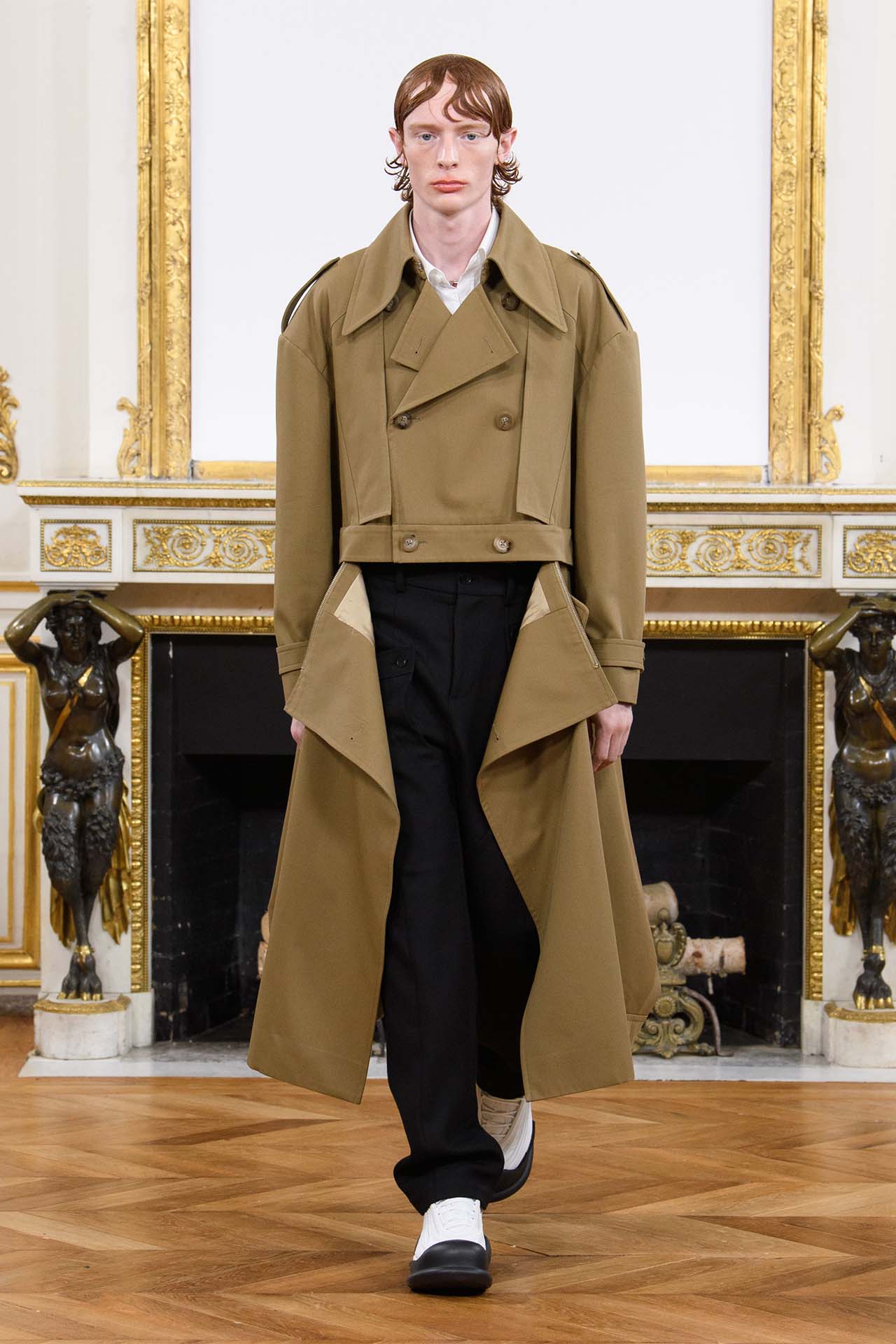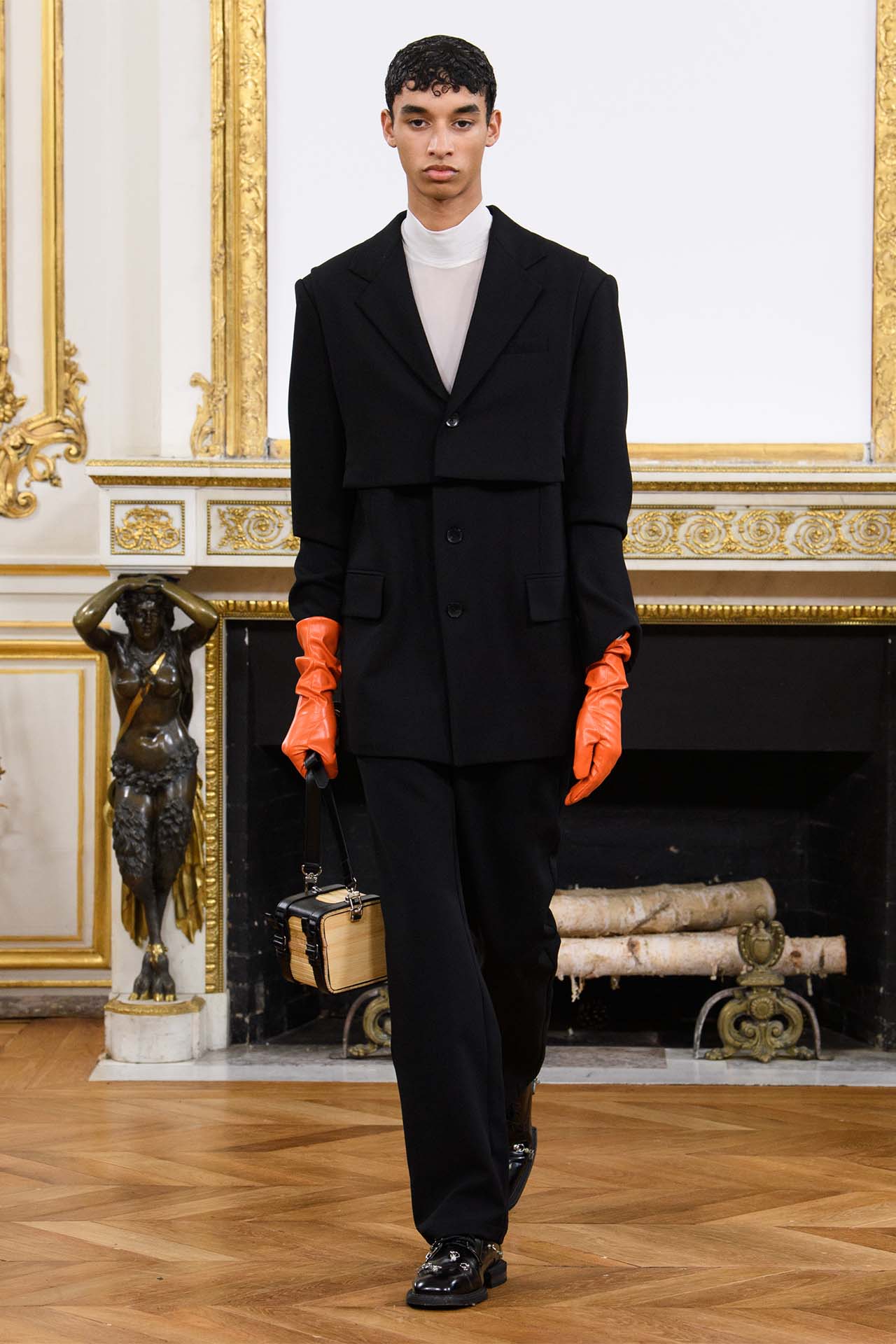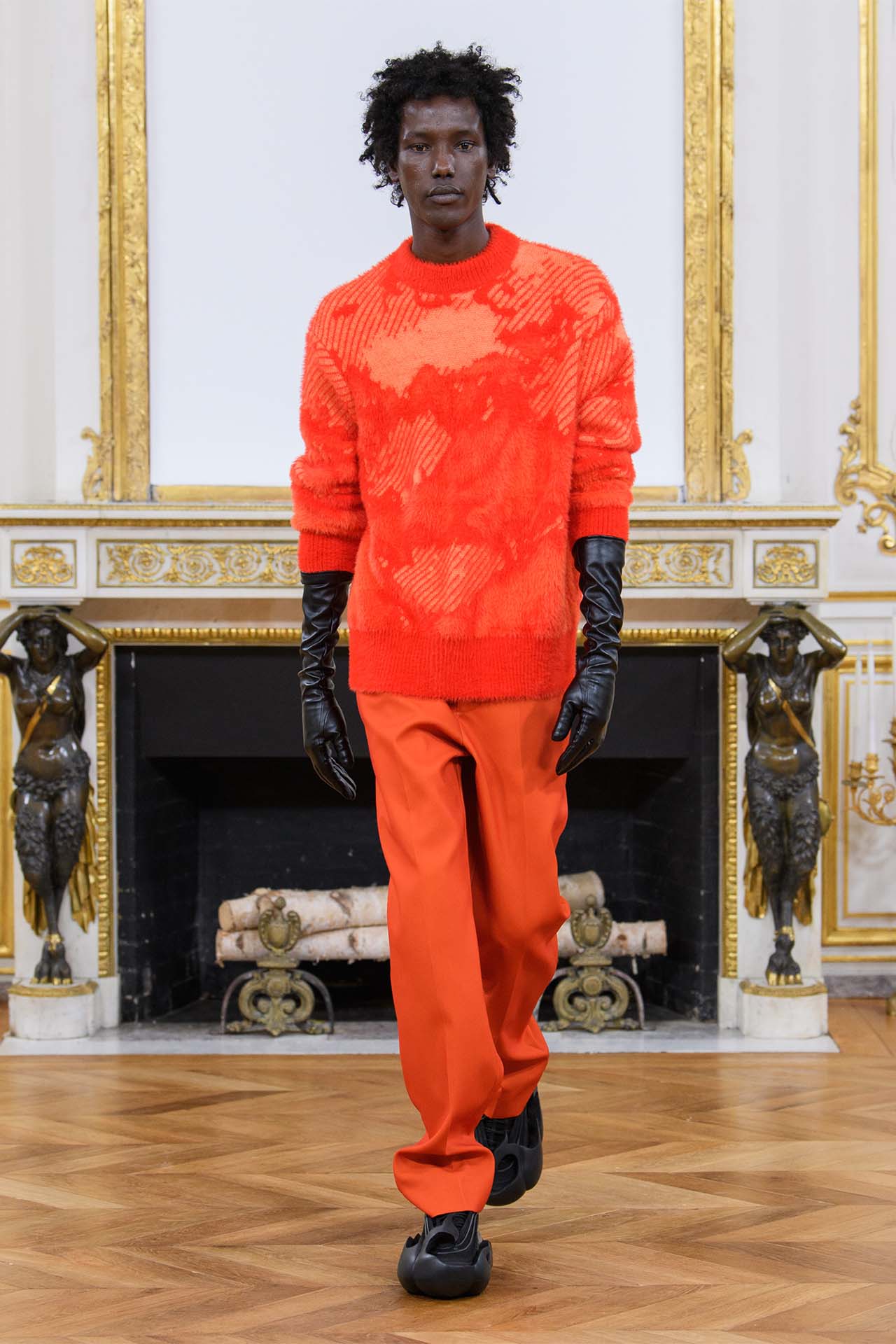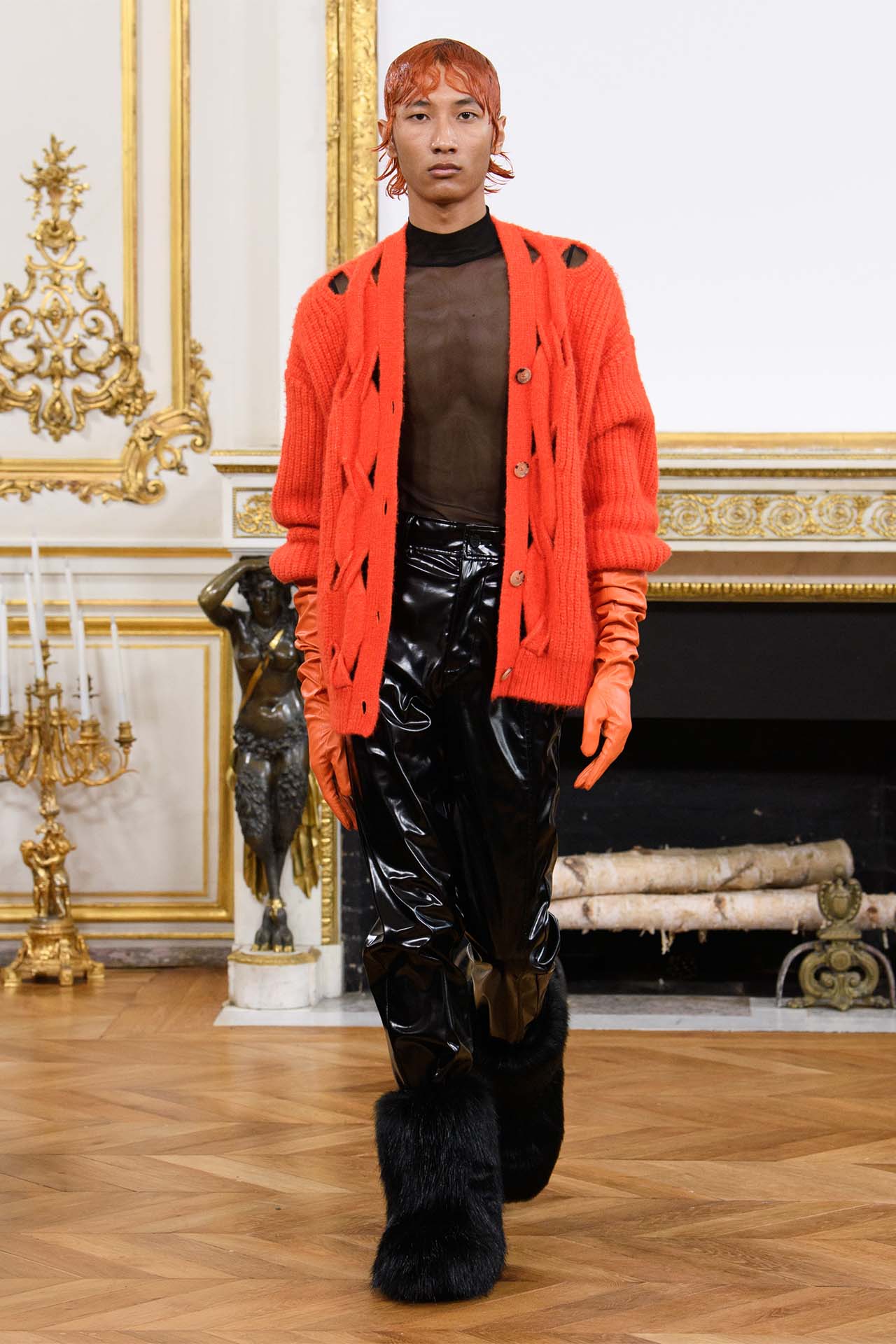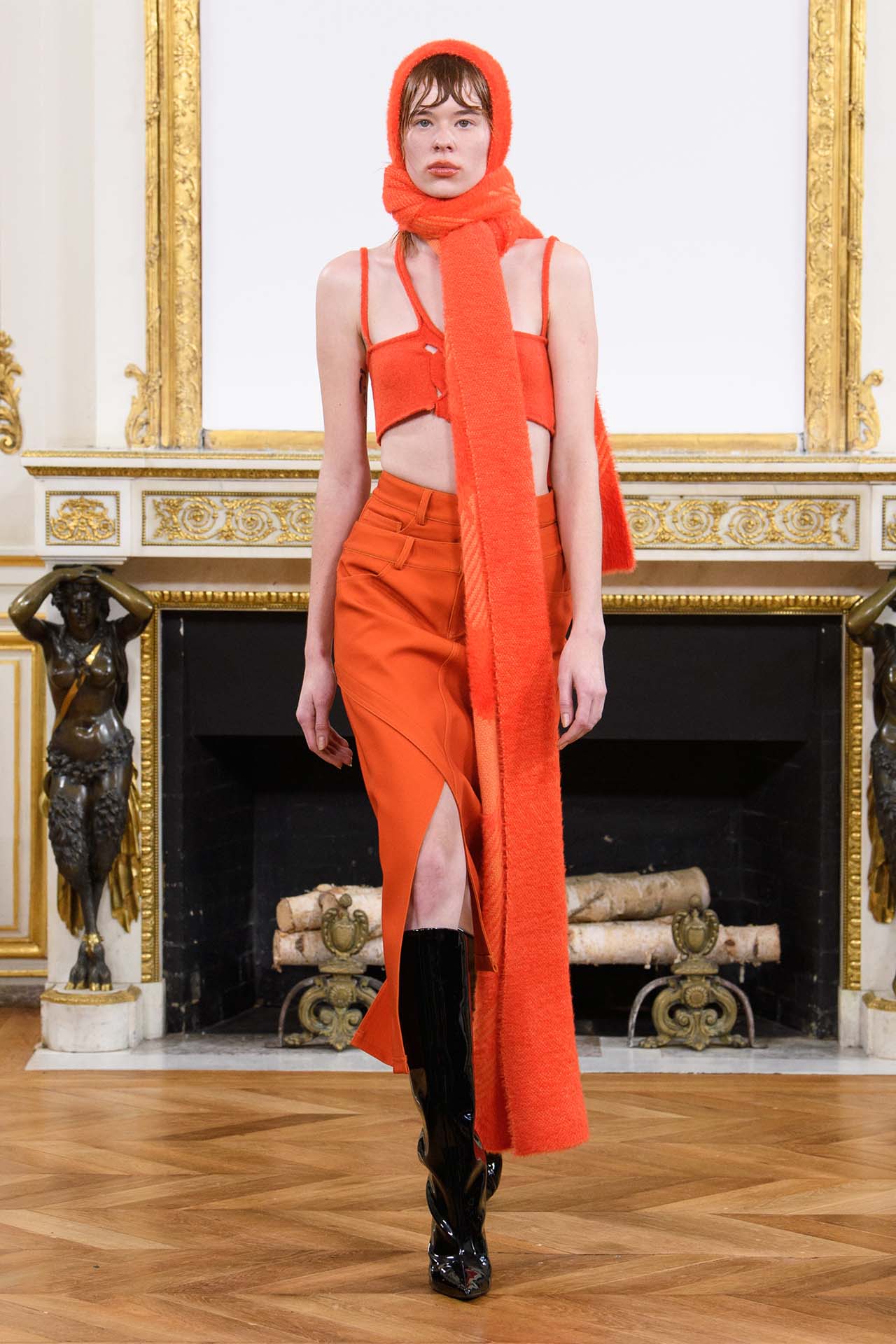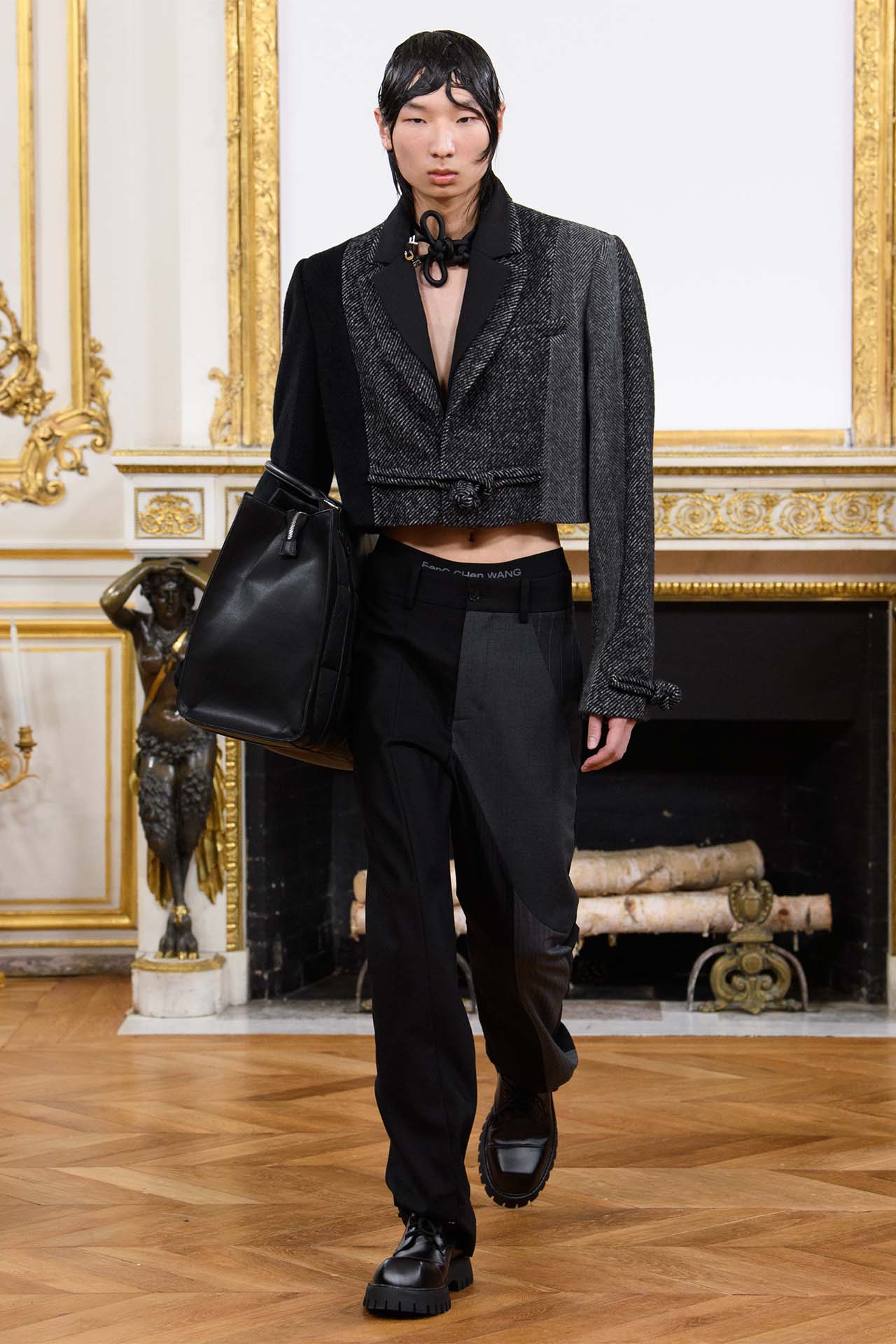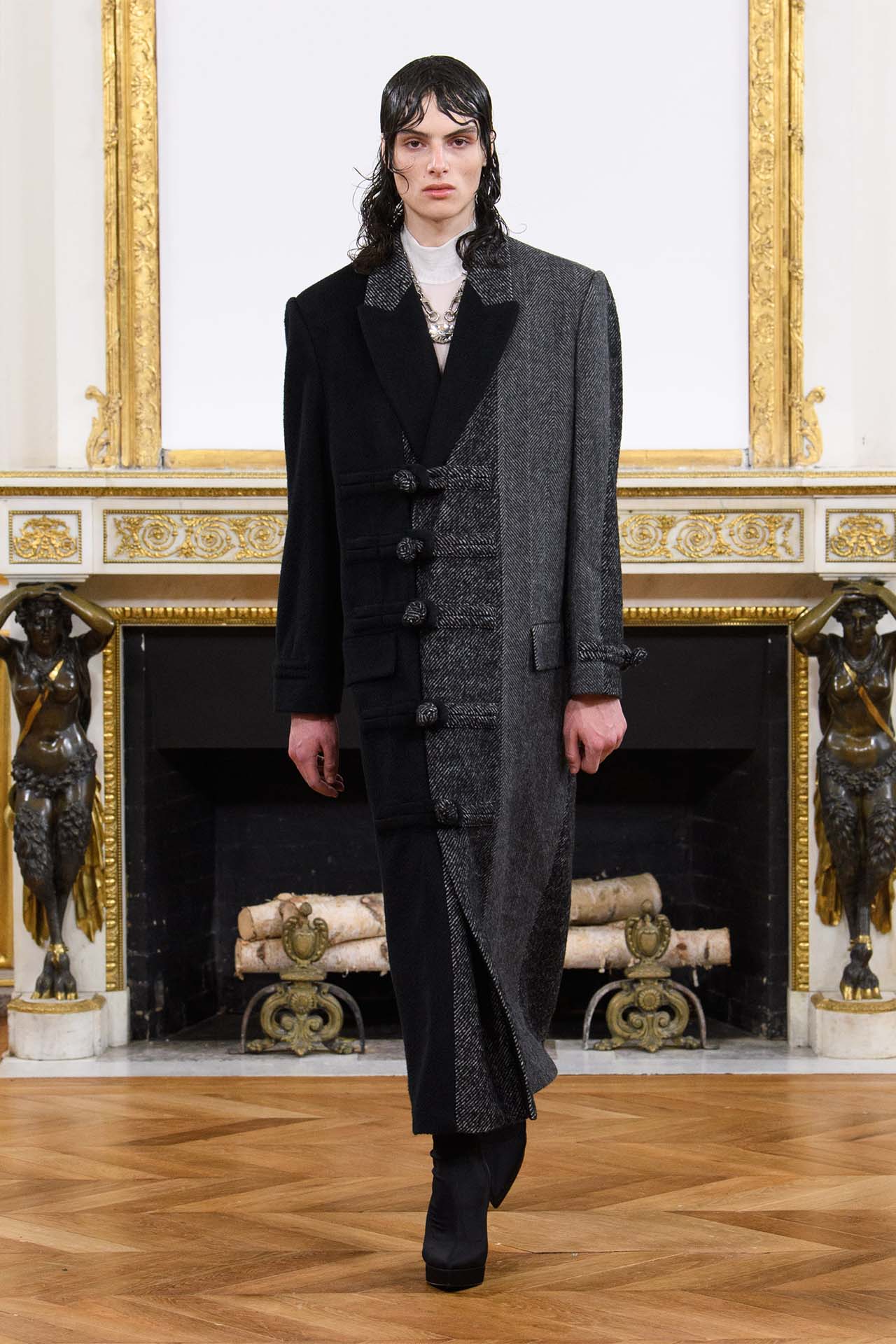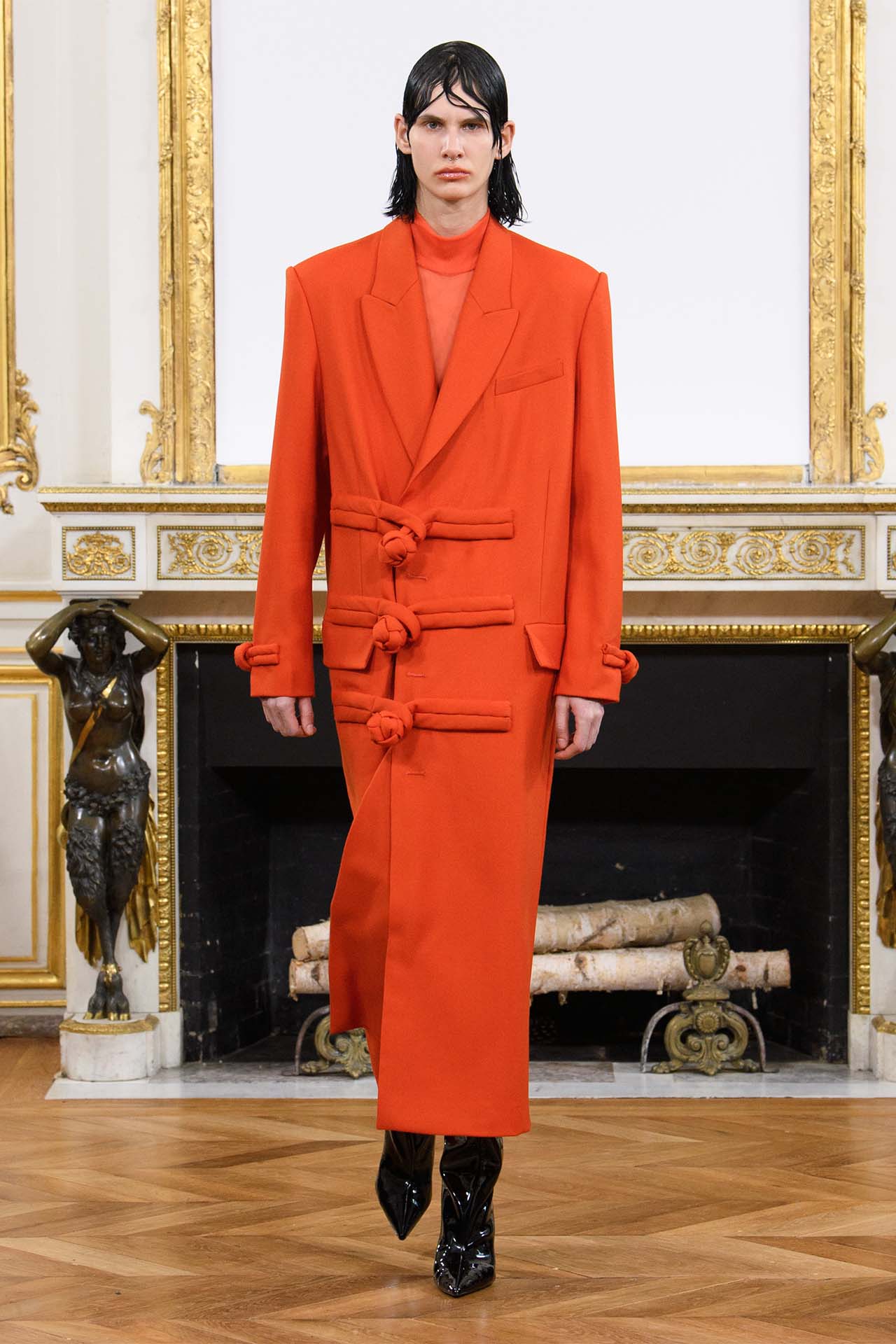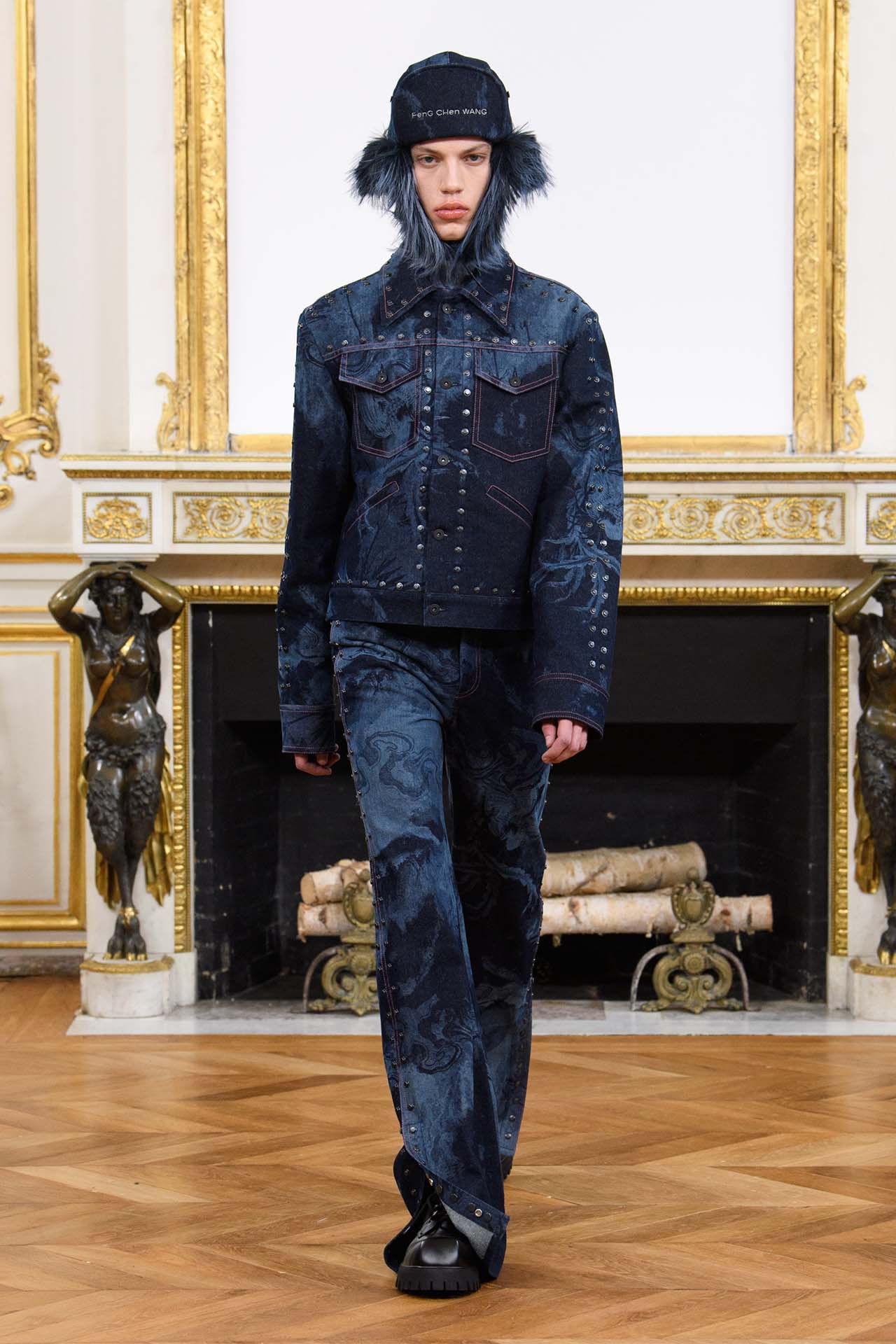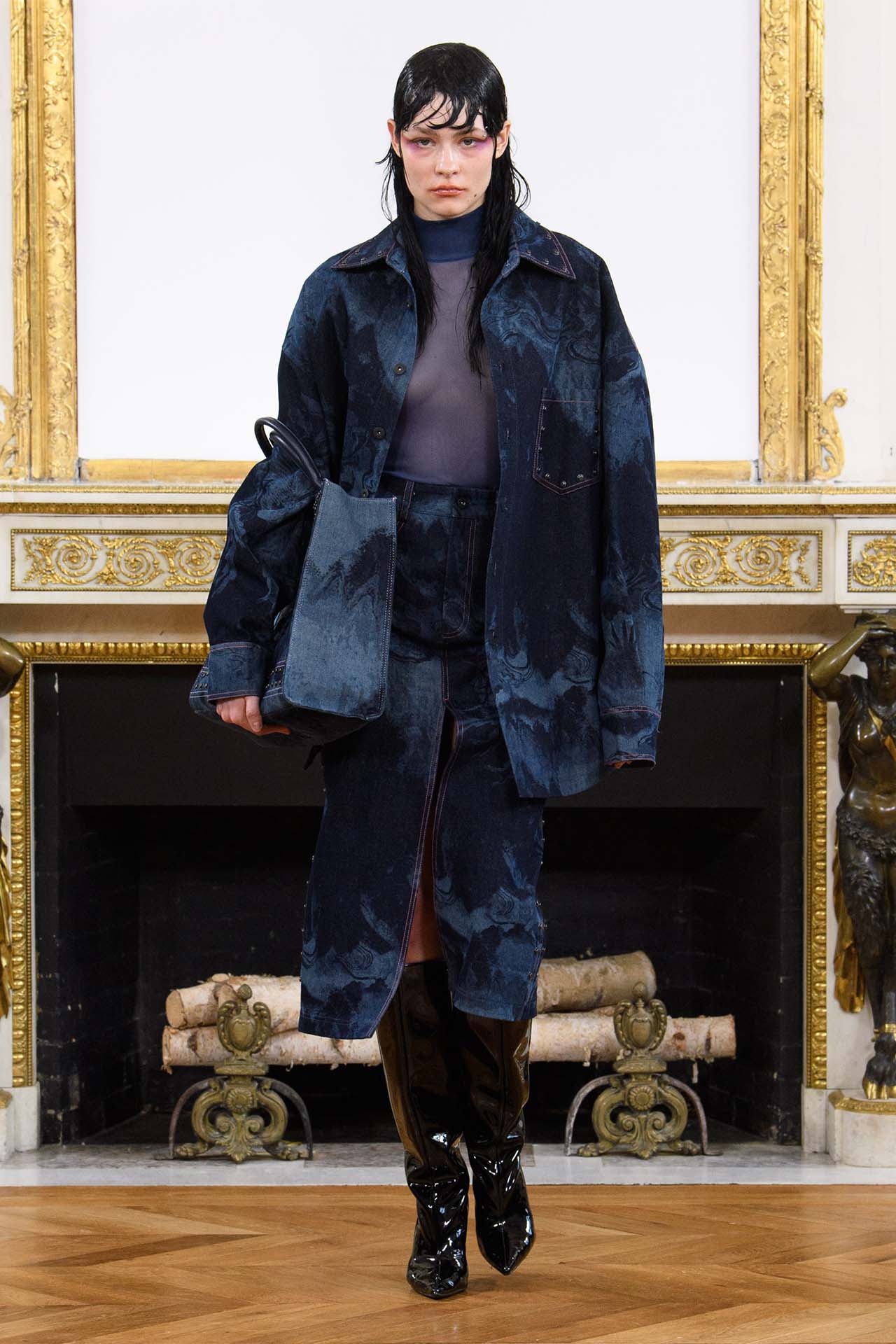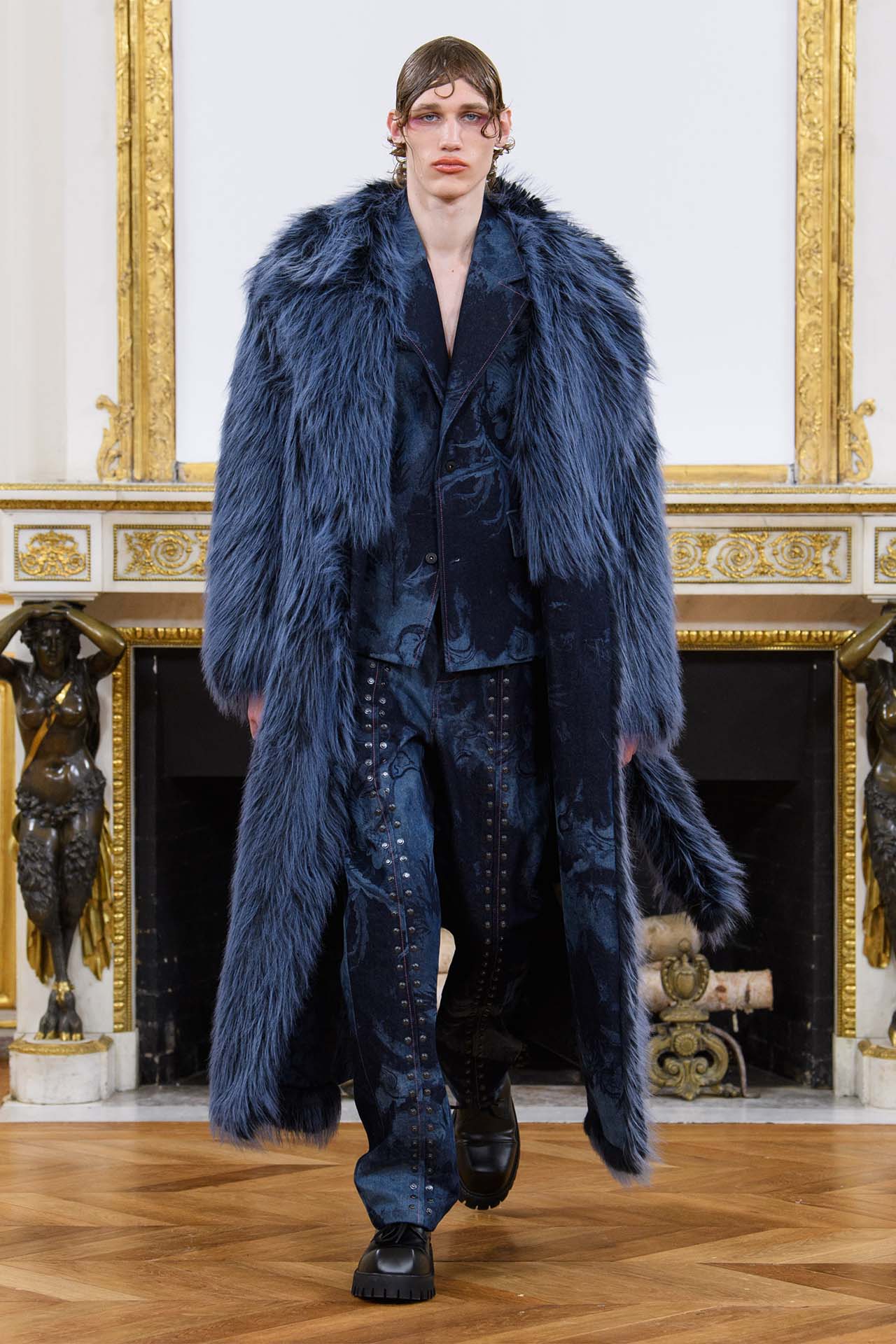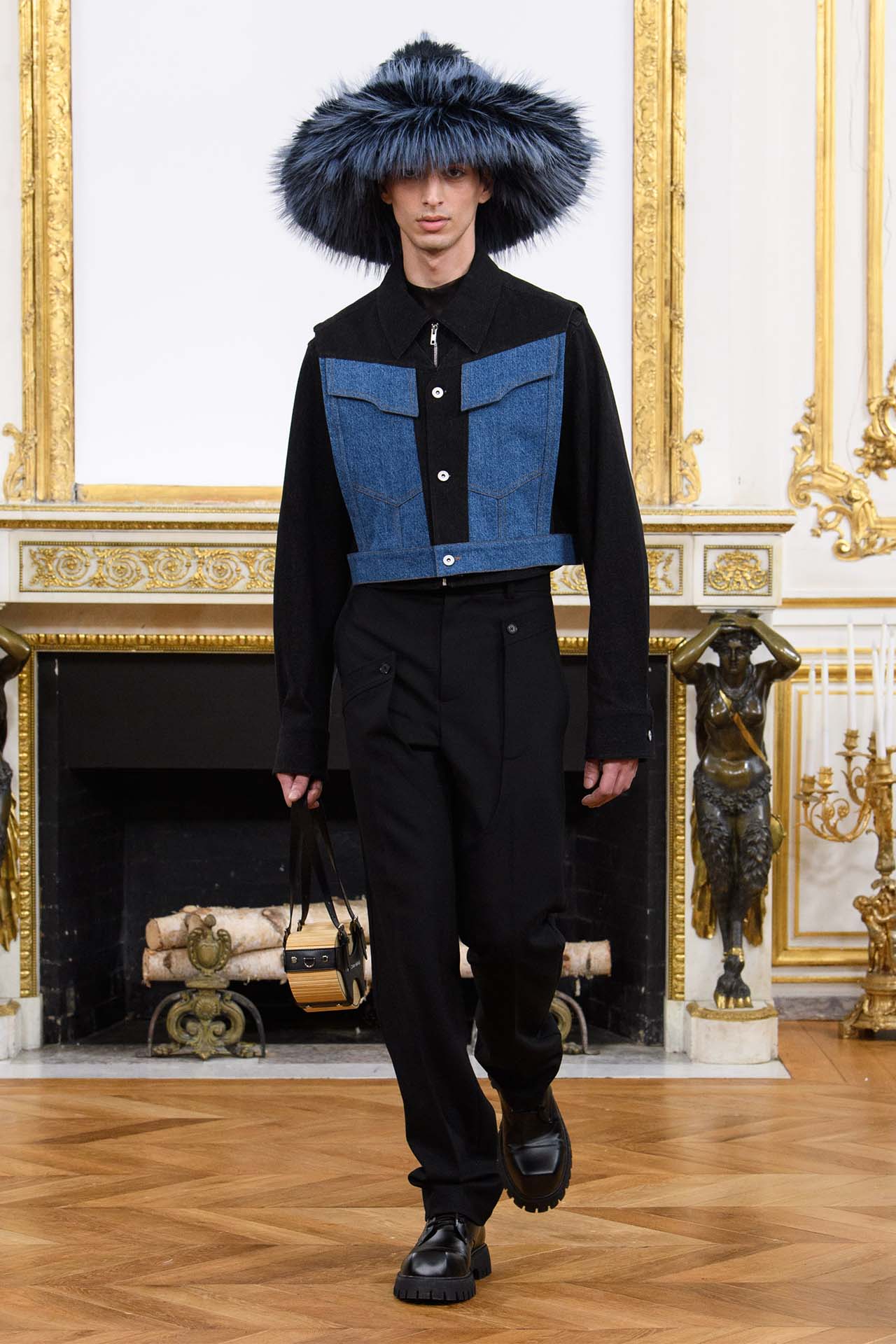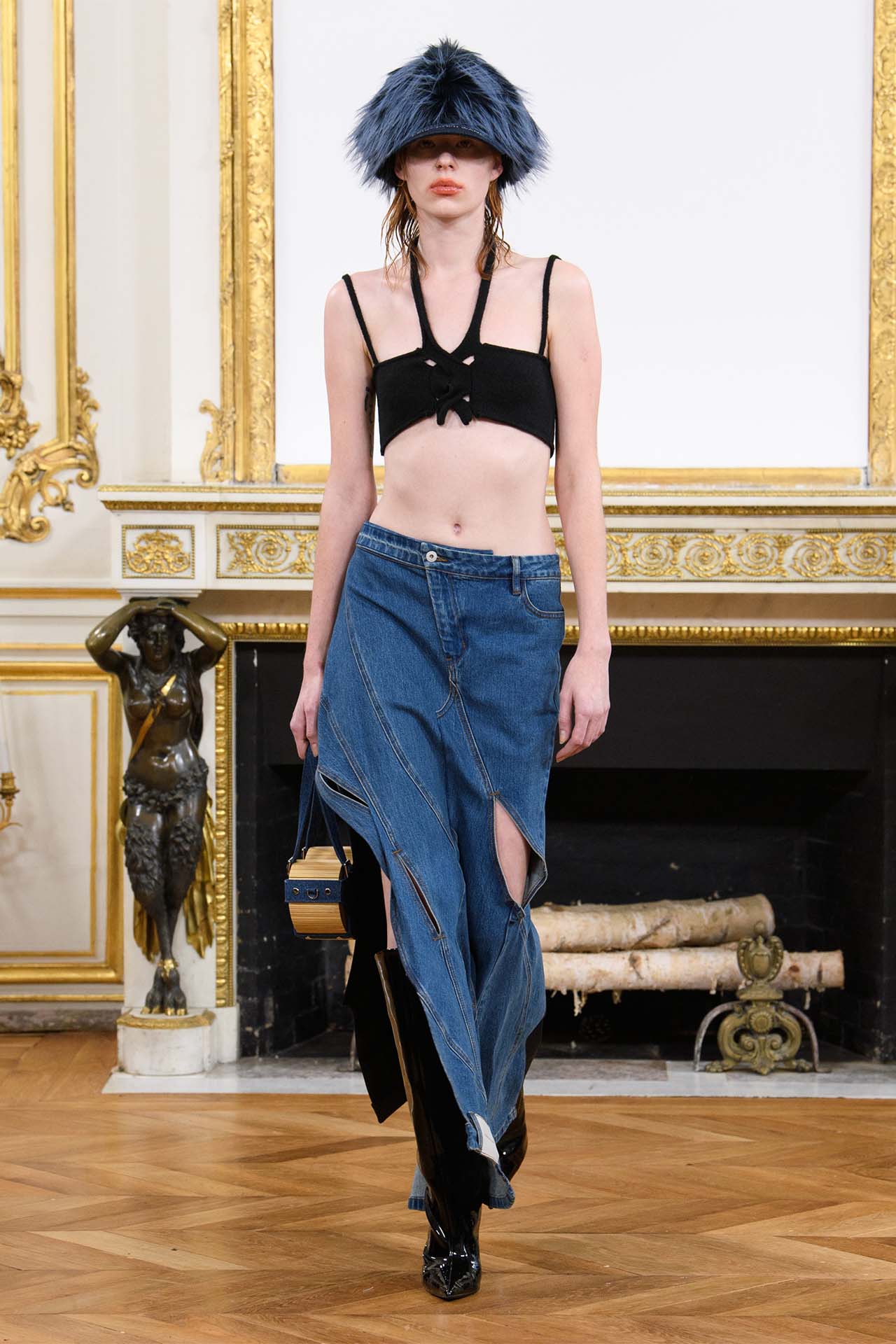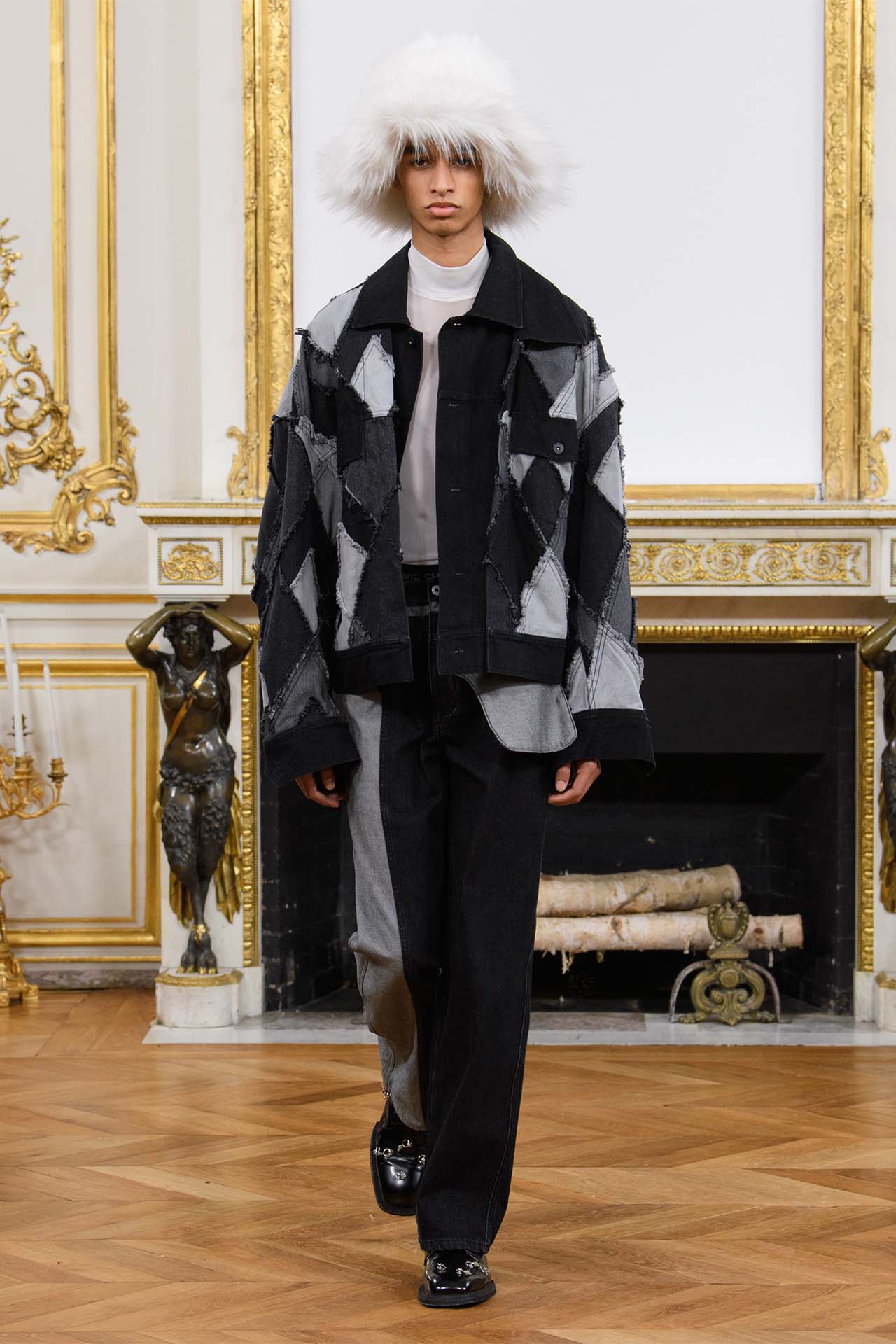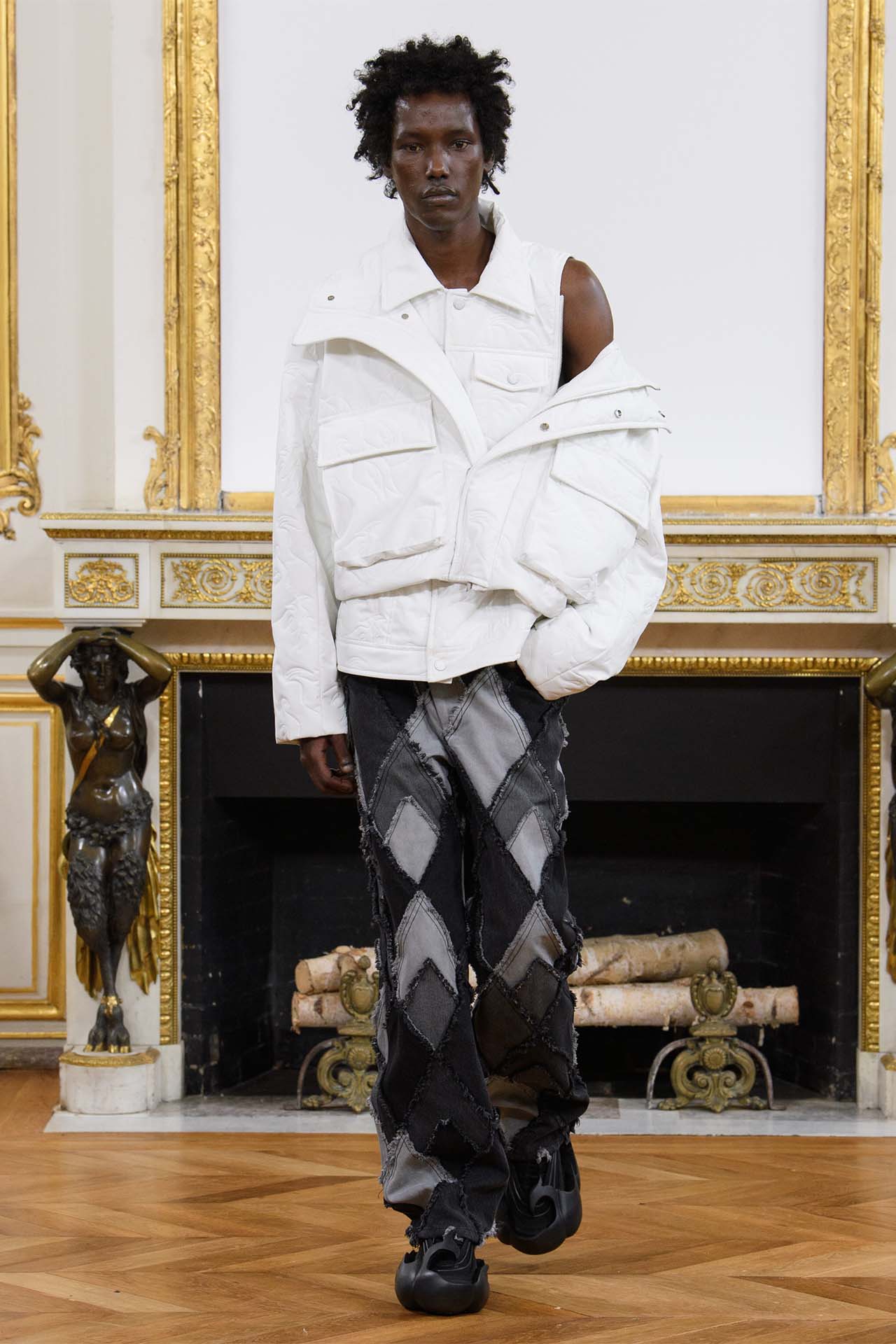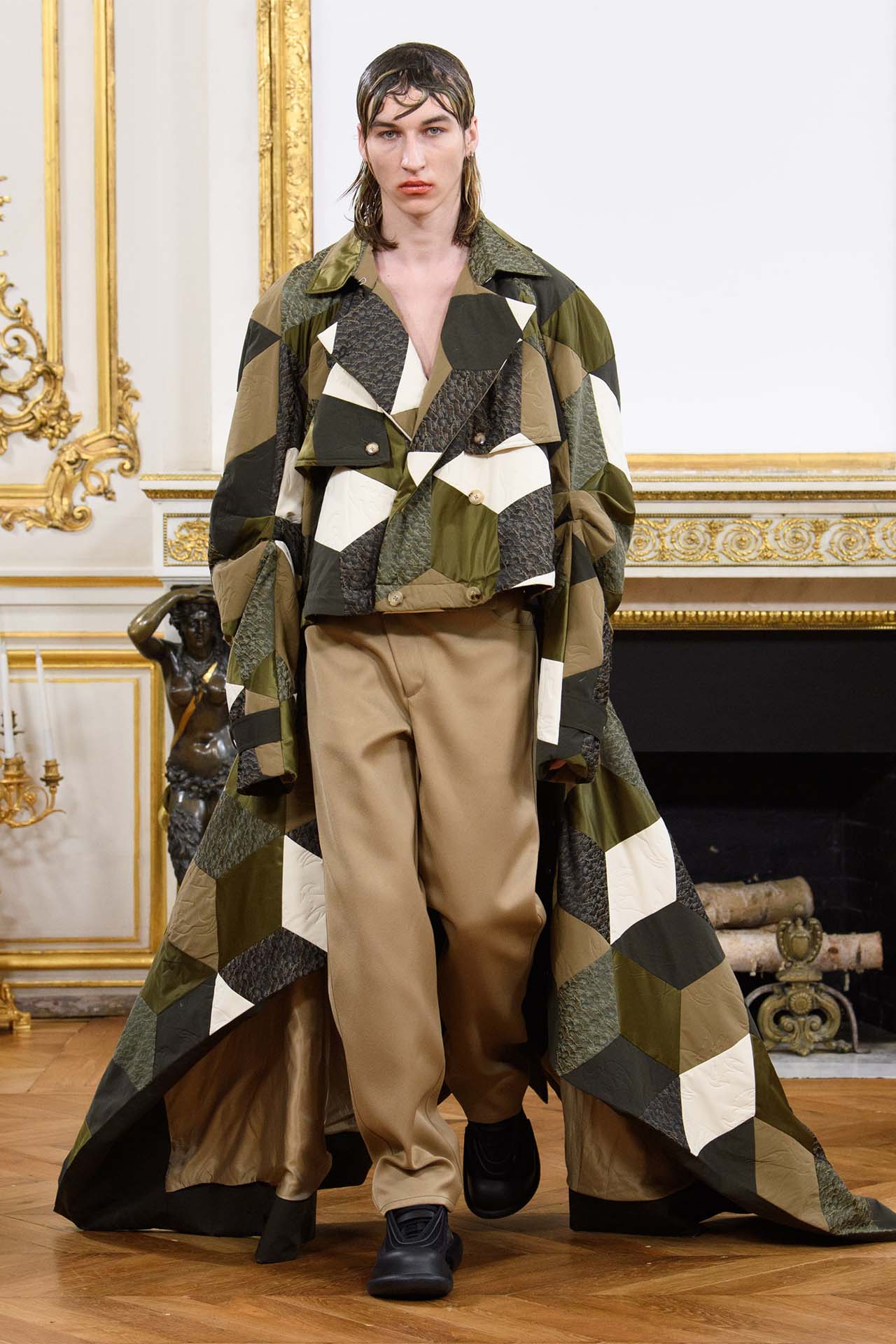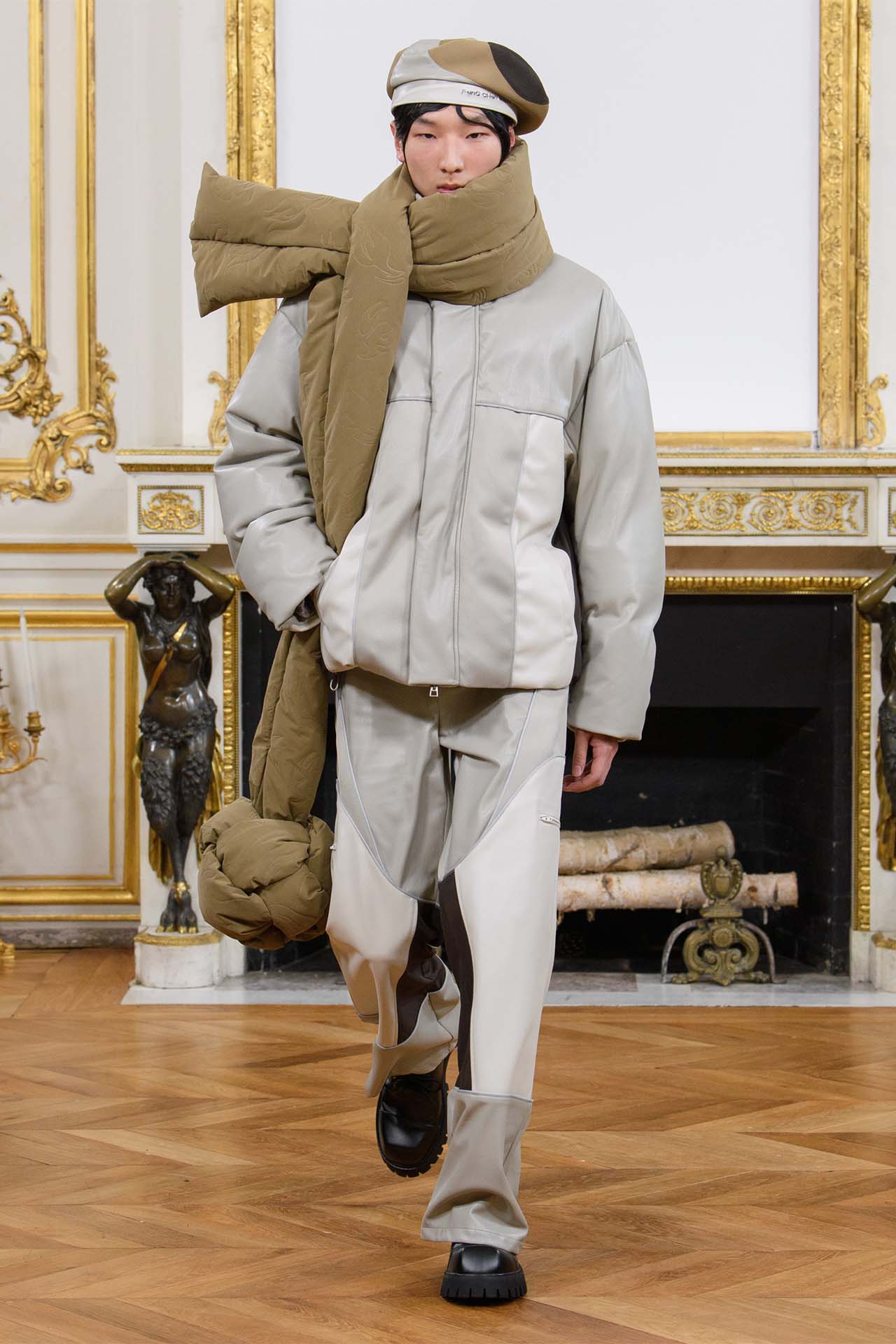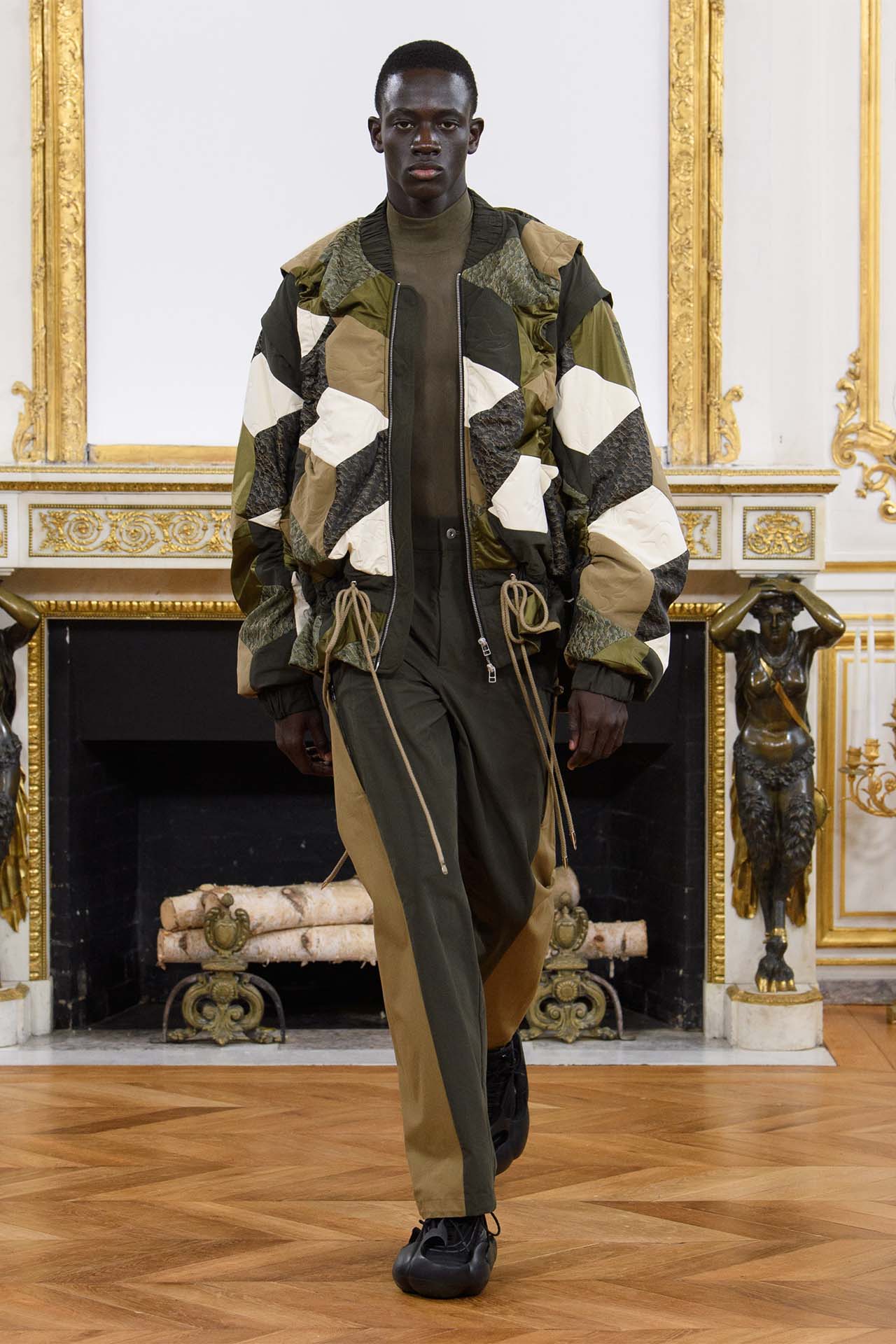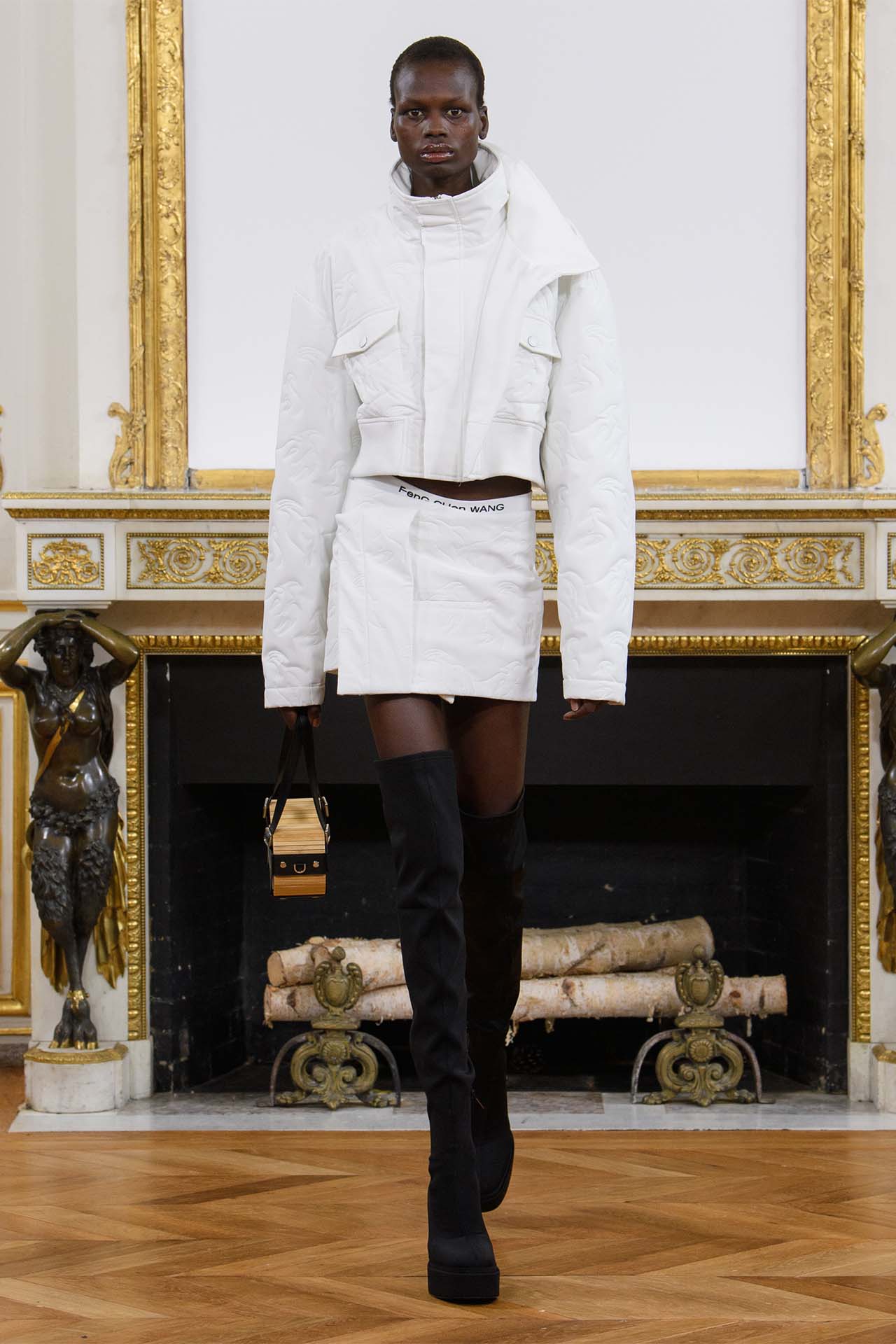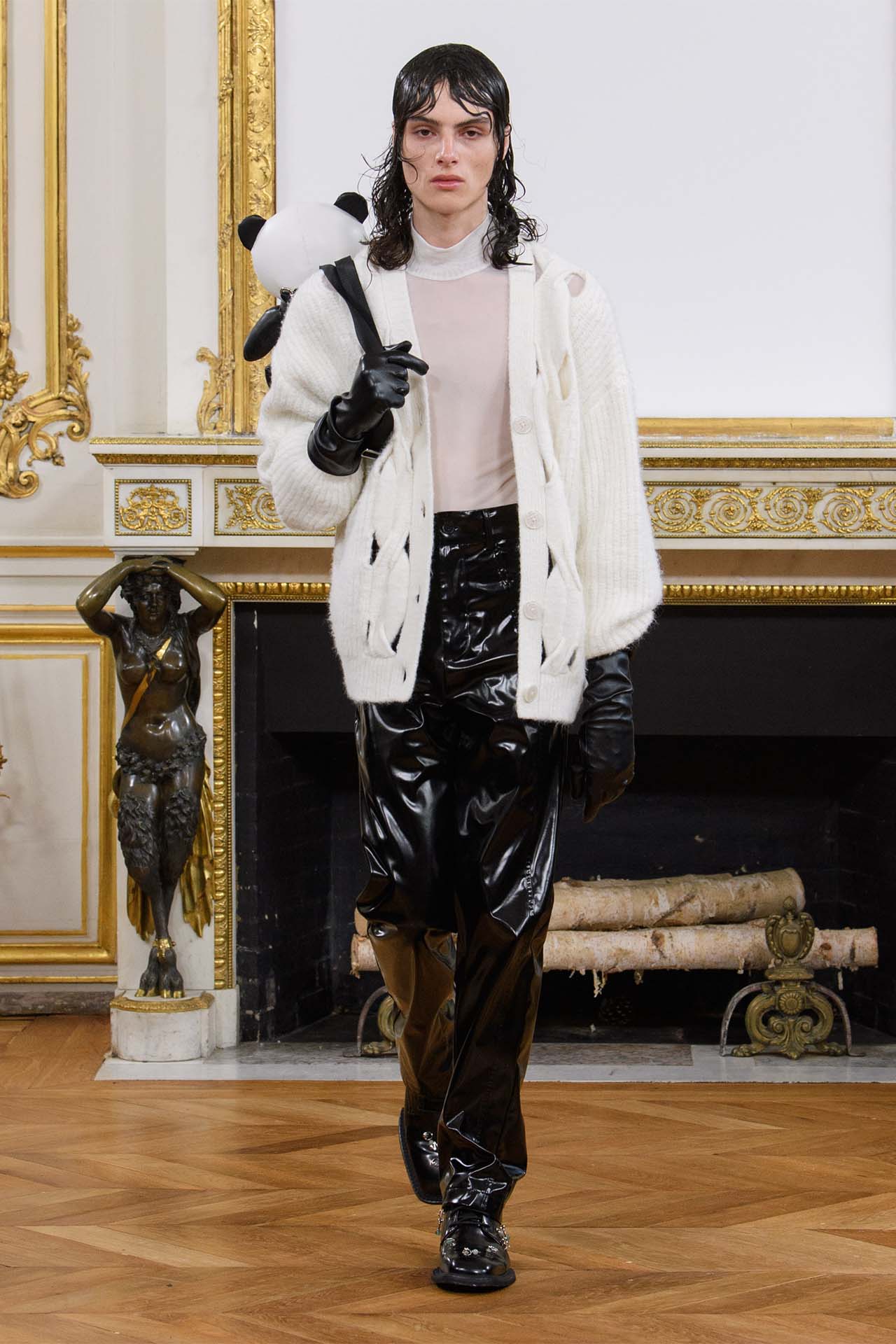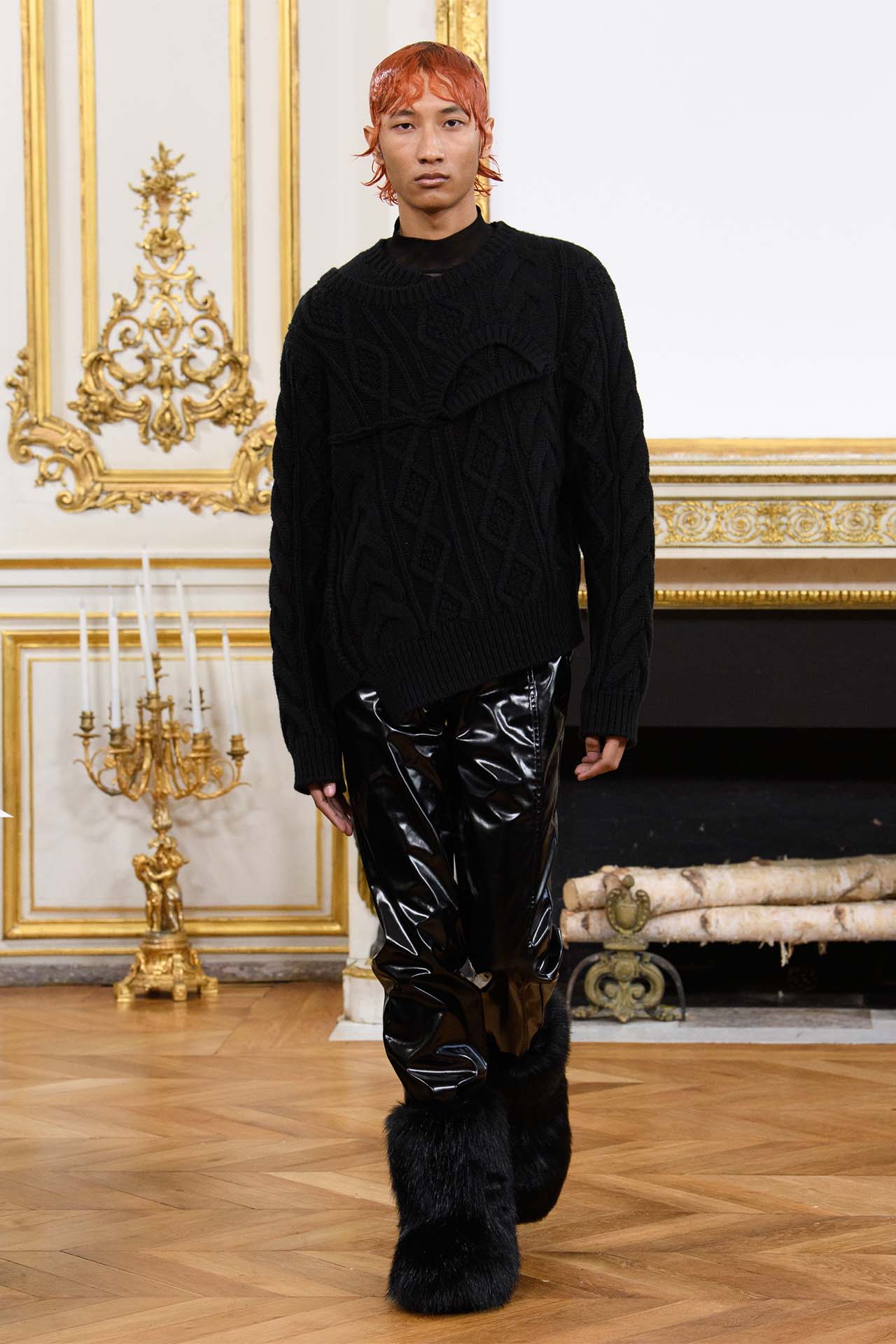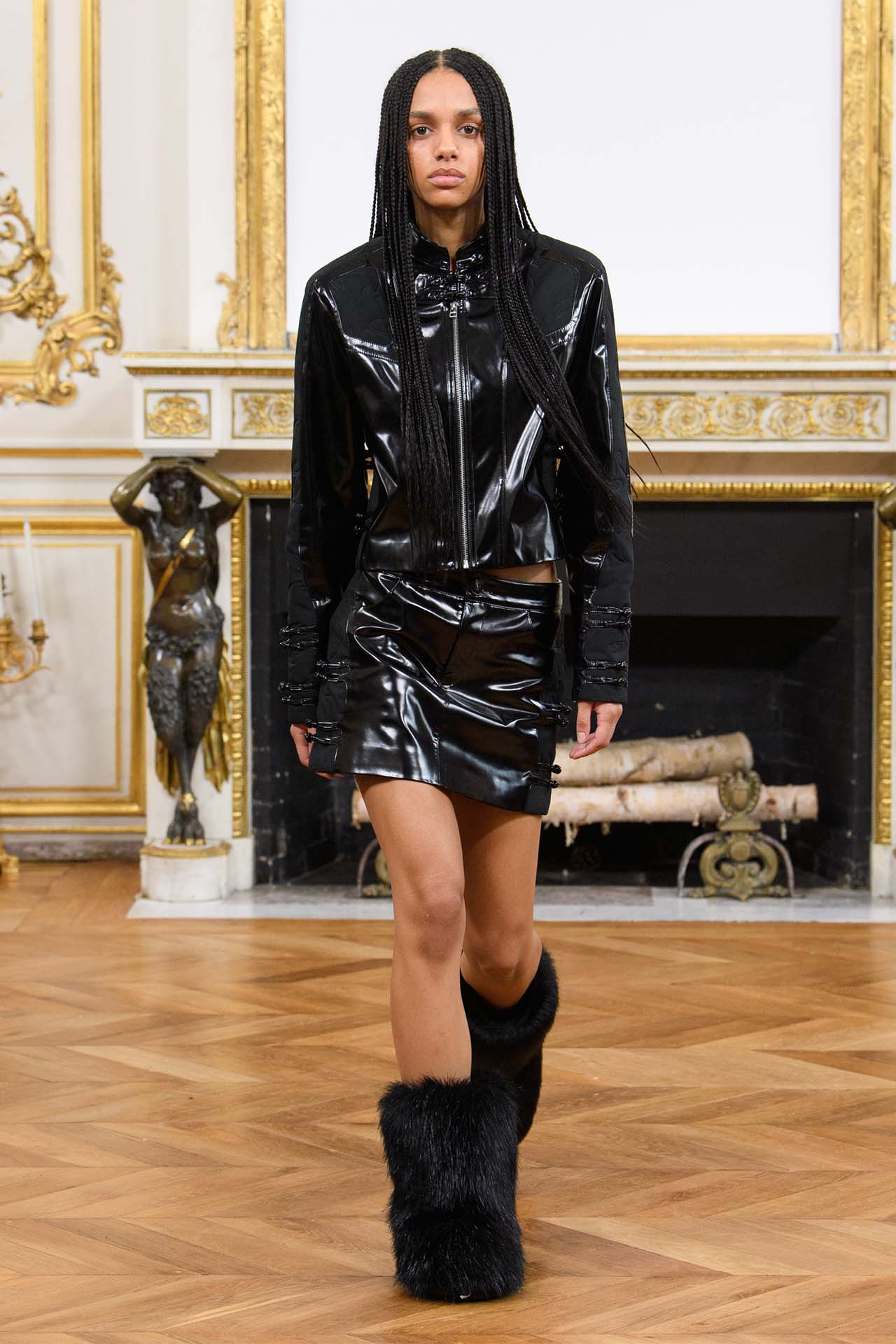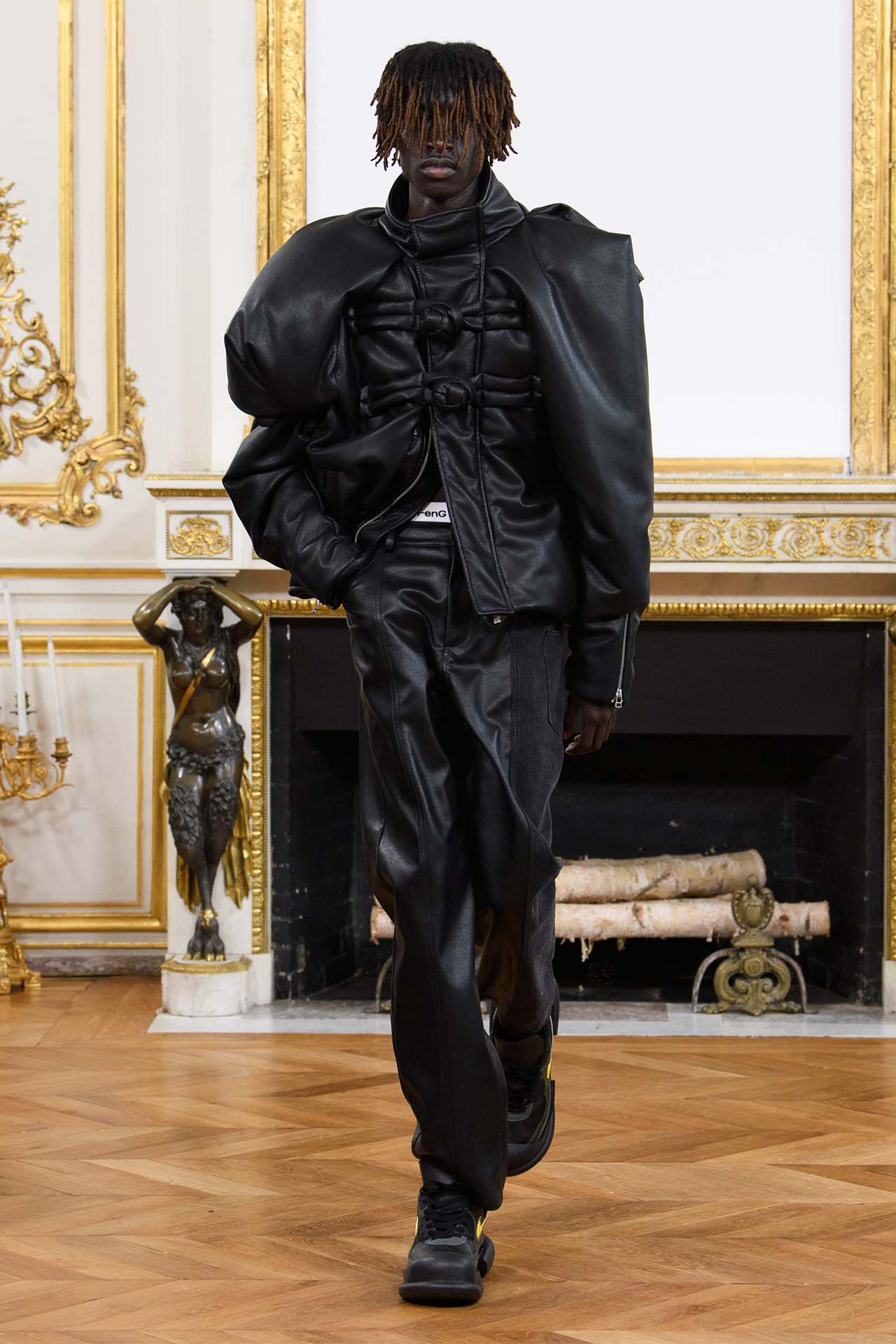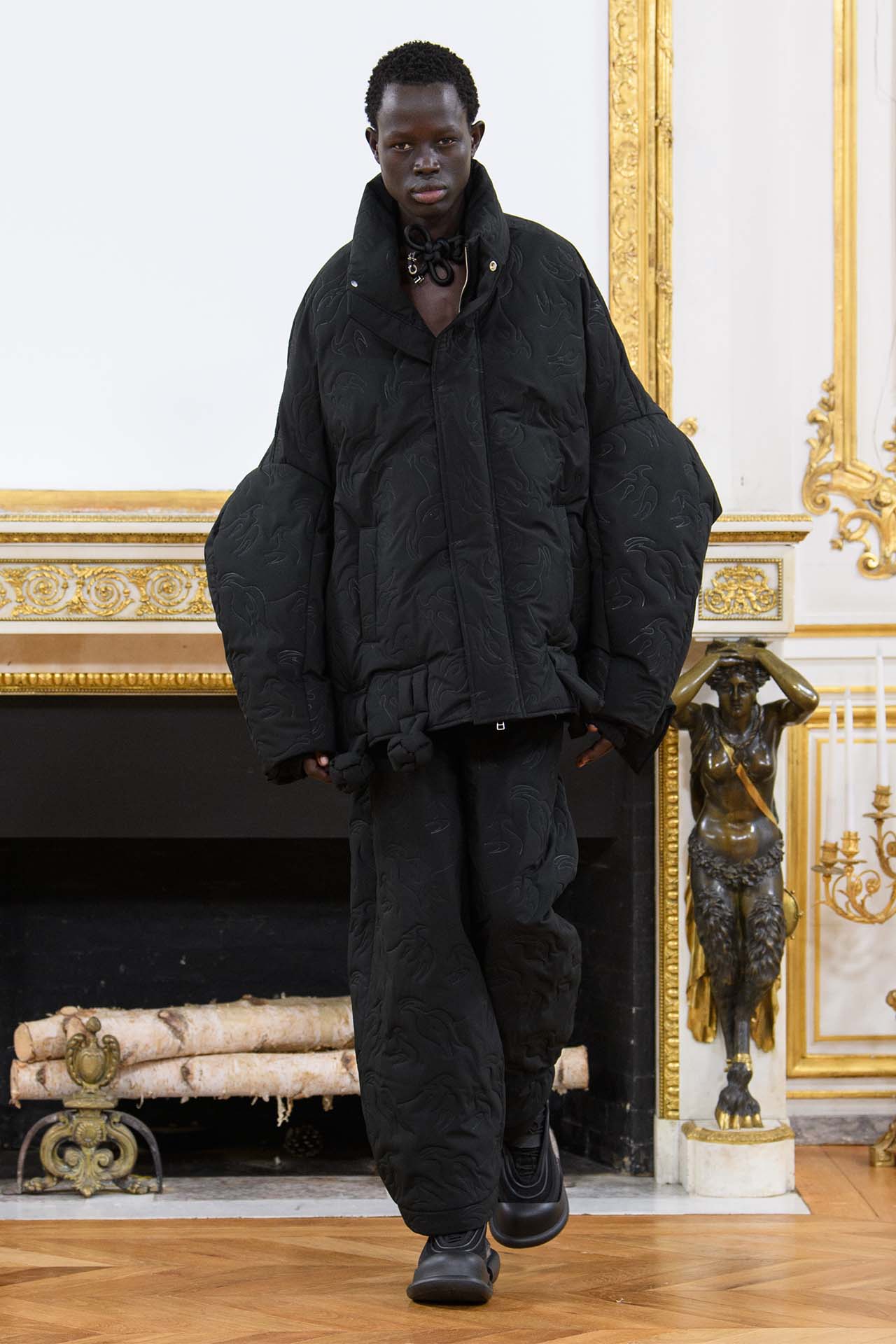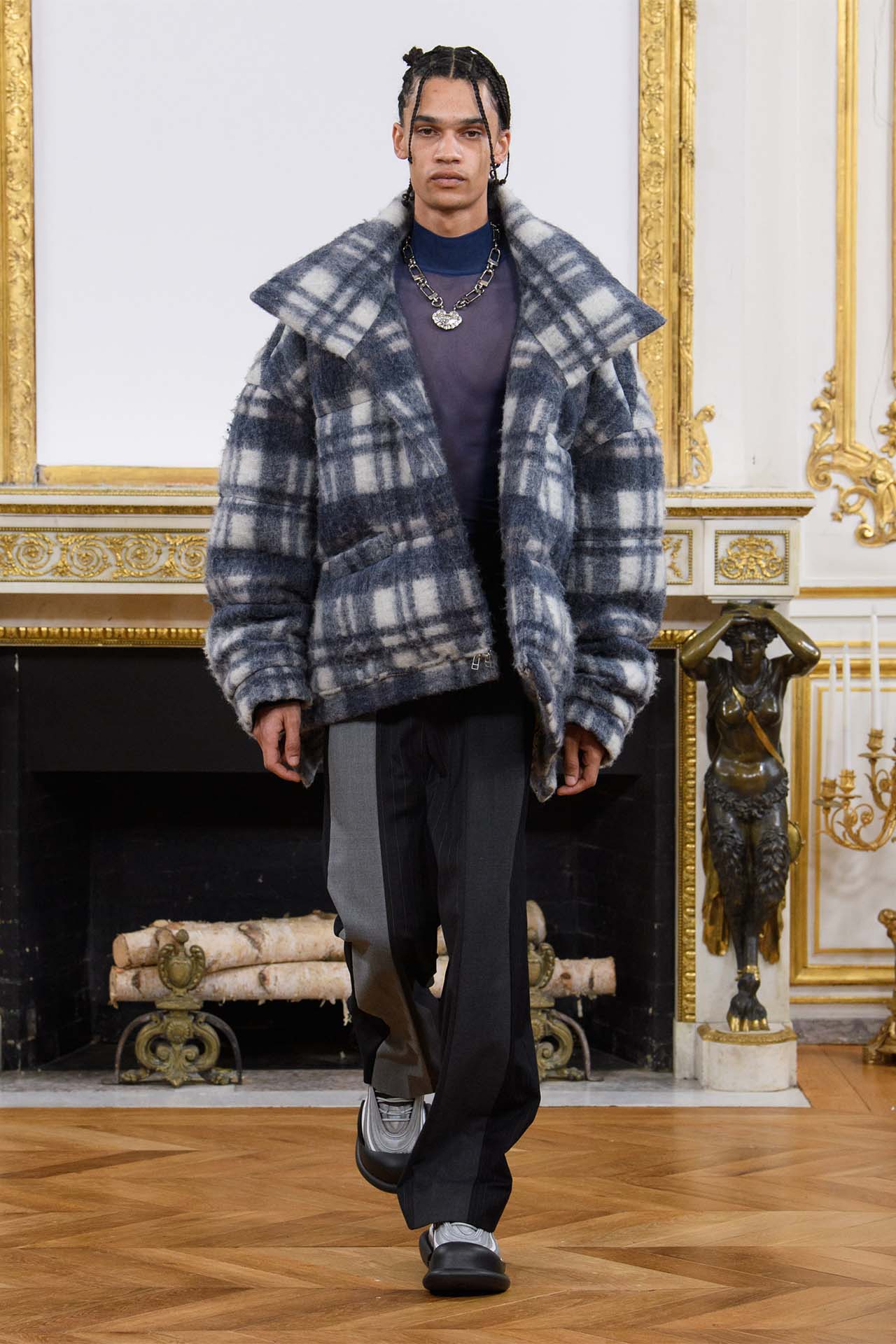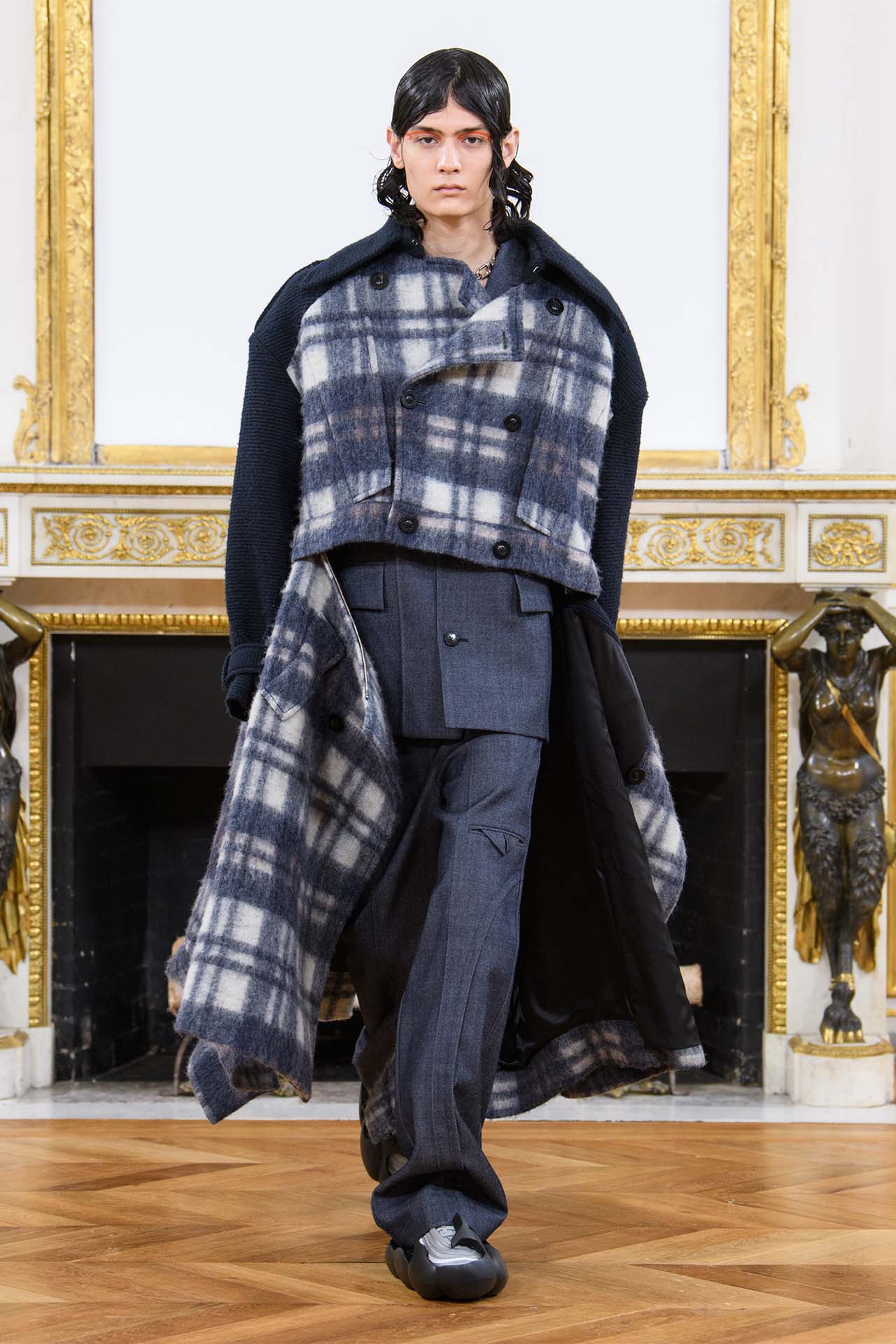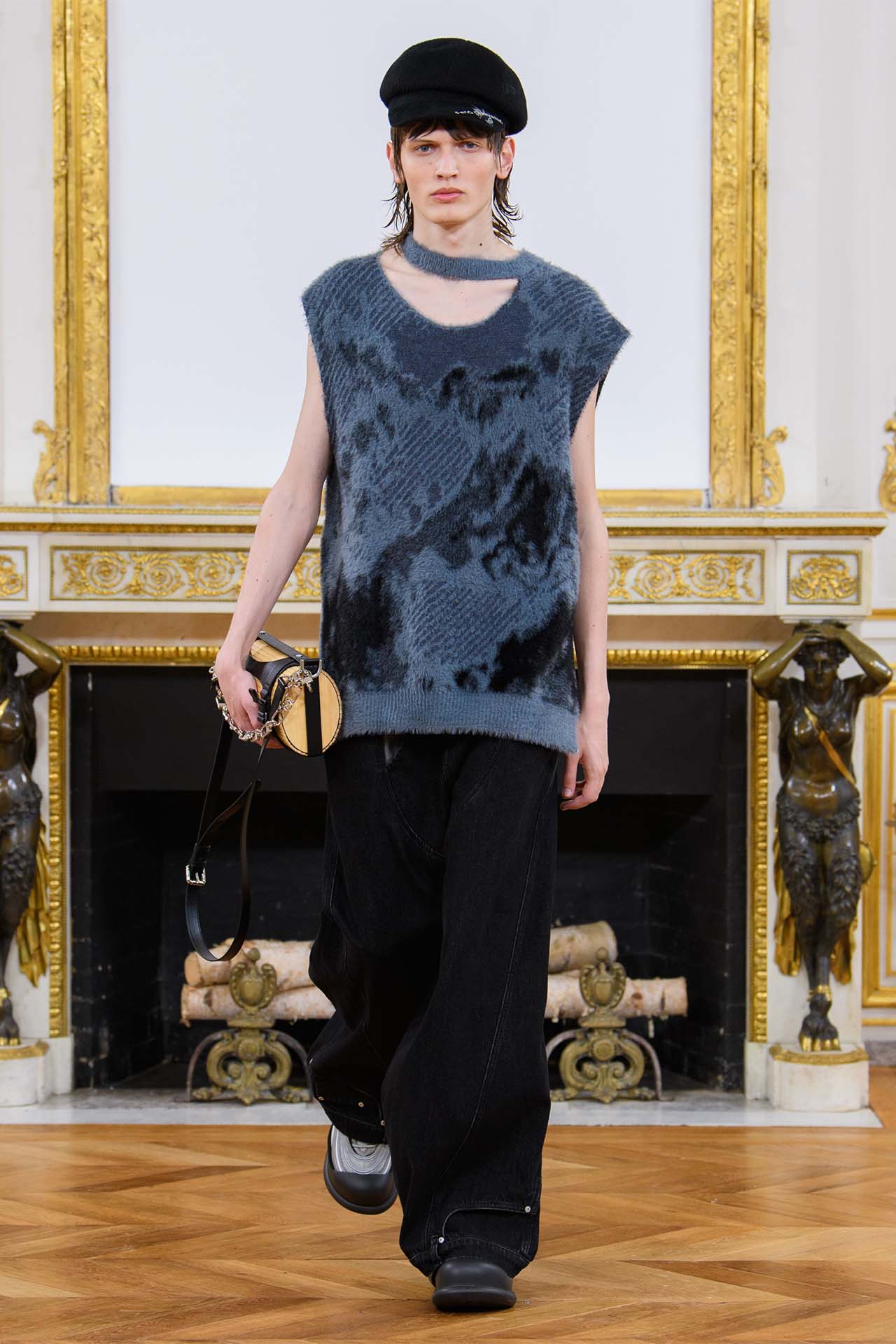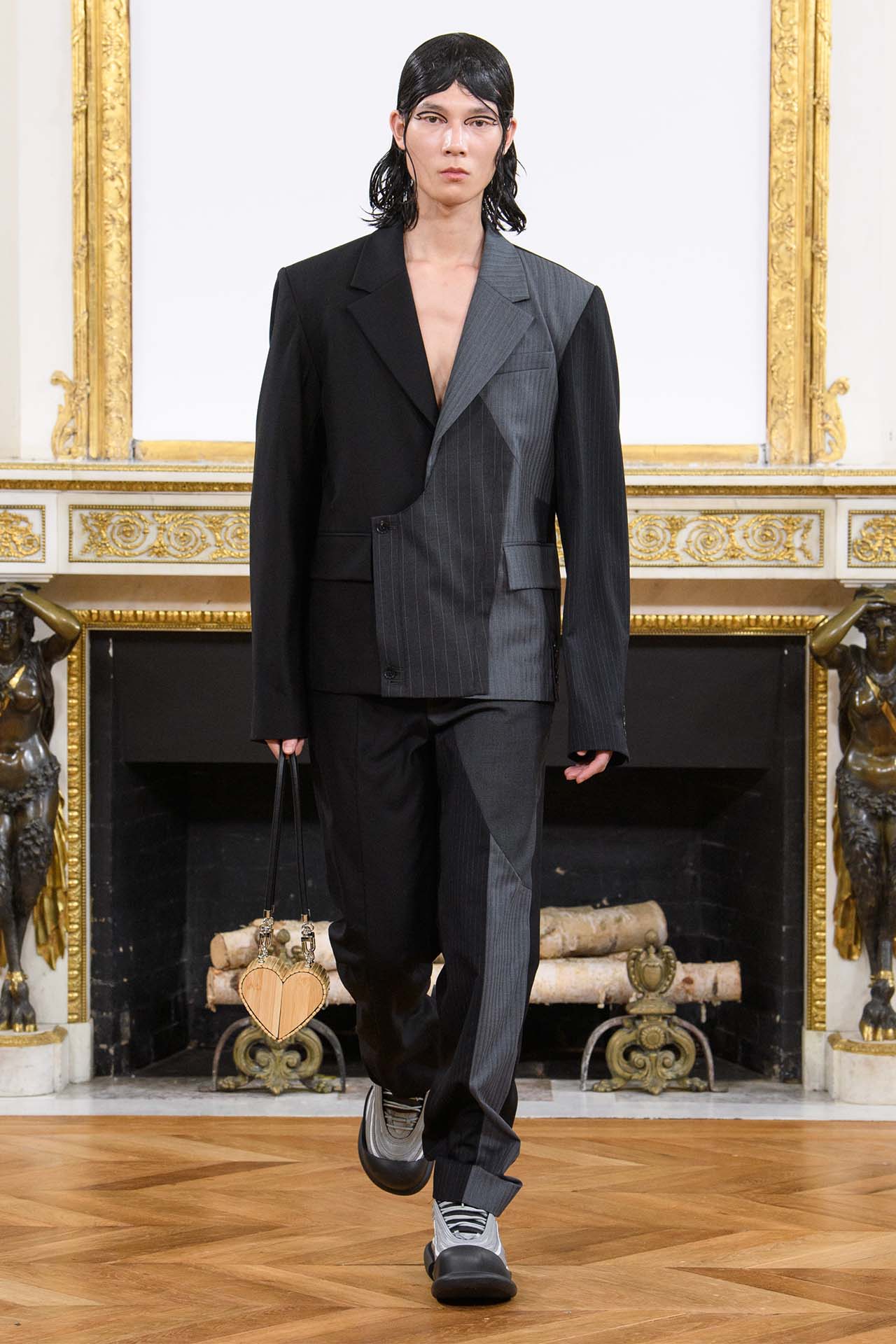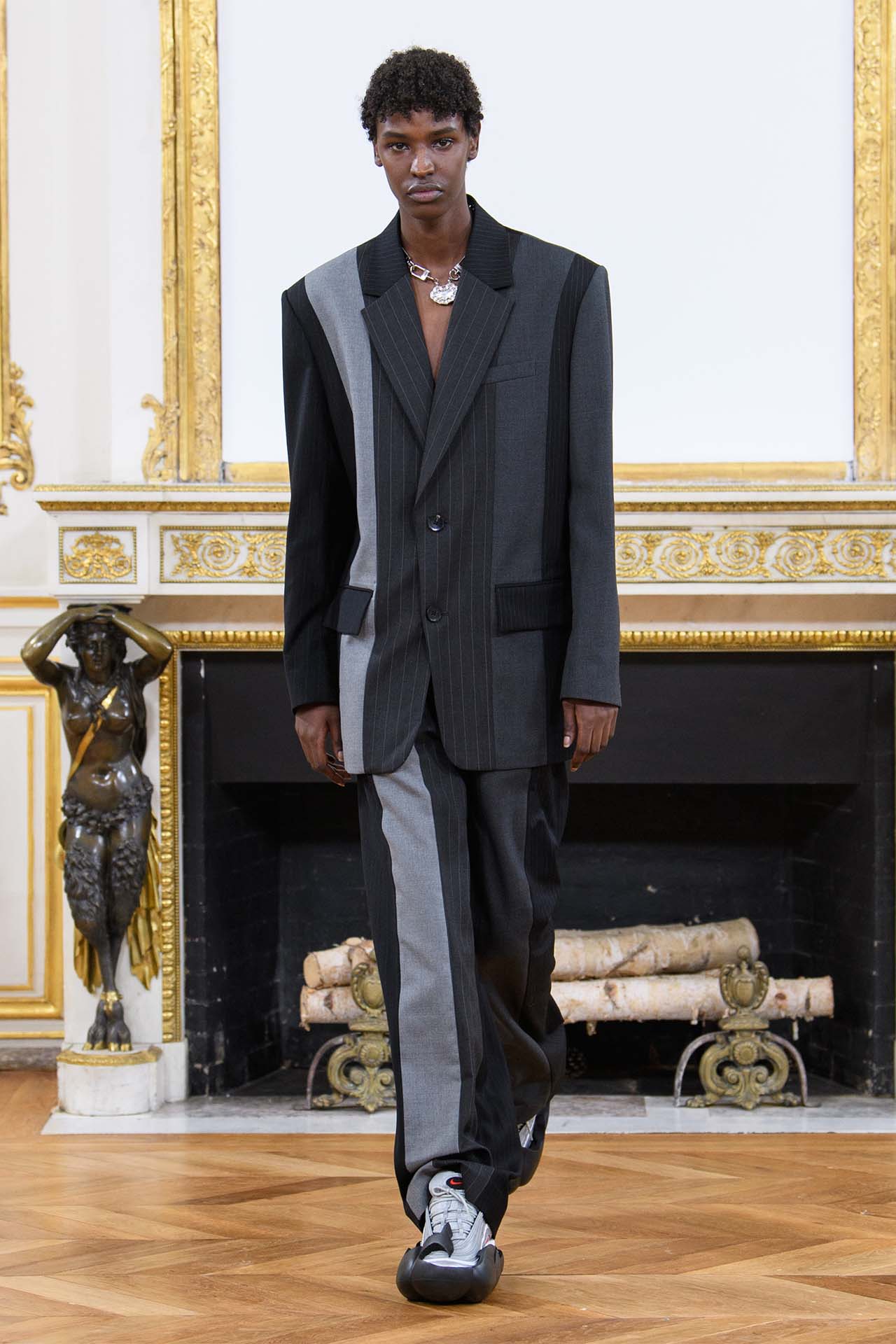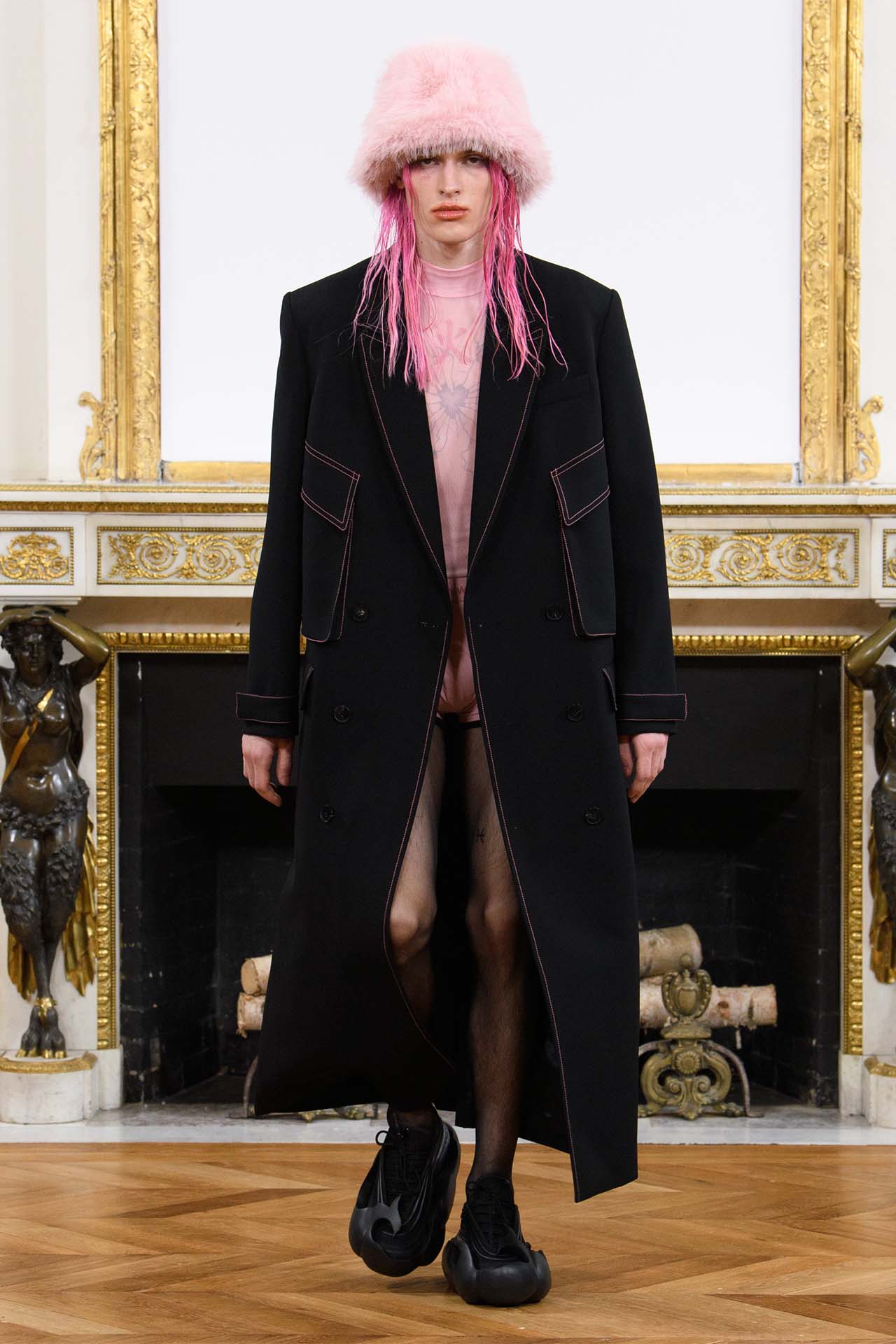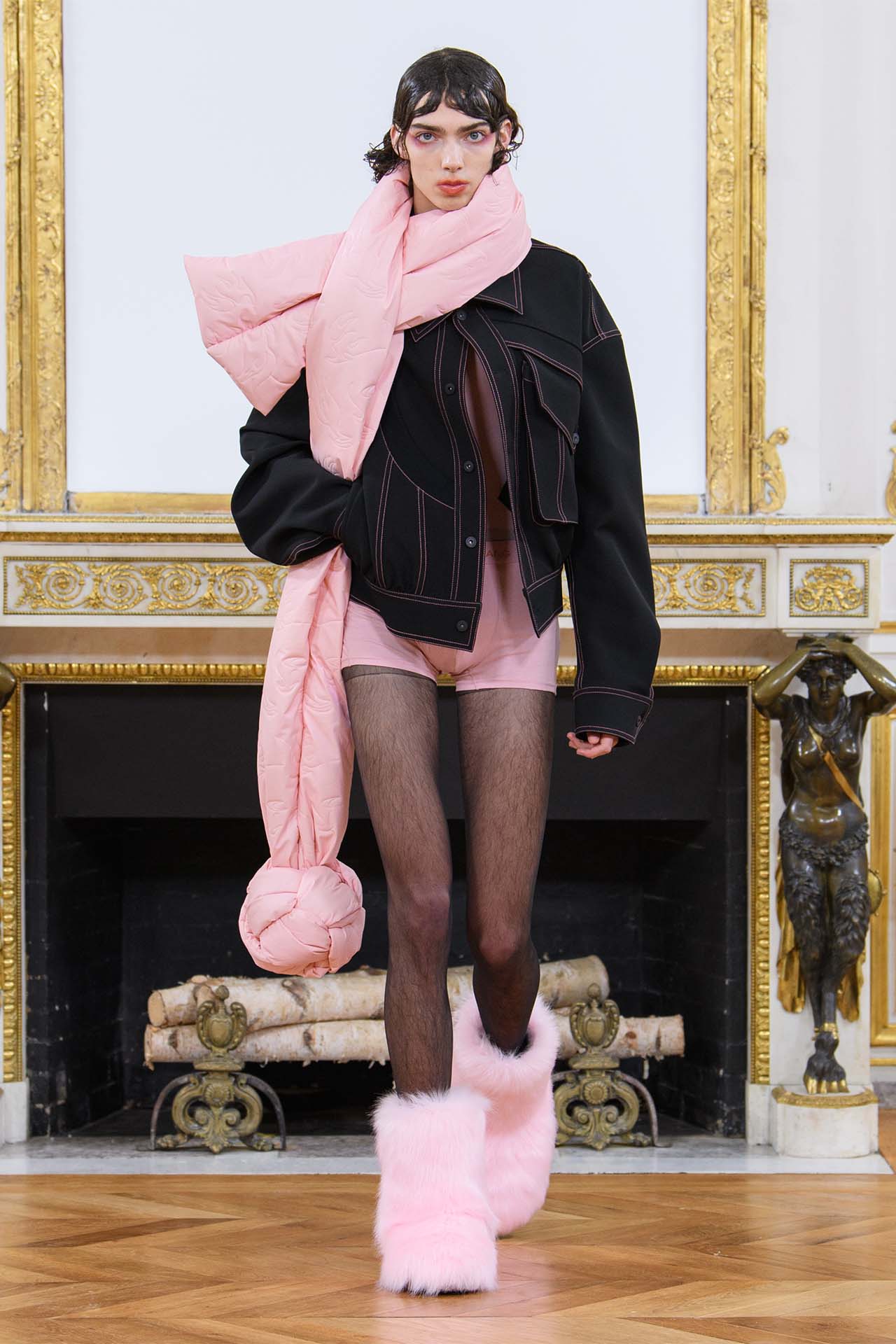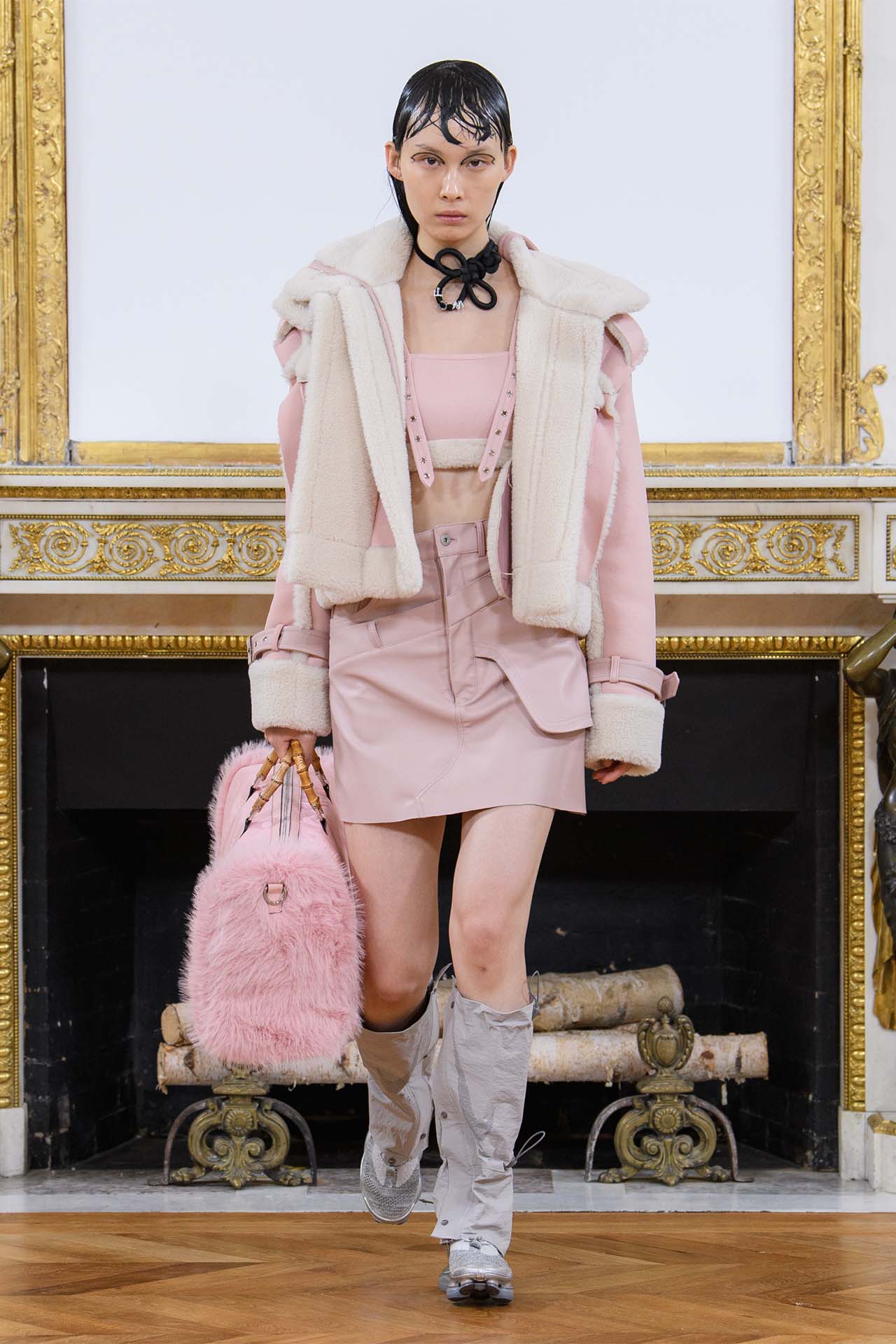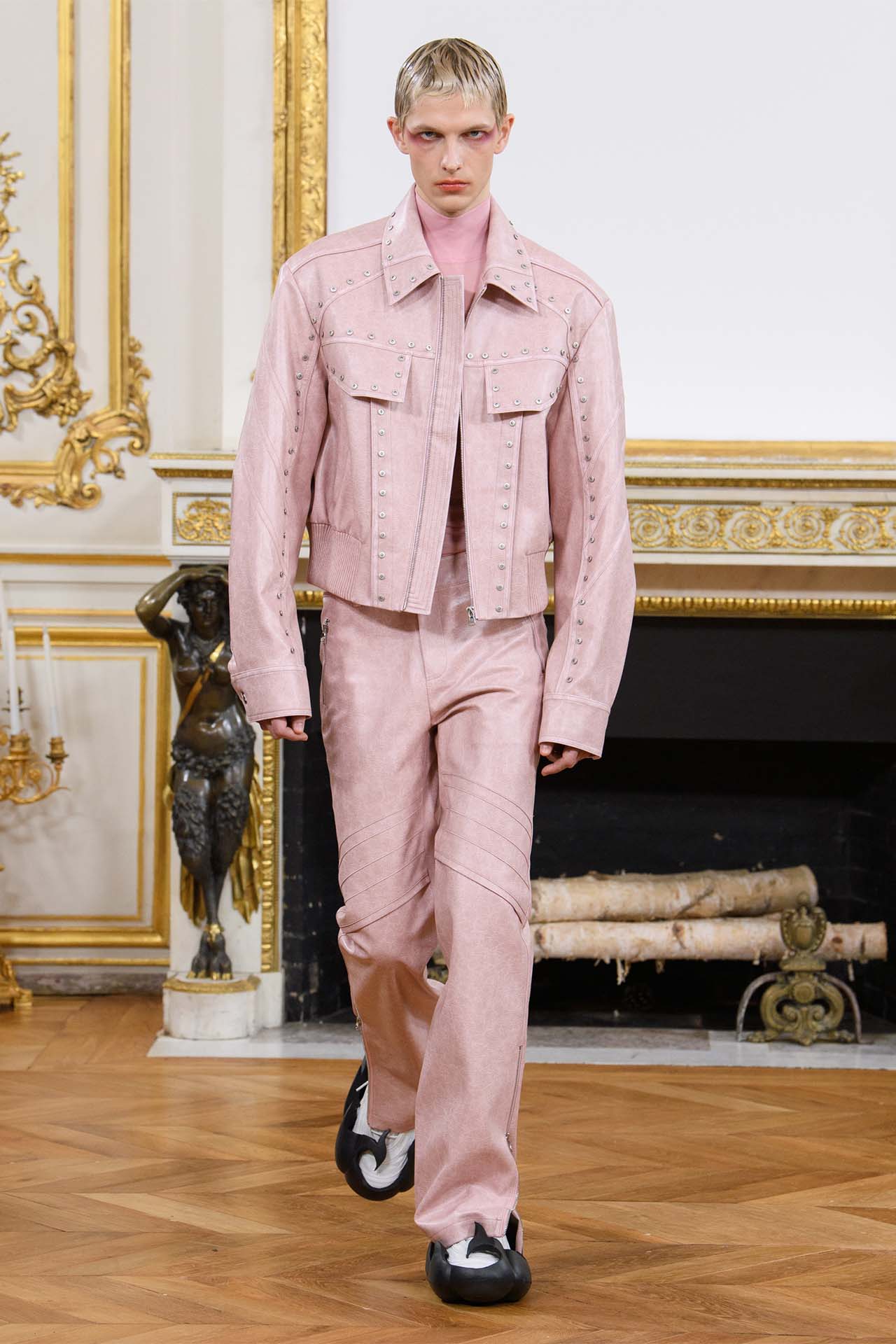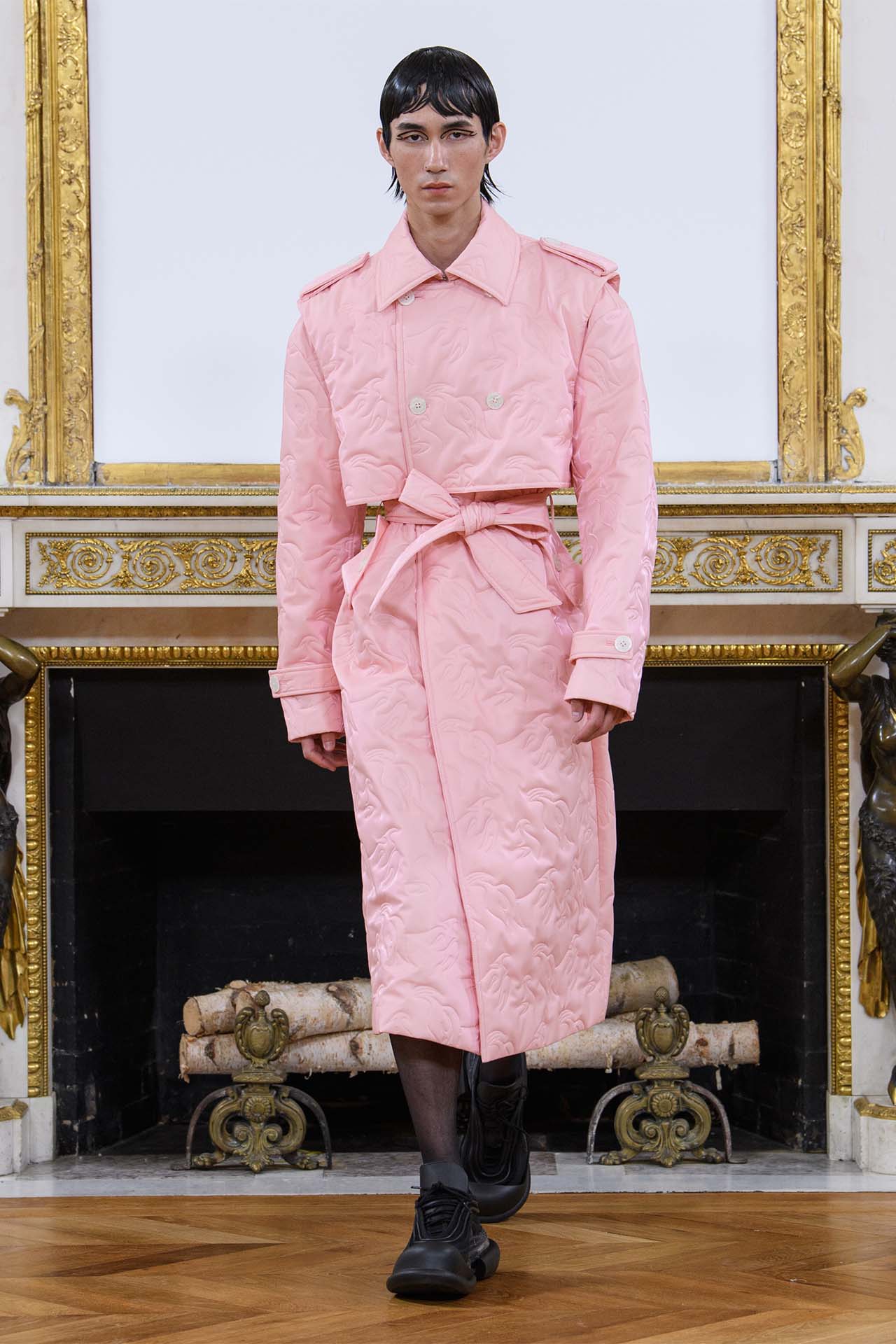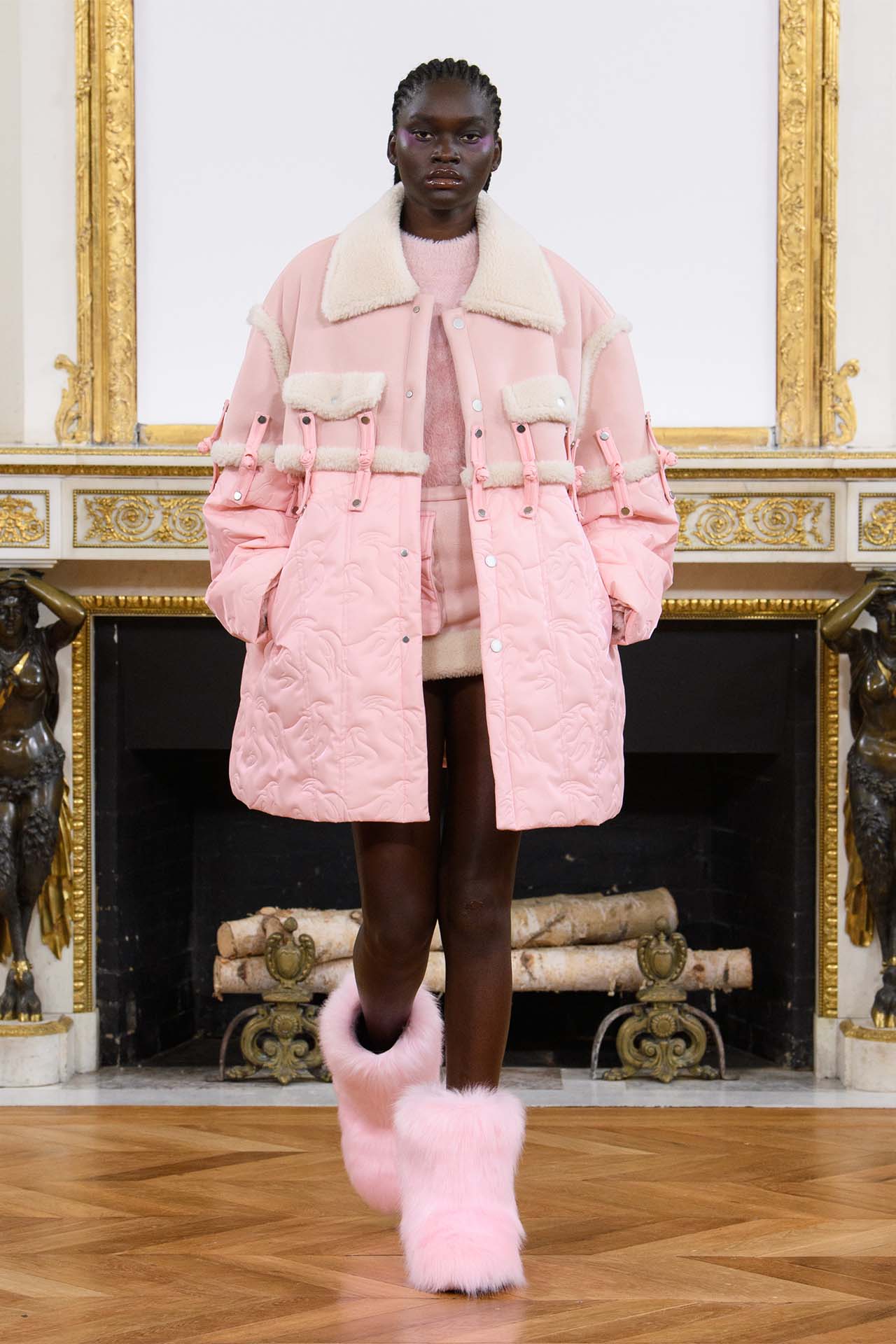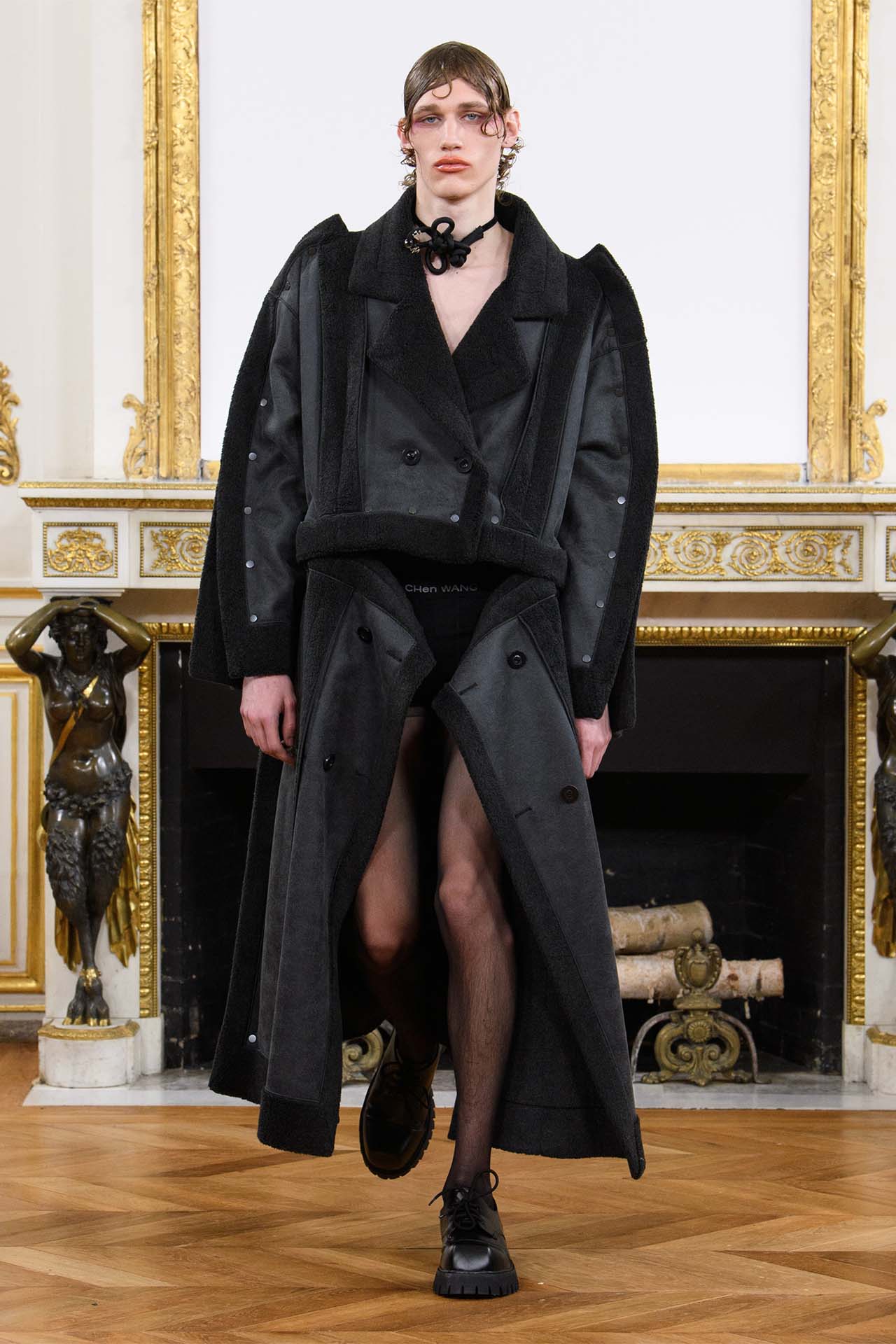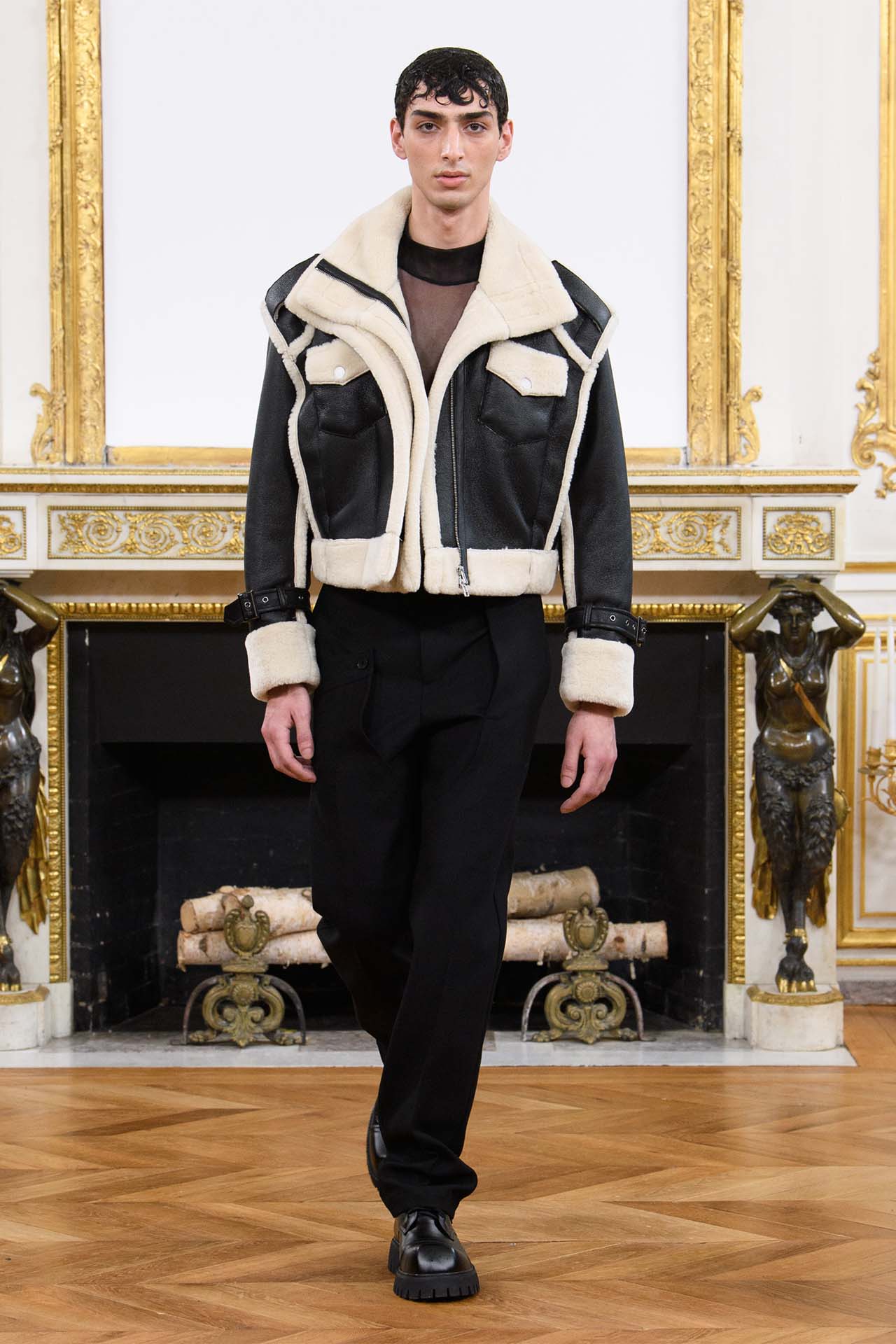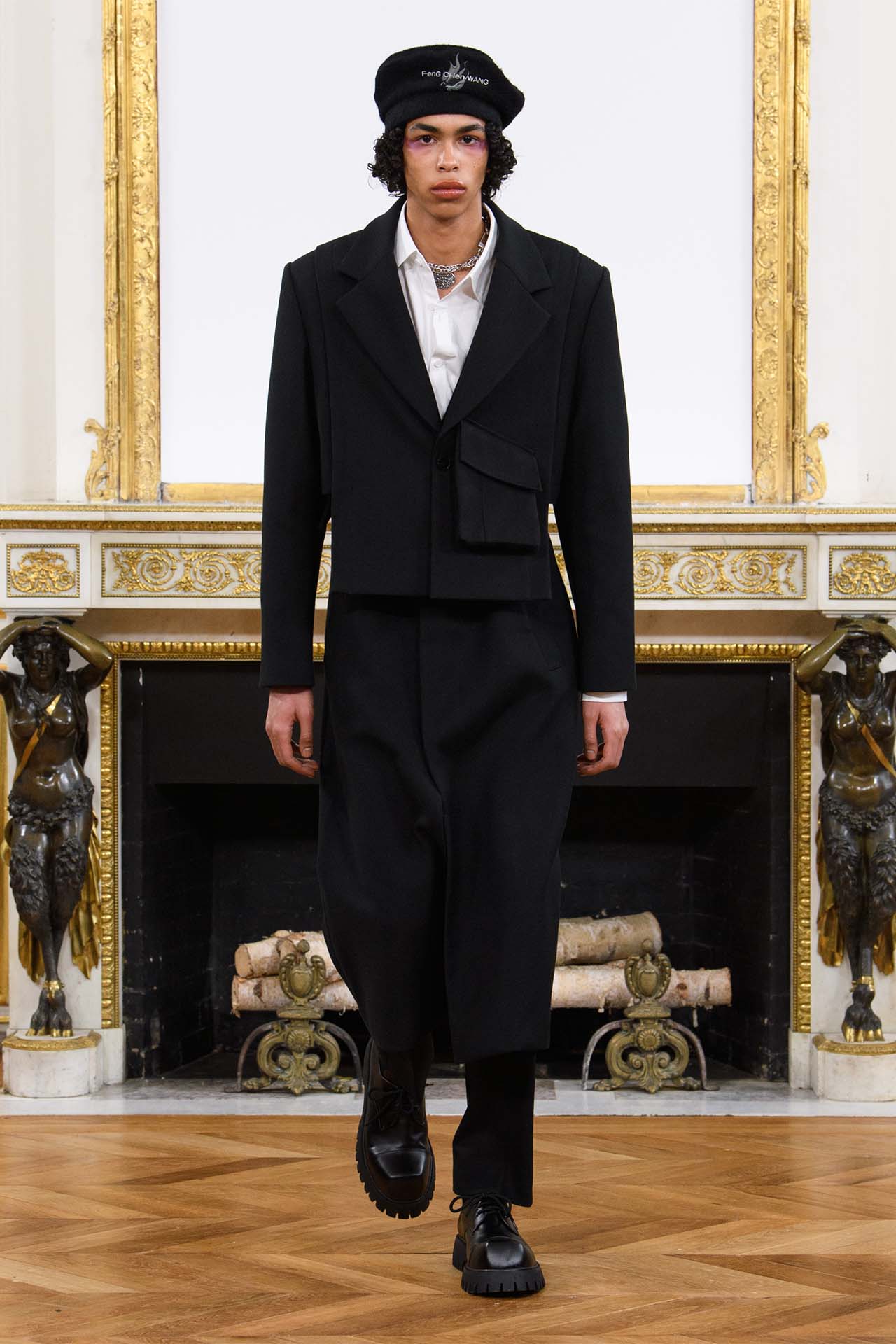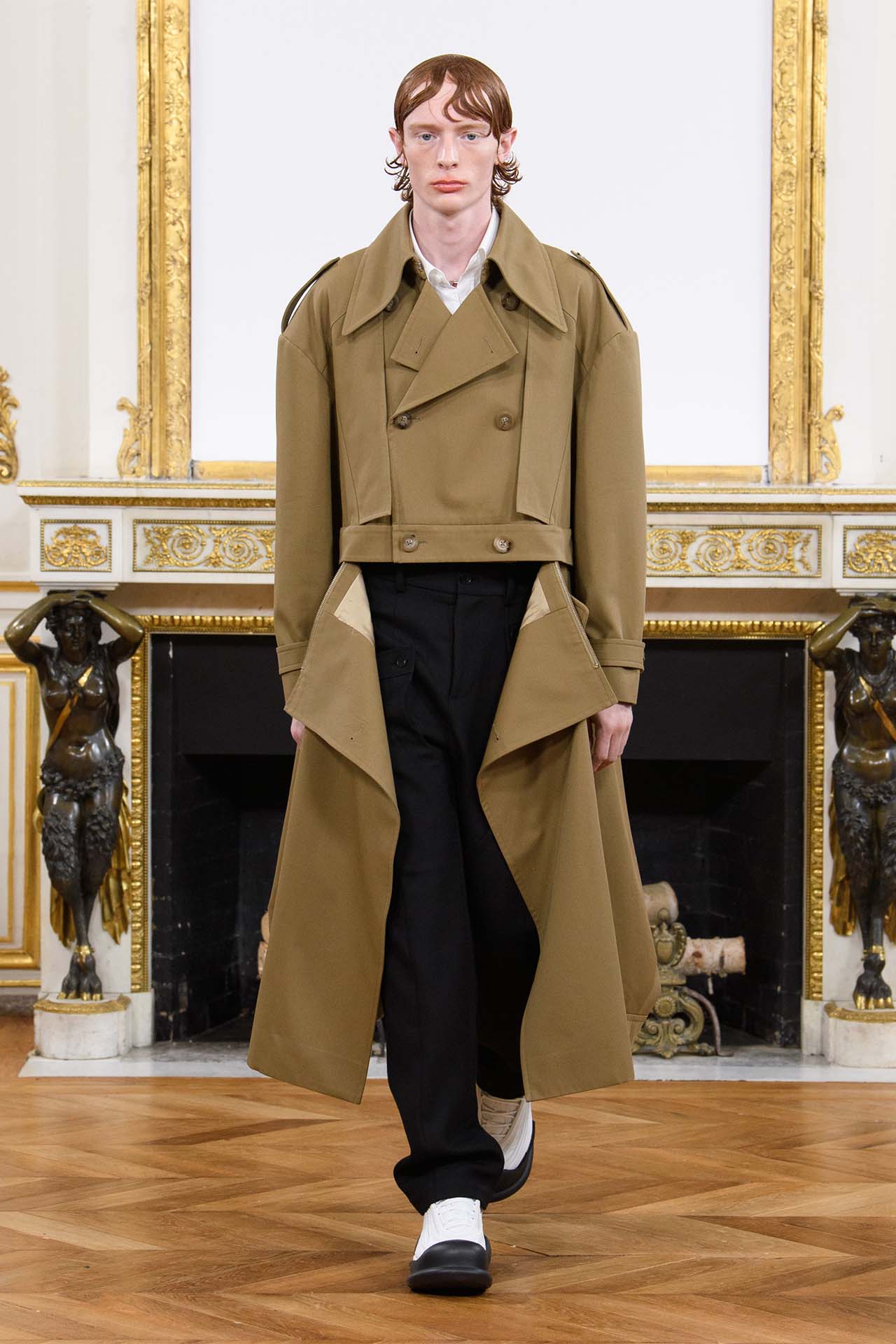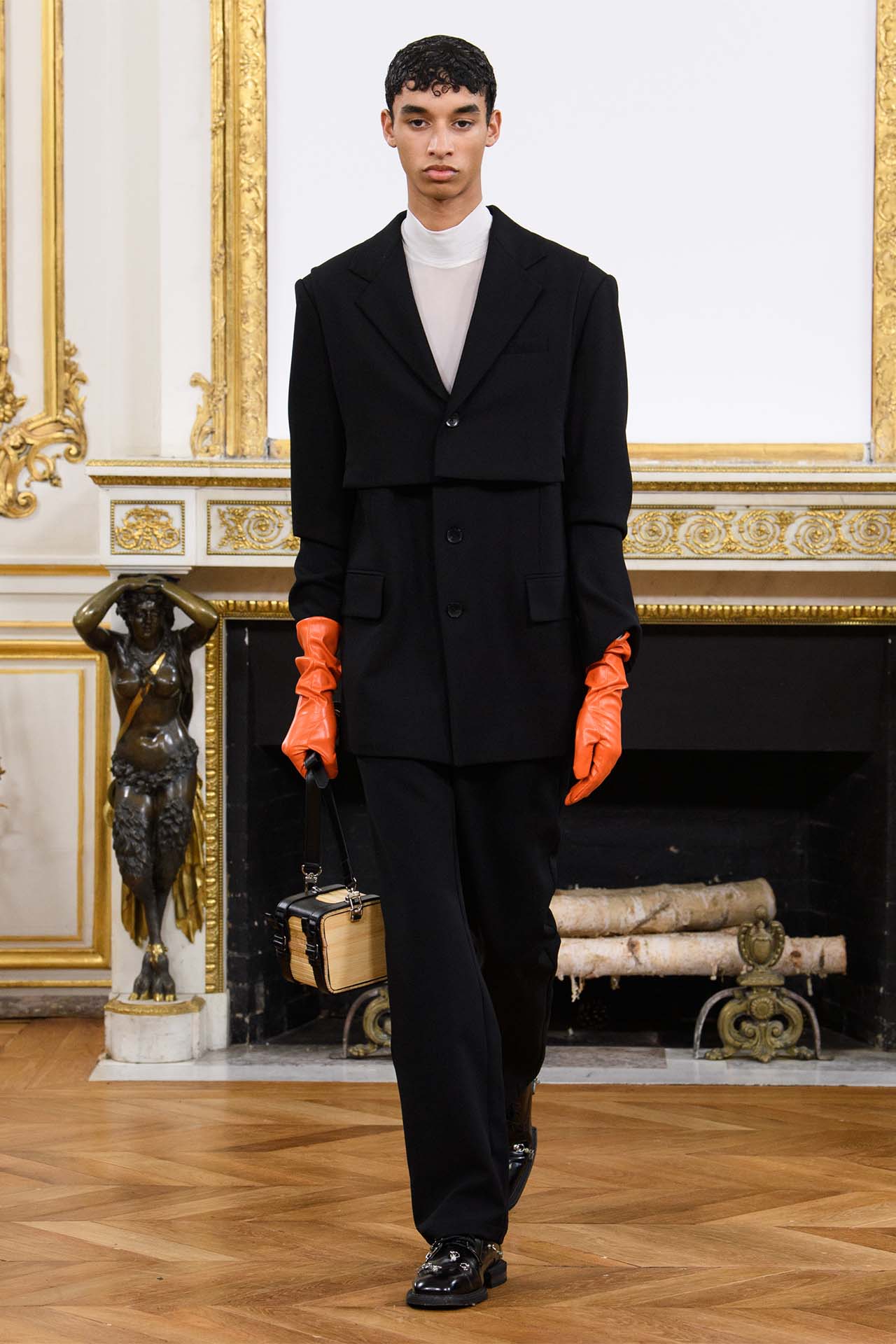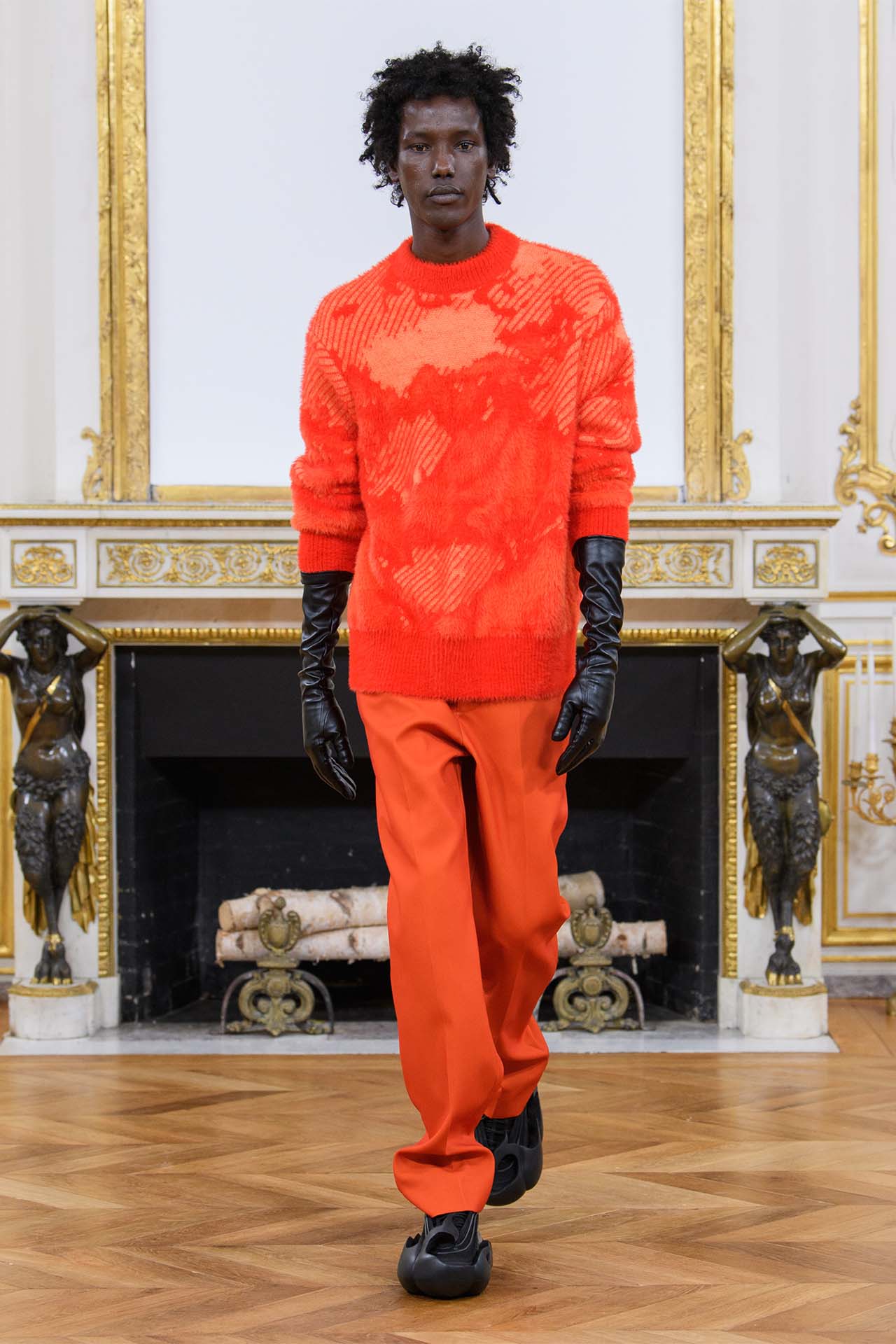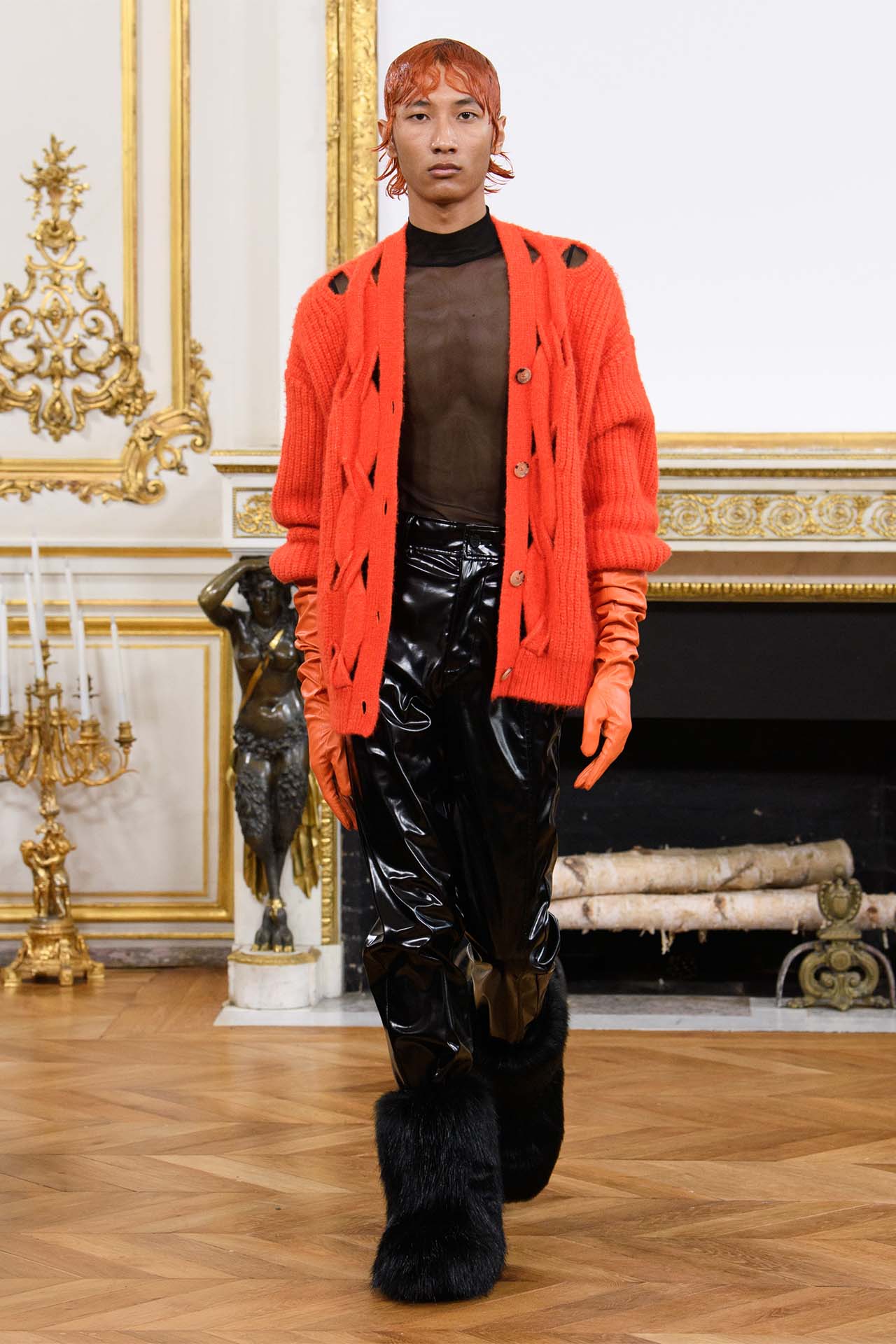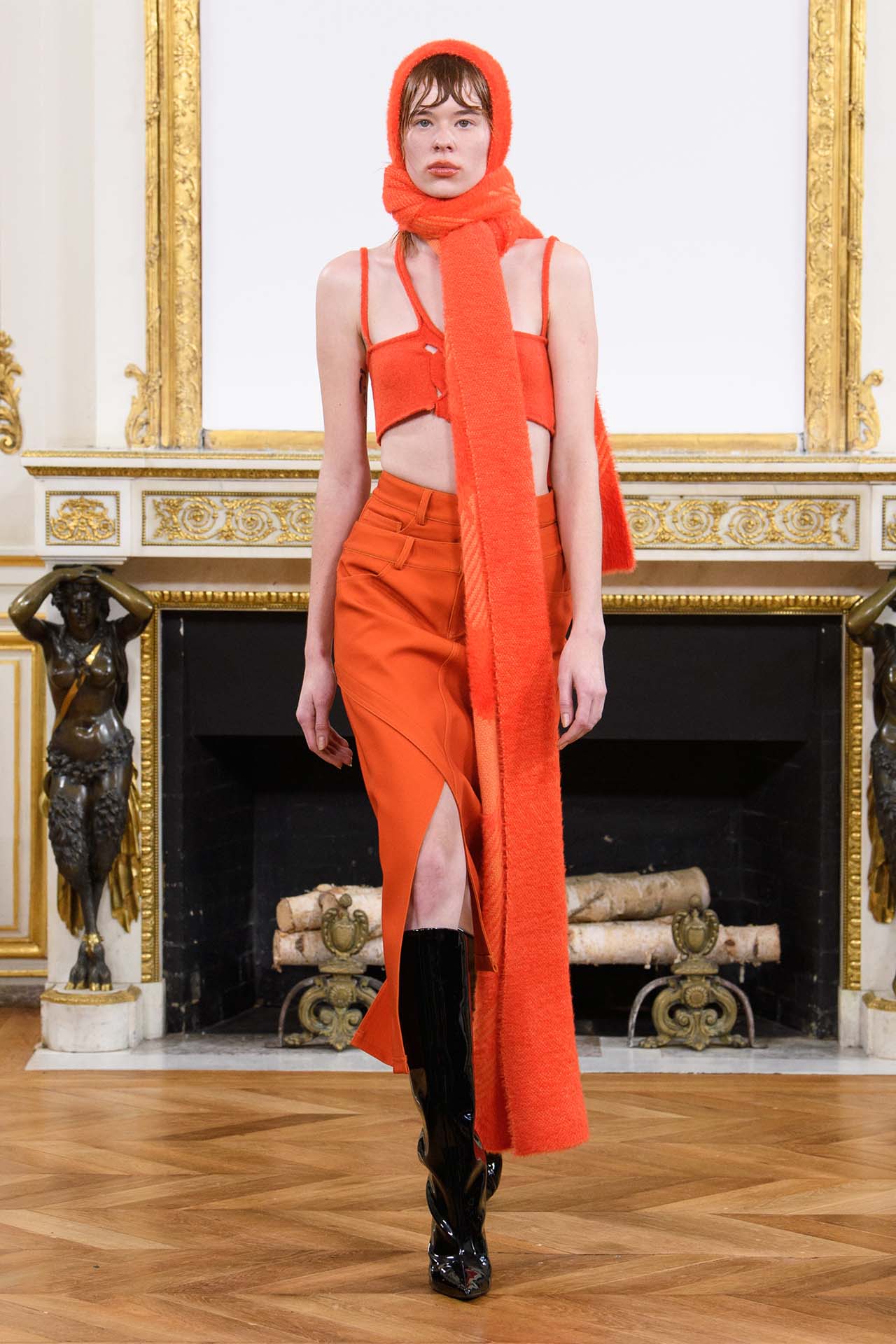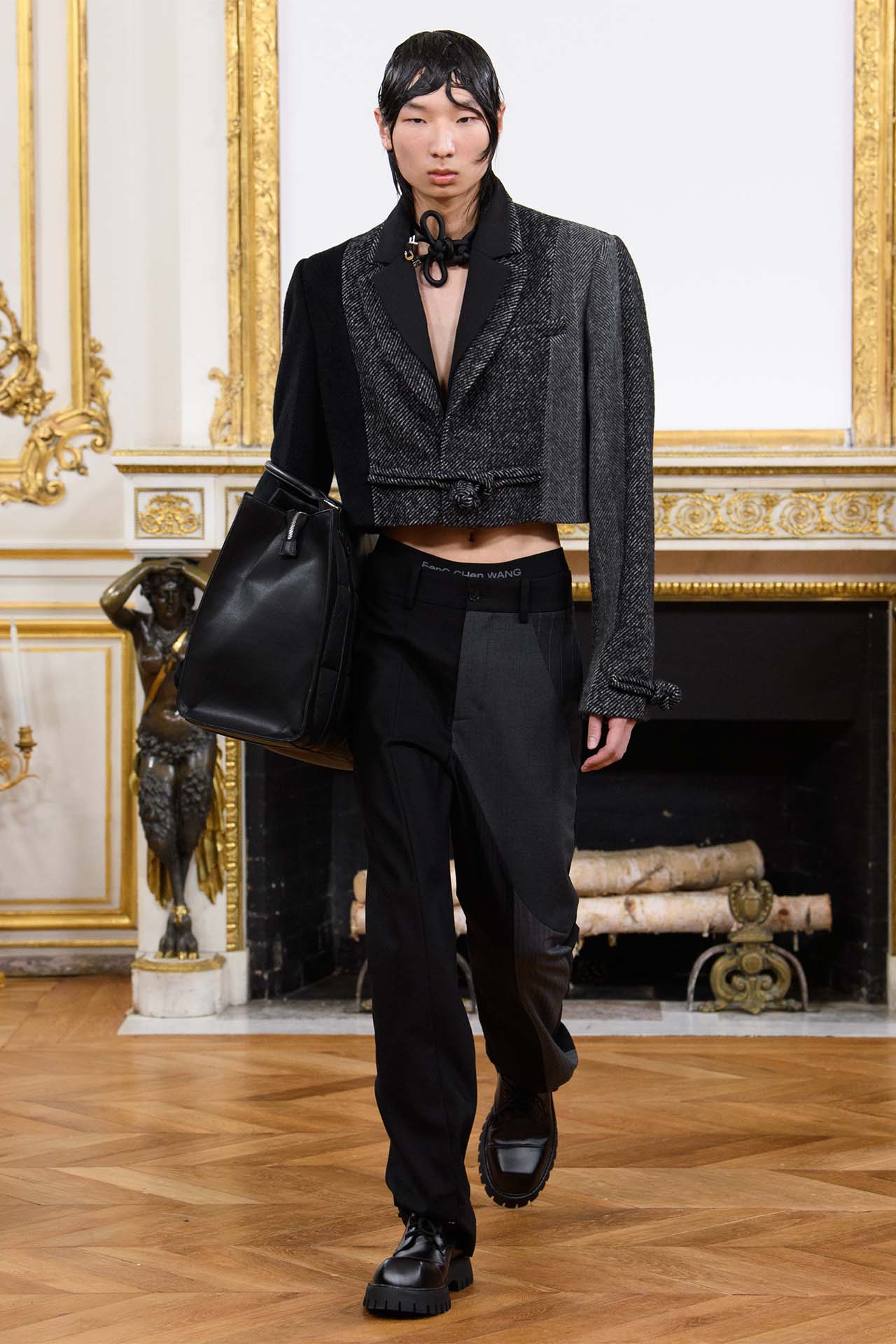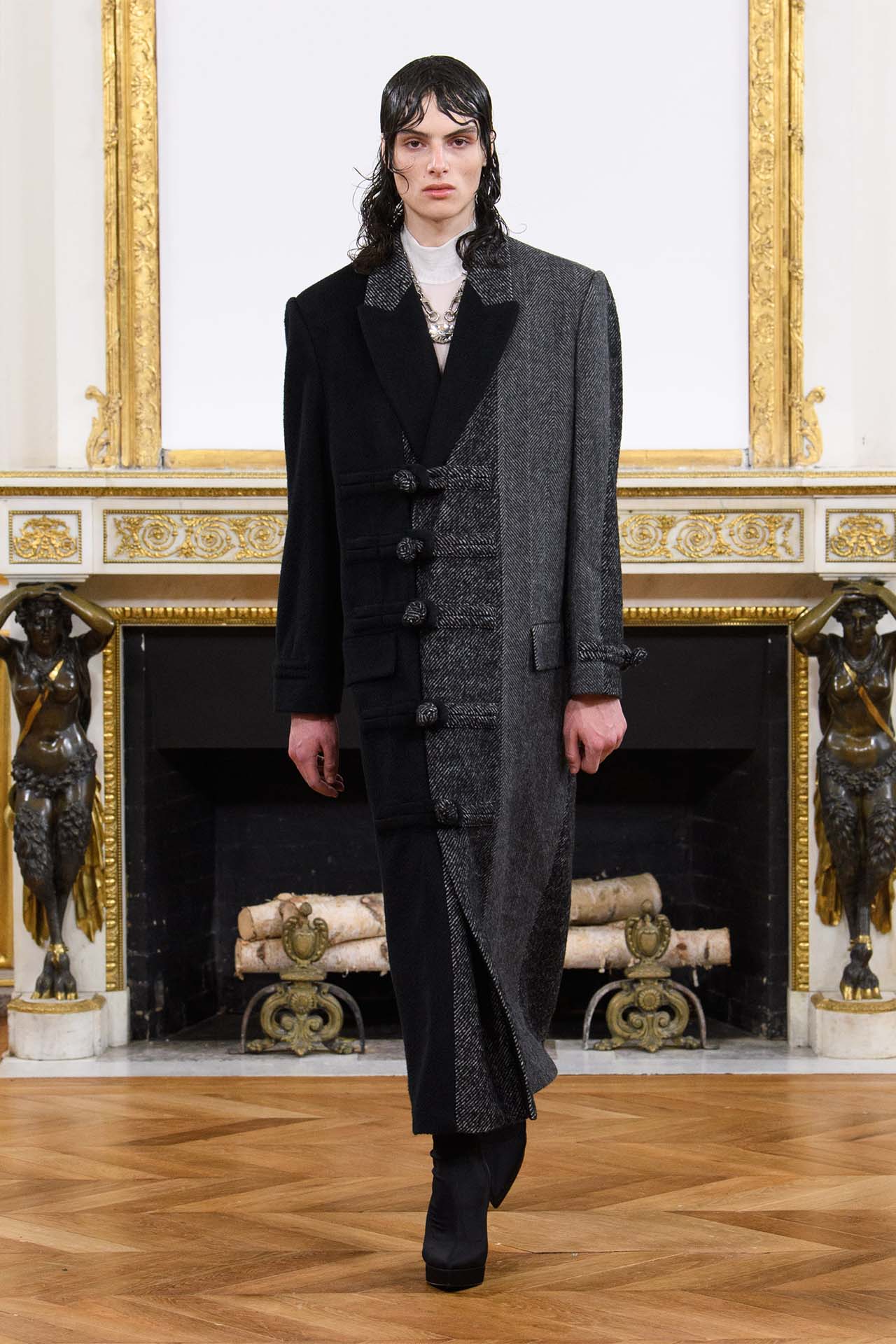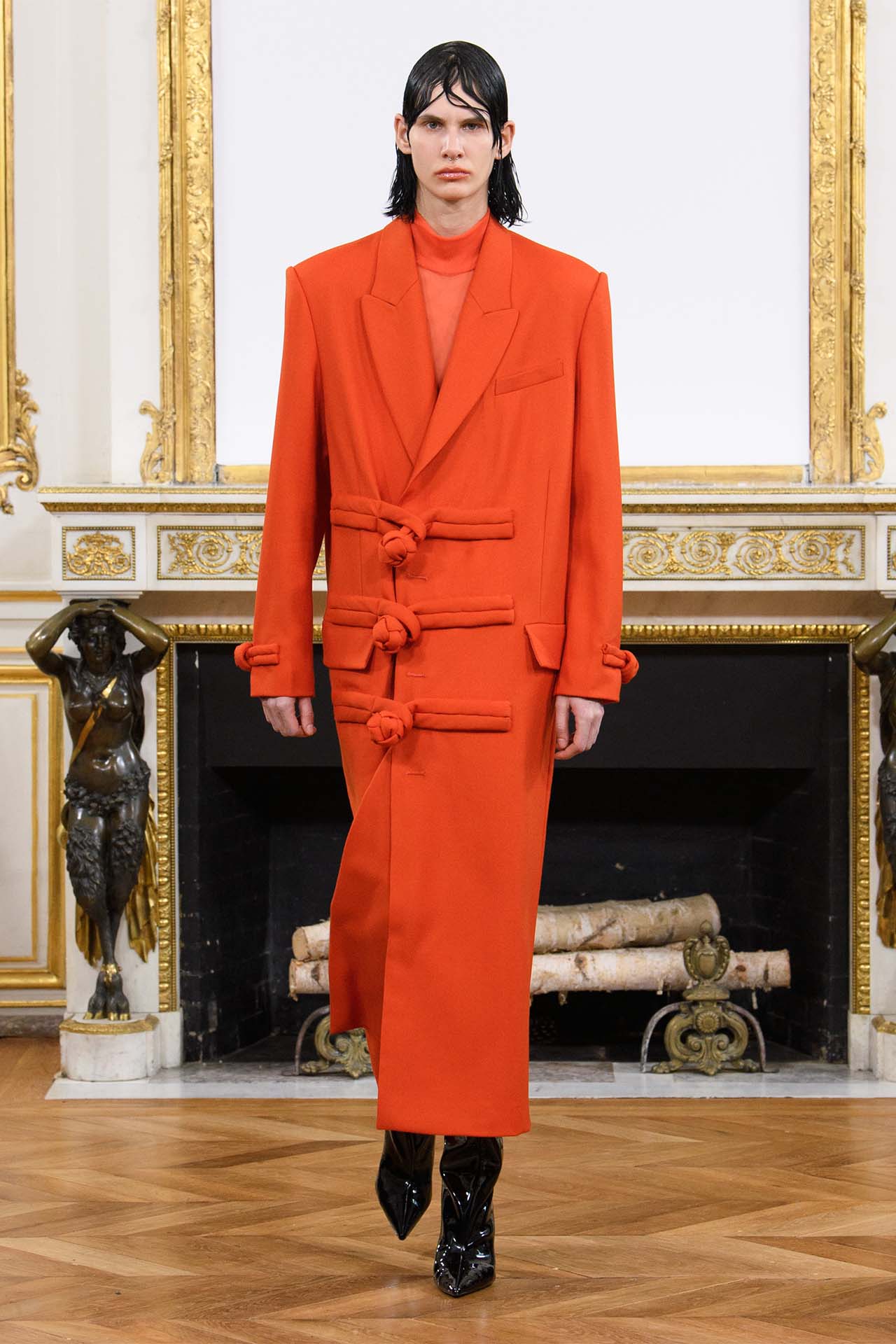 AUTUMN WINTER 2023 RUNWAY LOOKS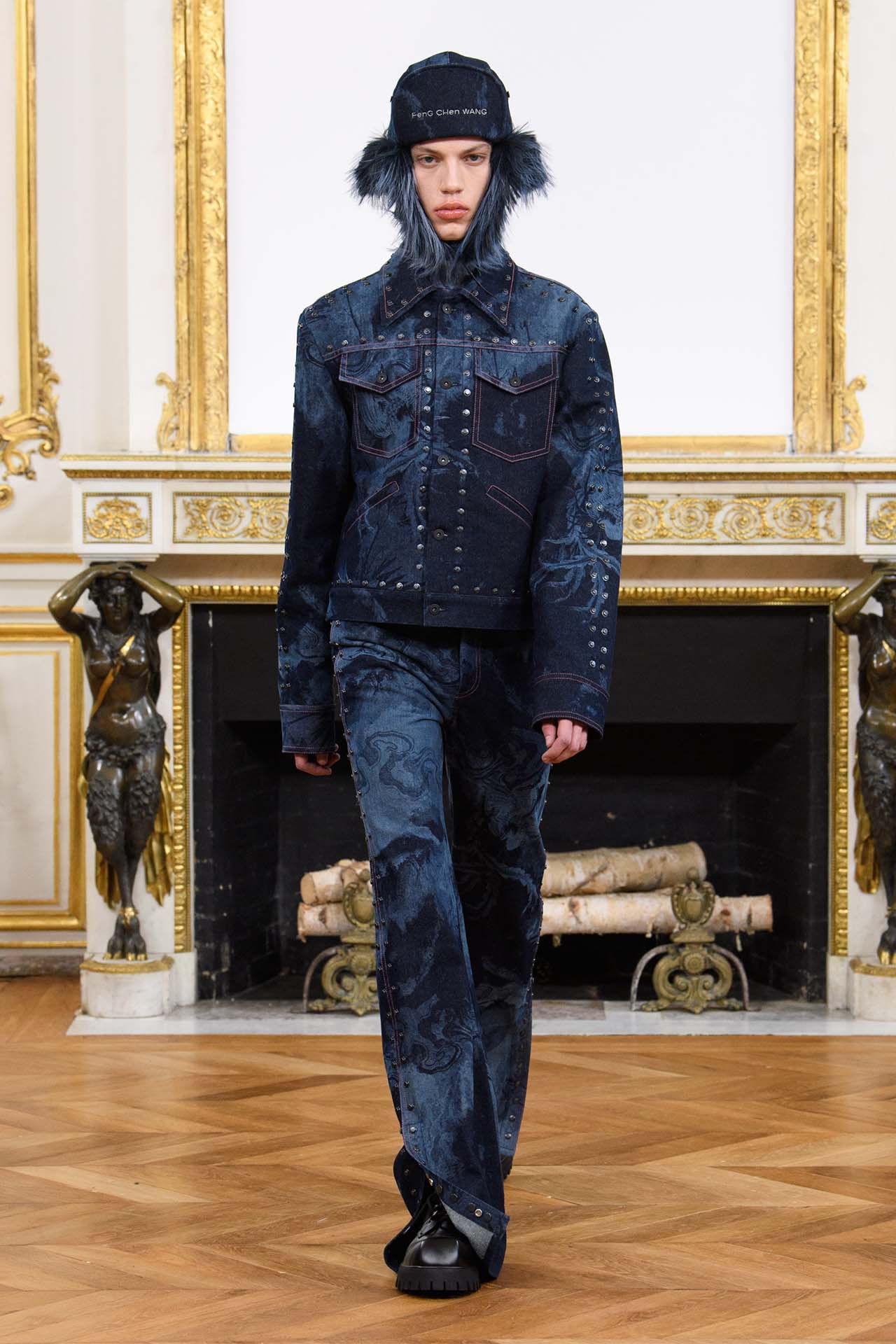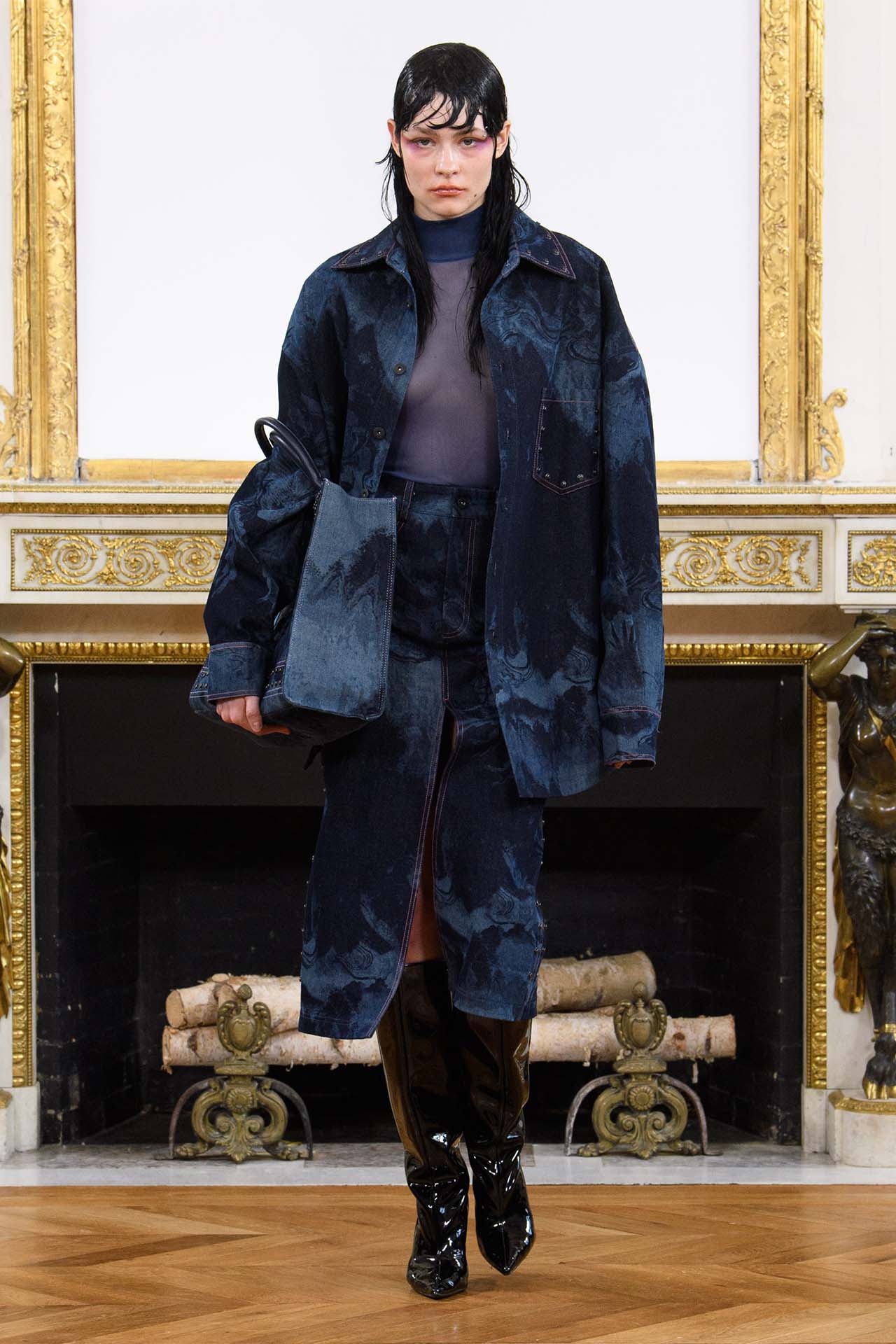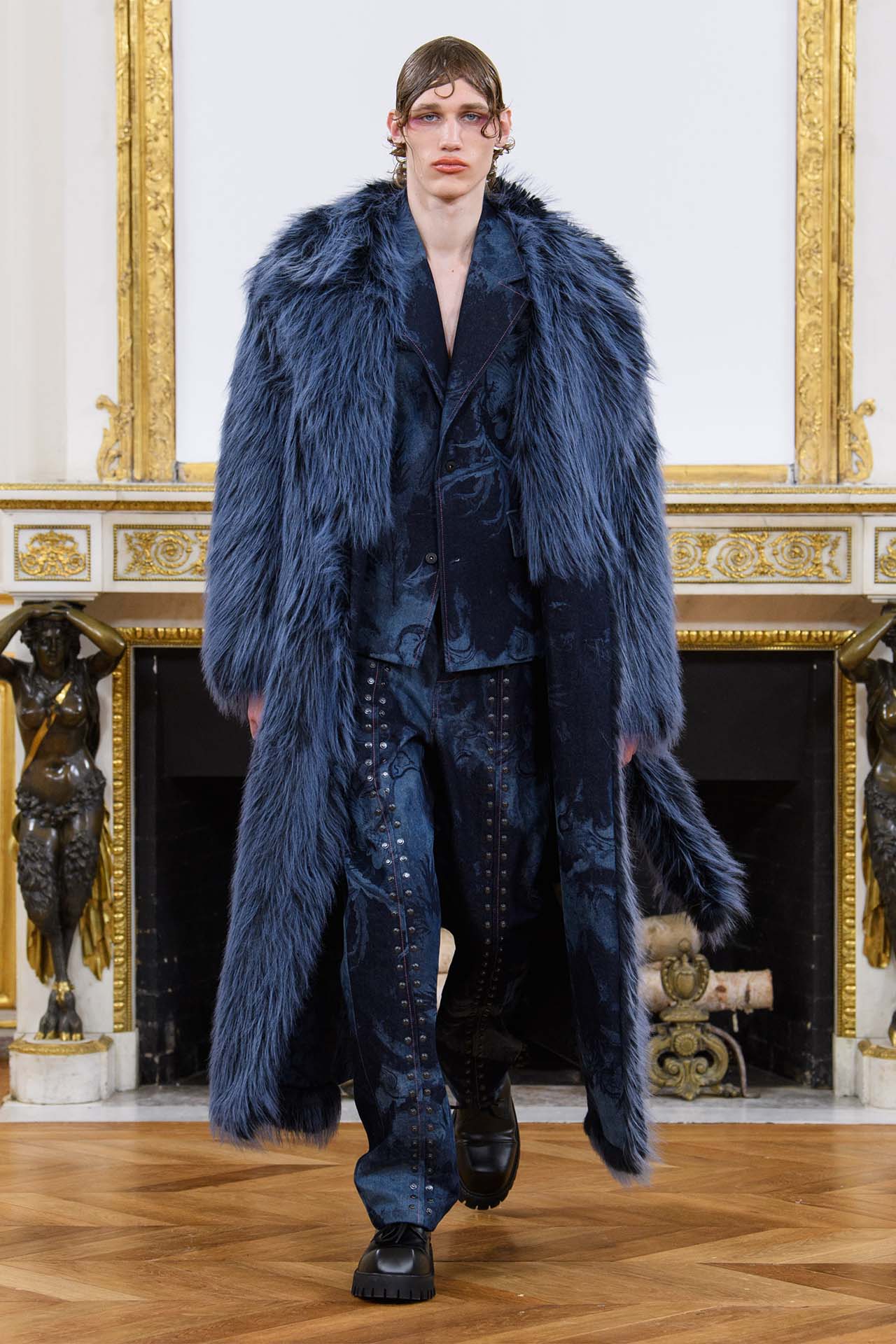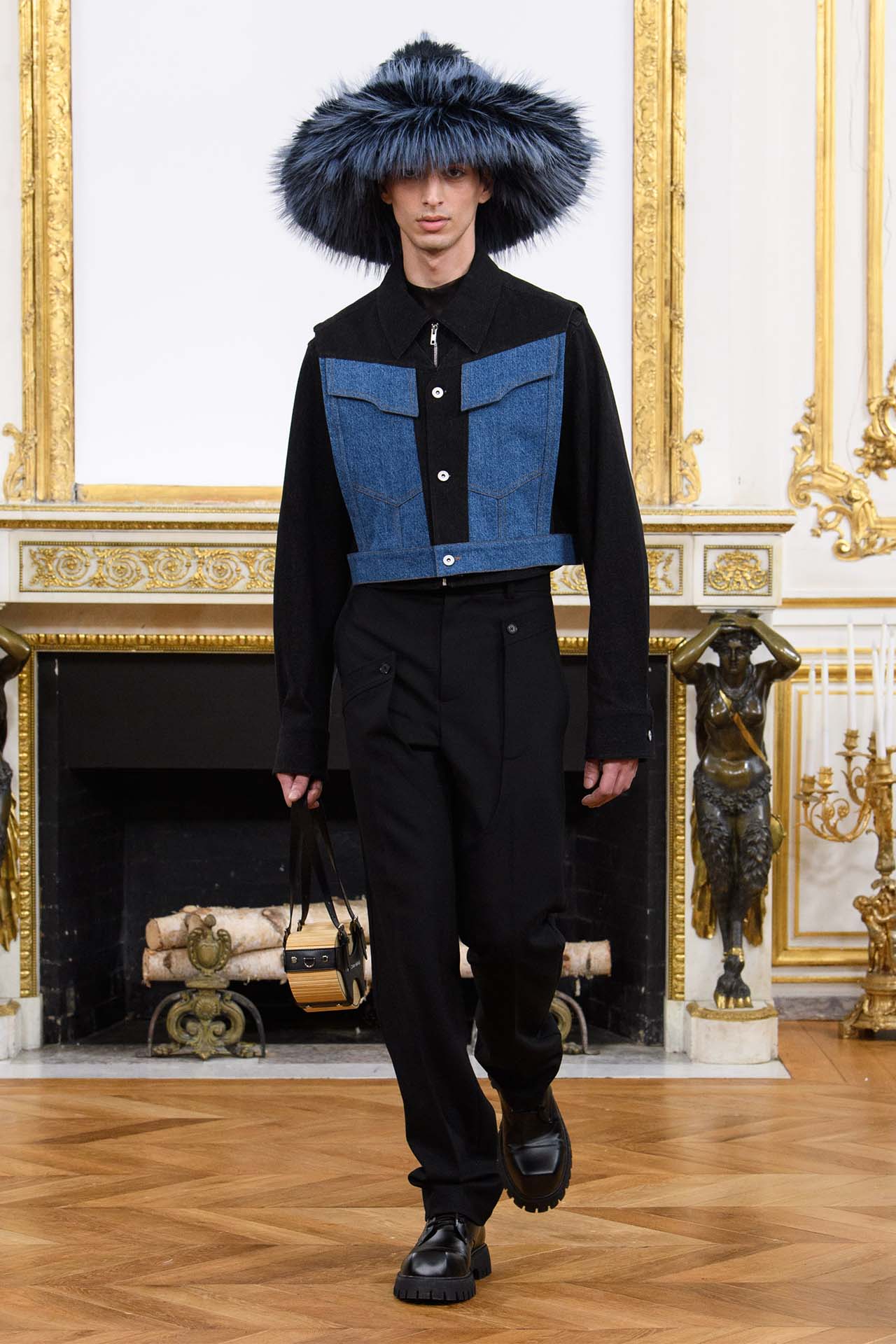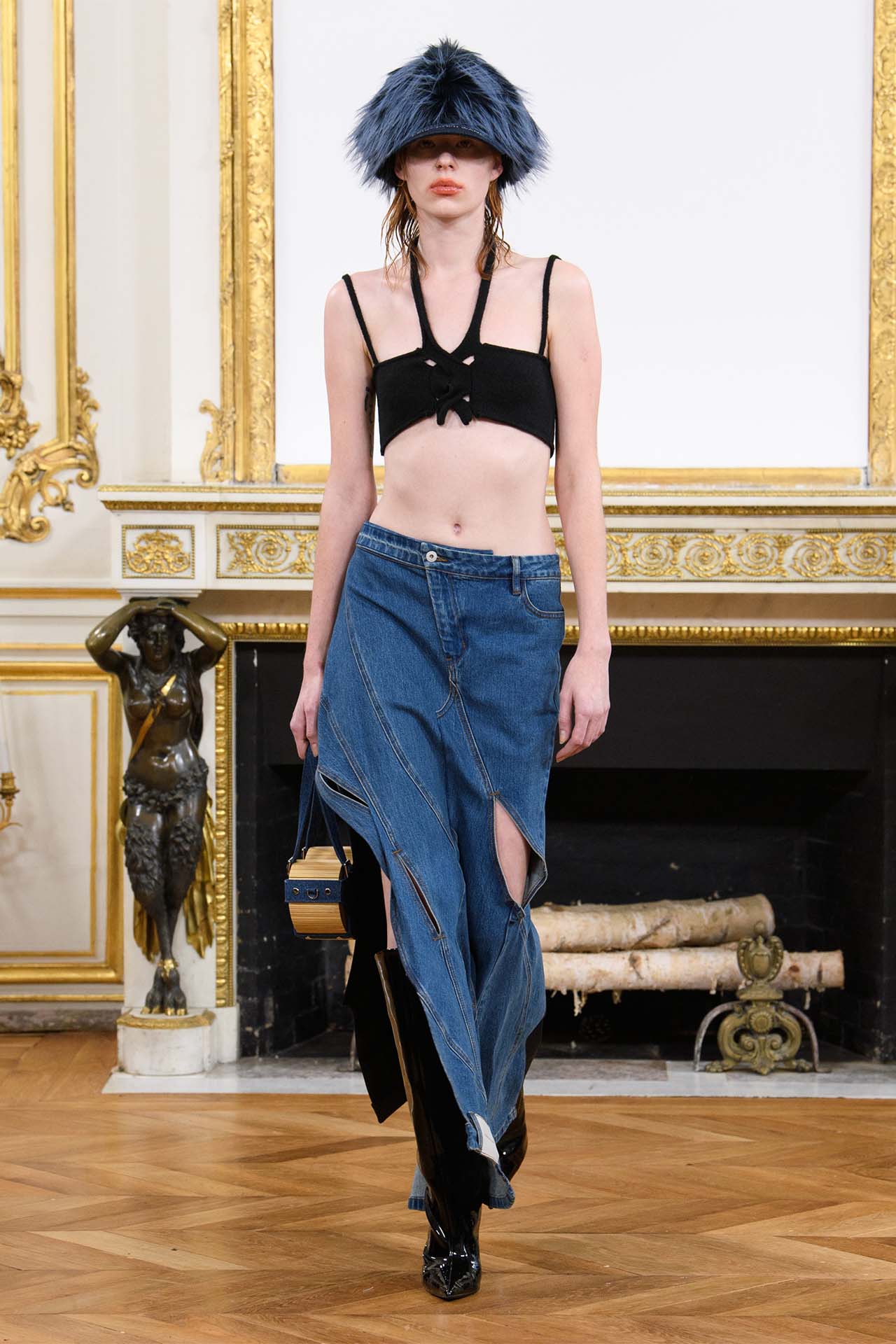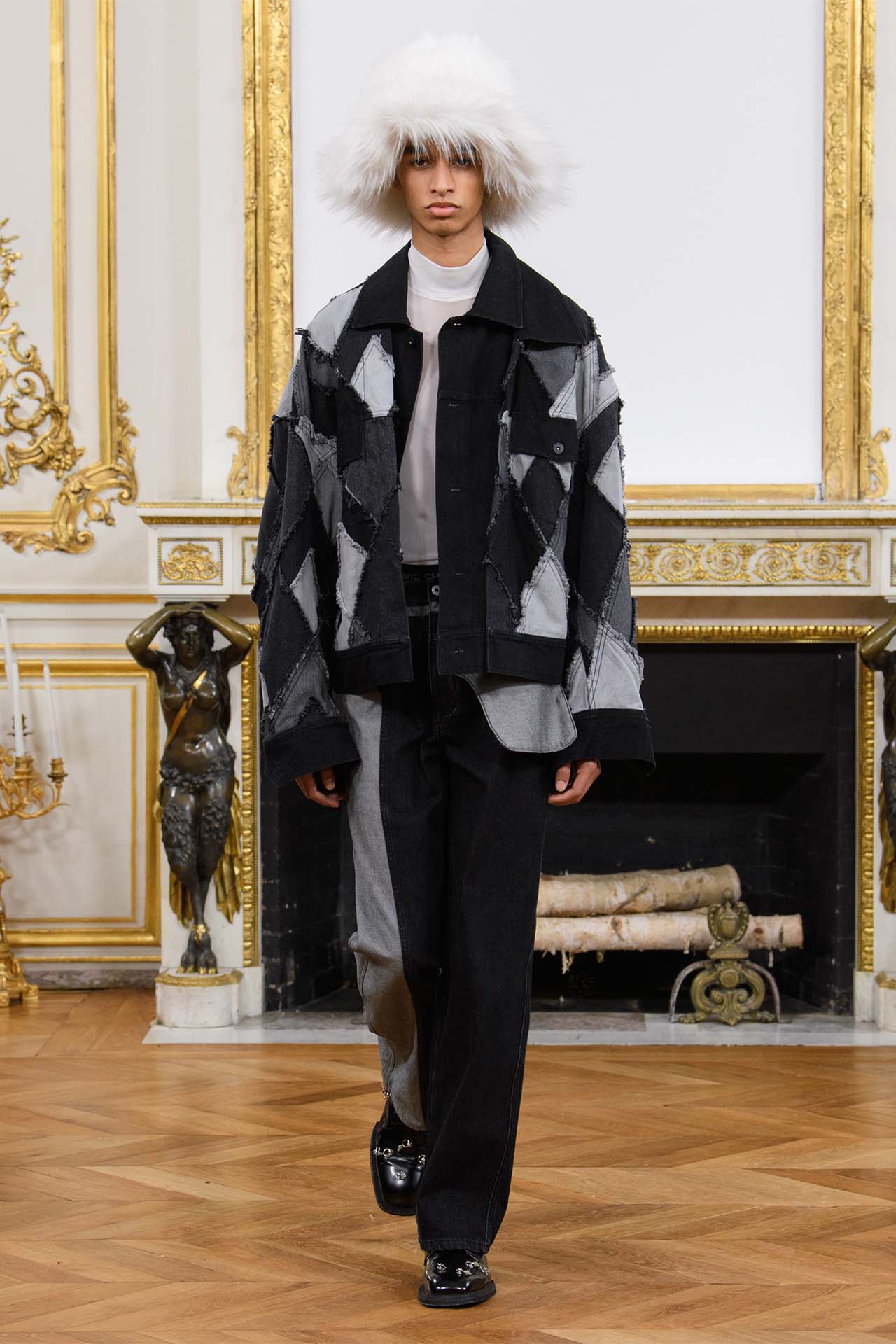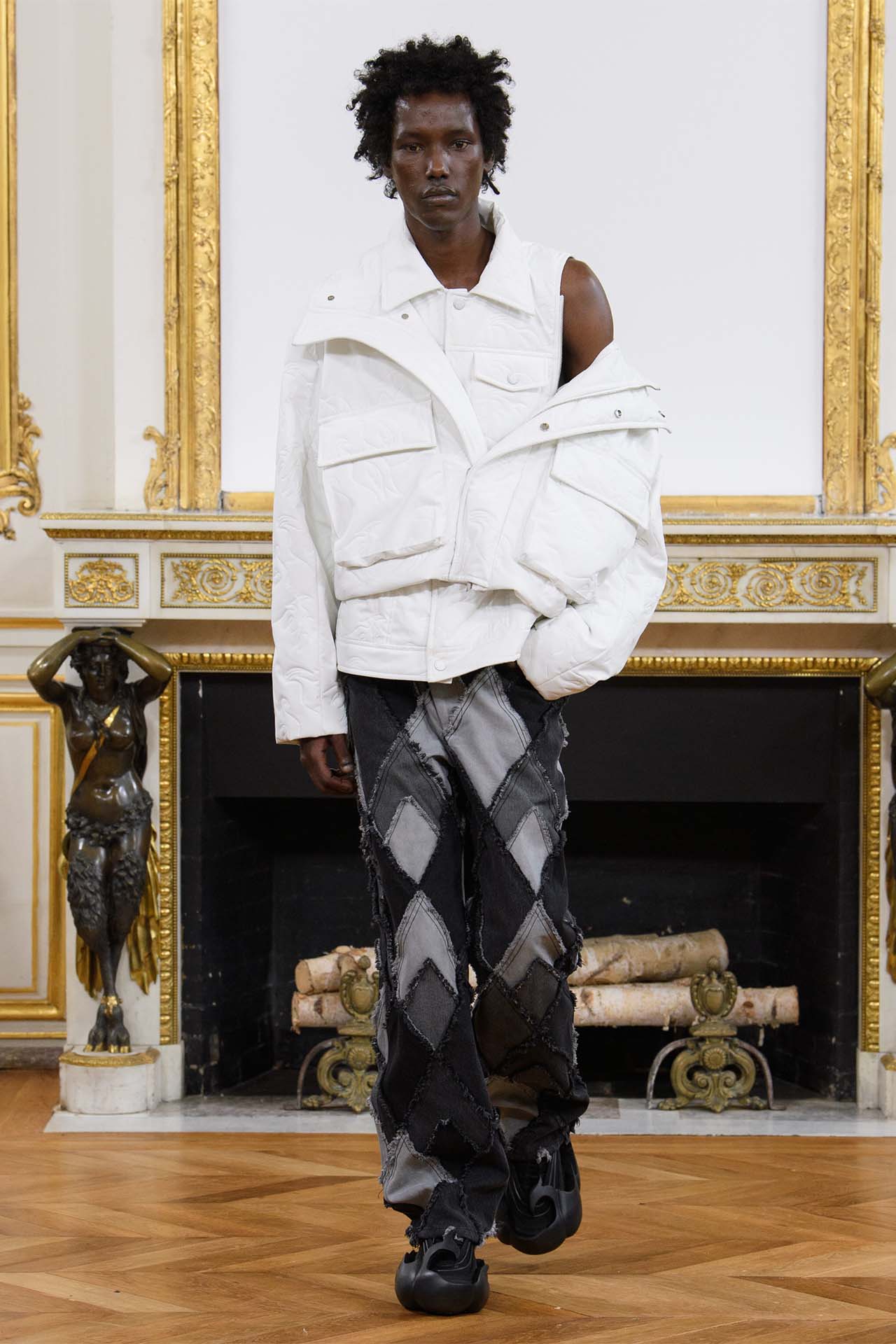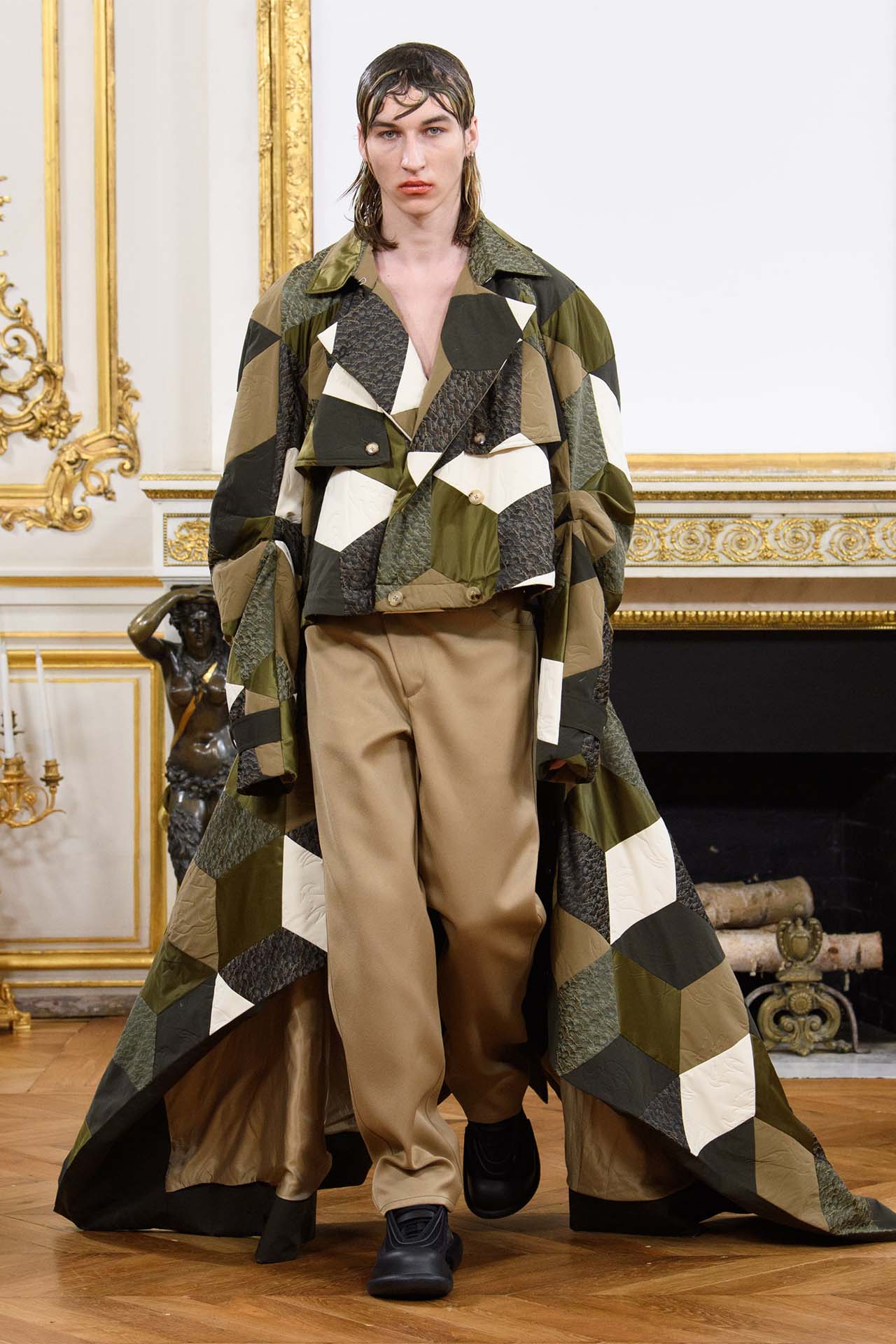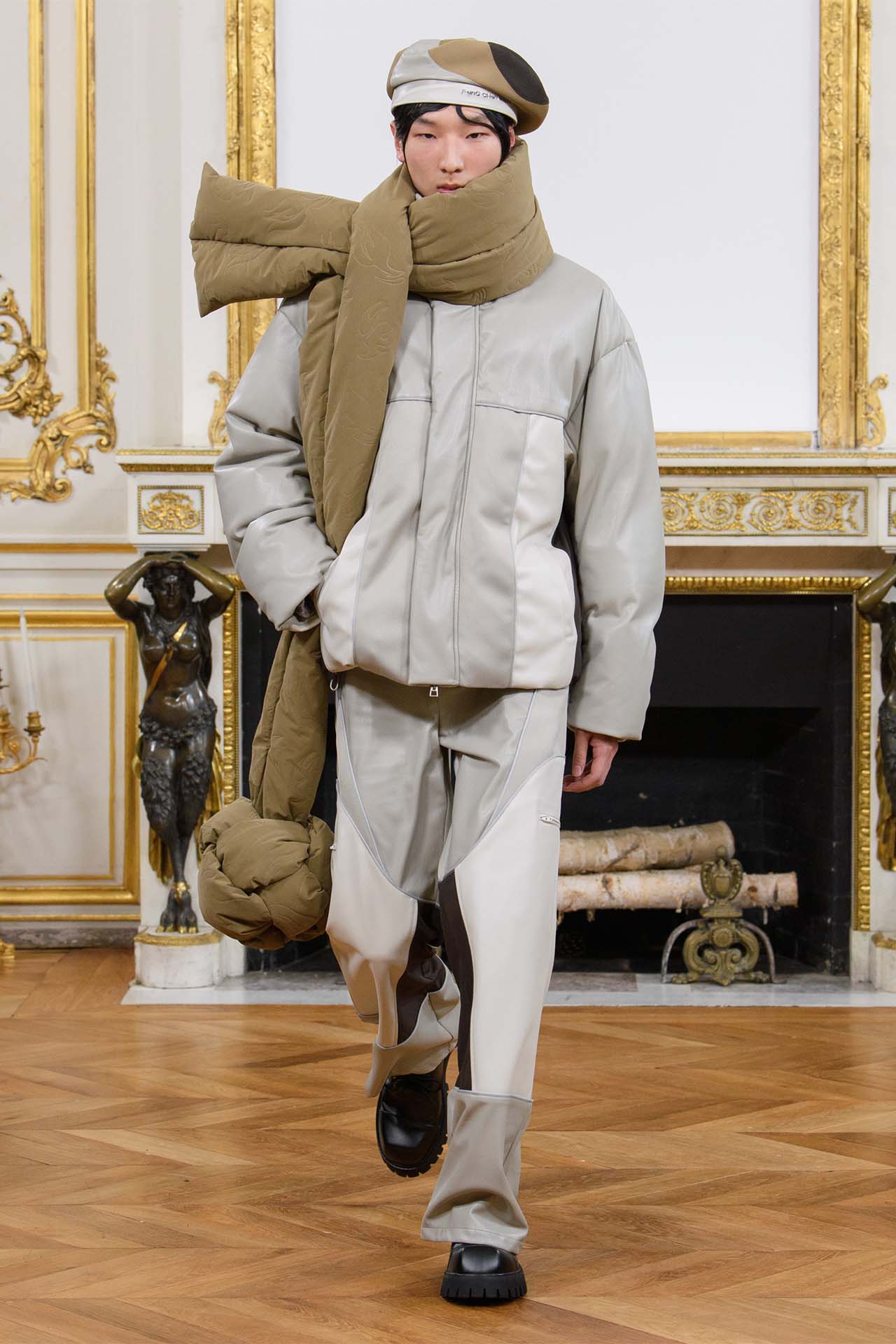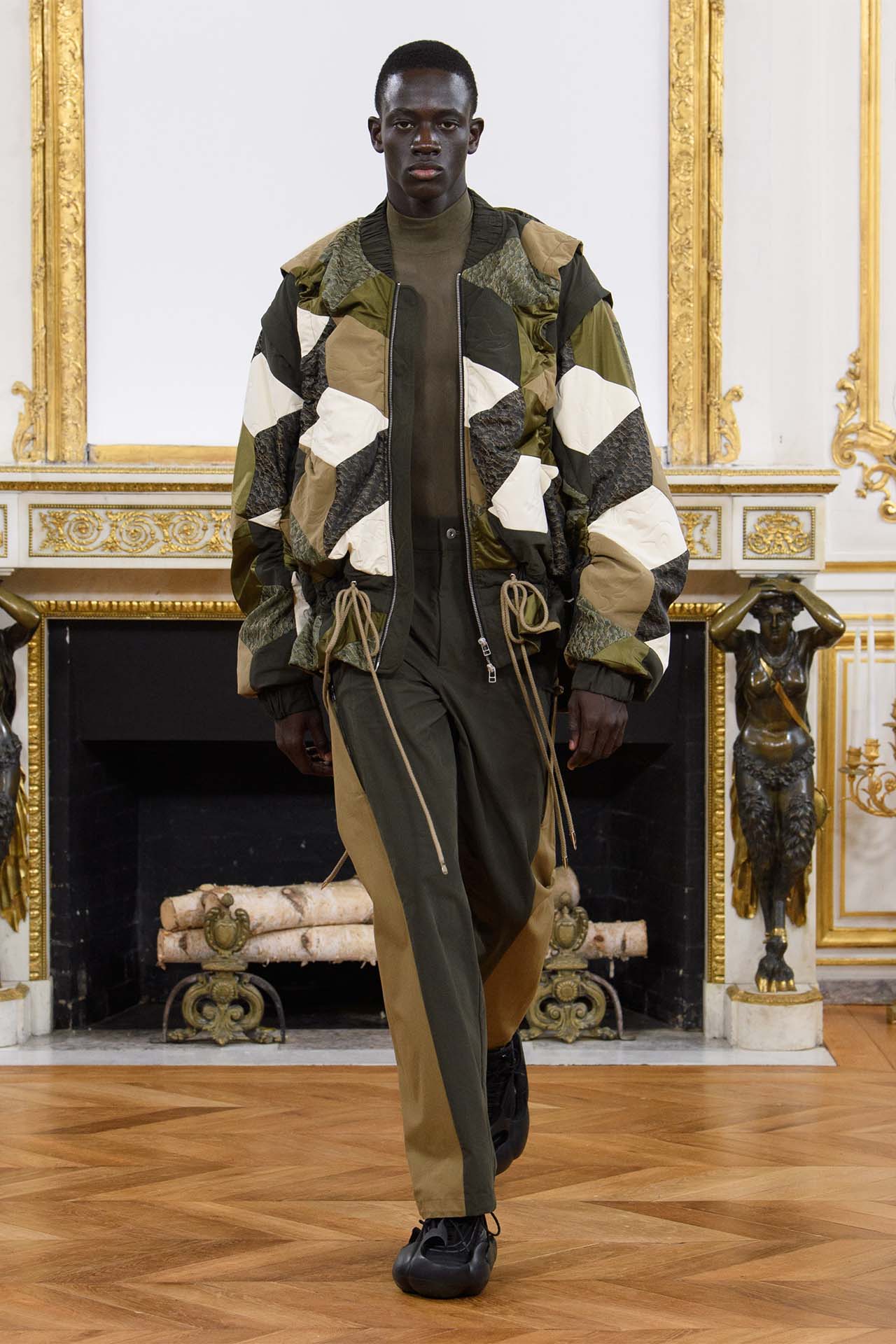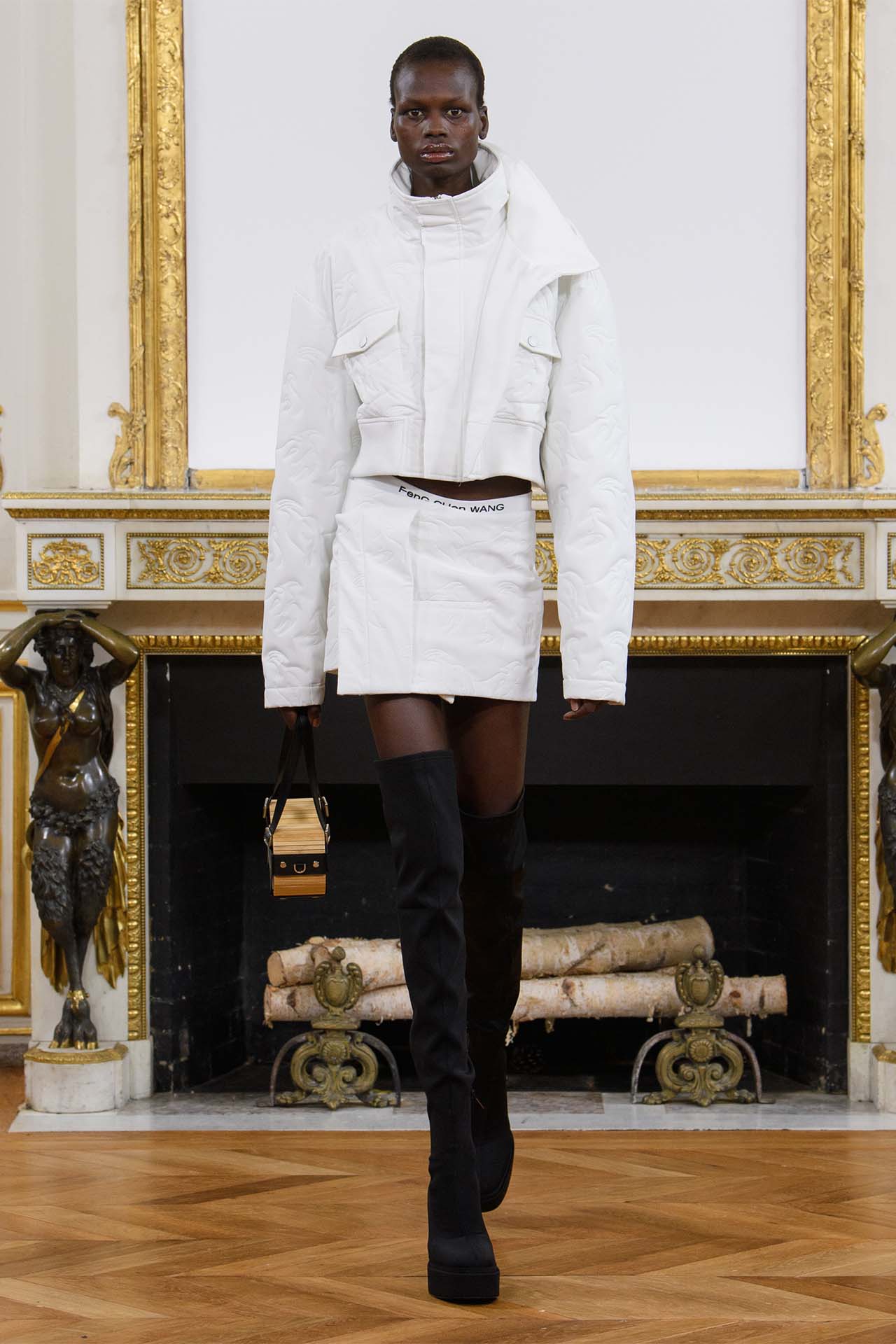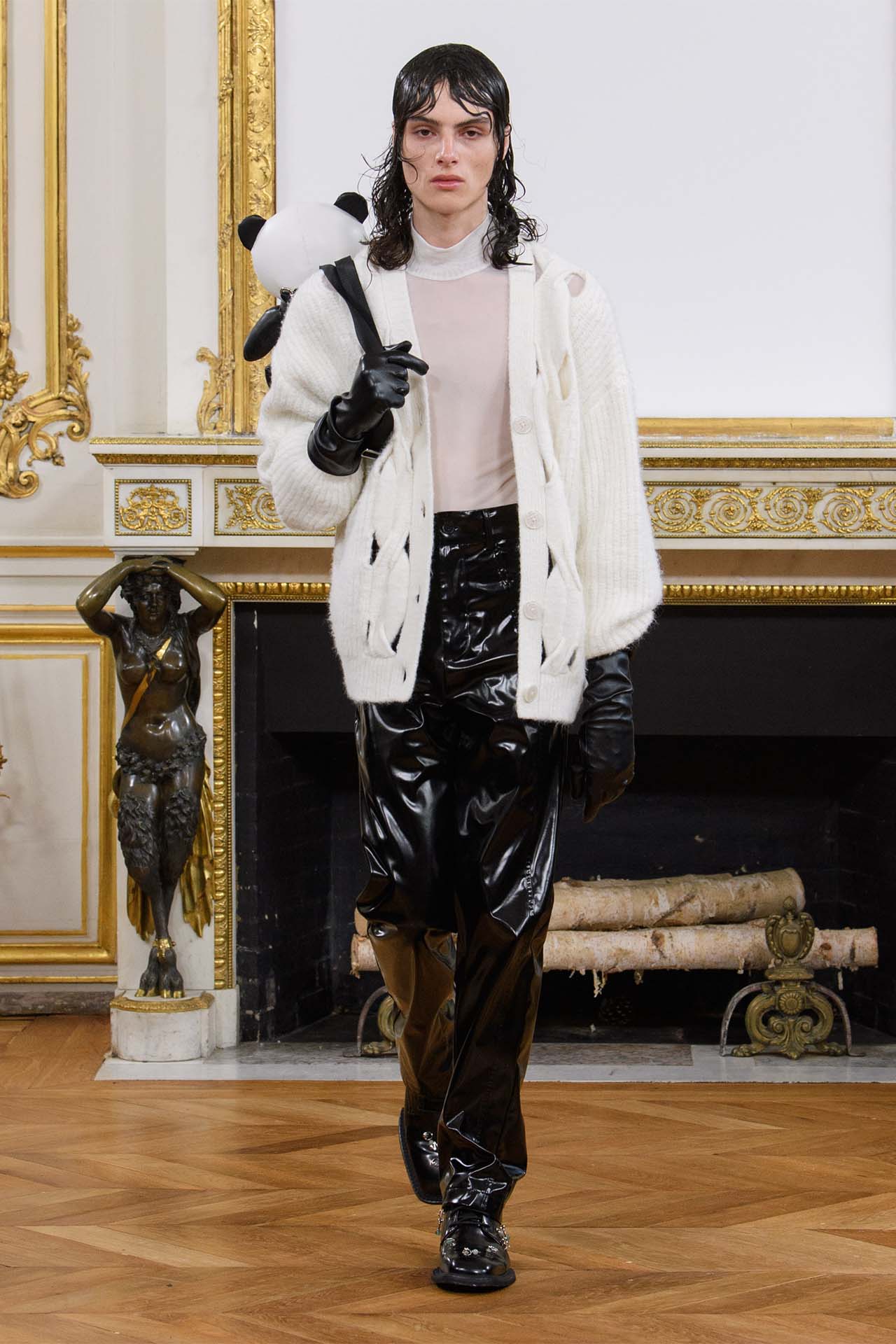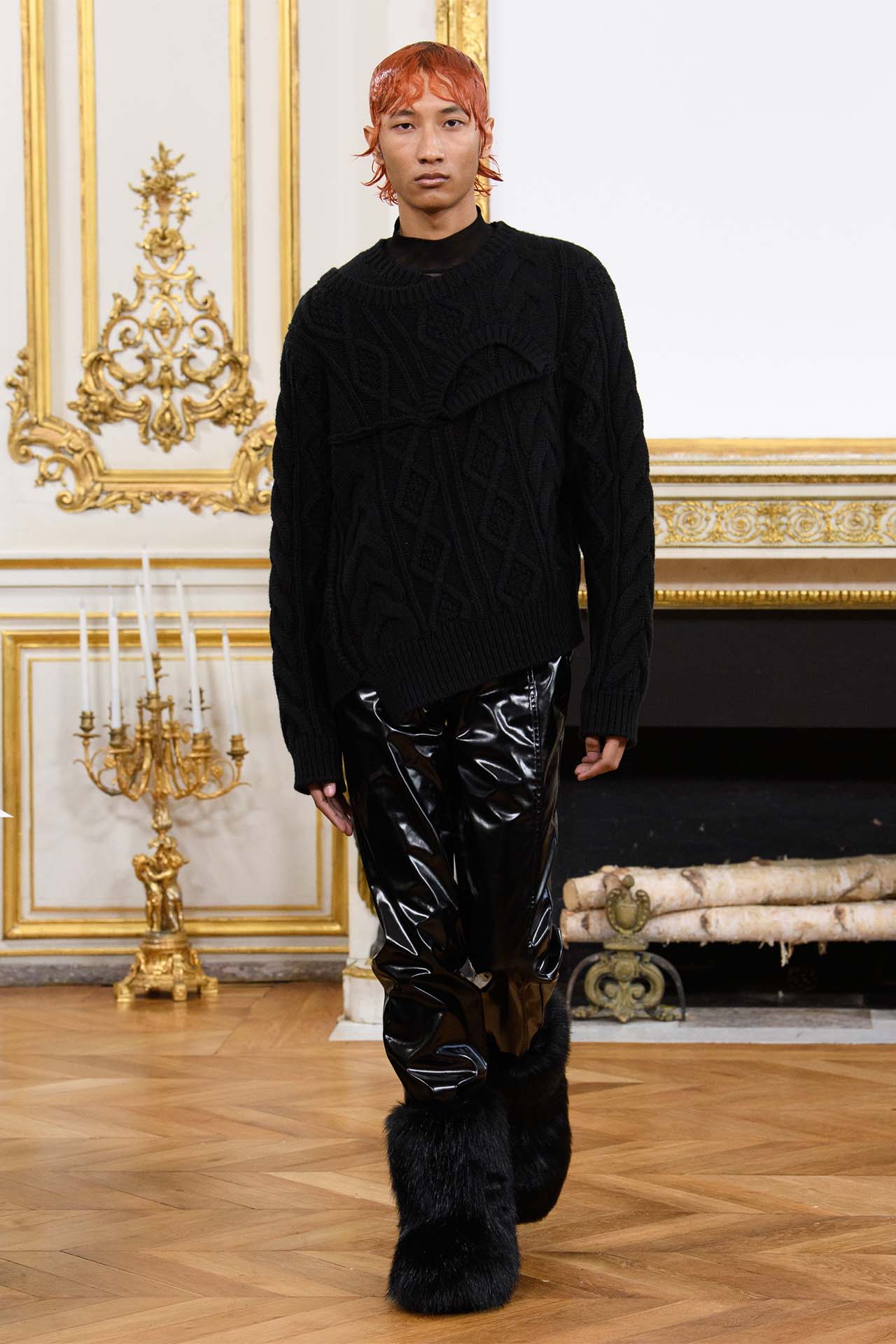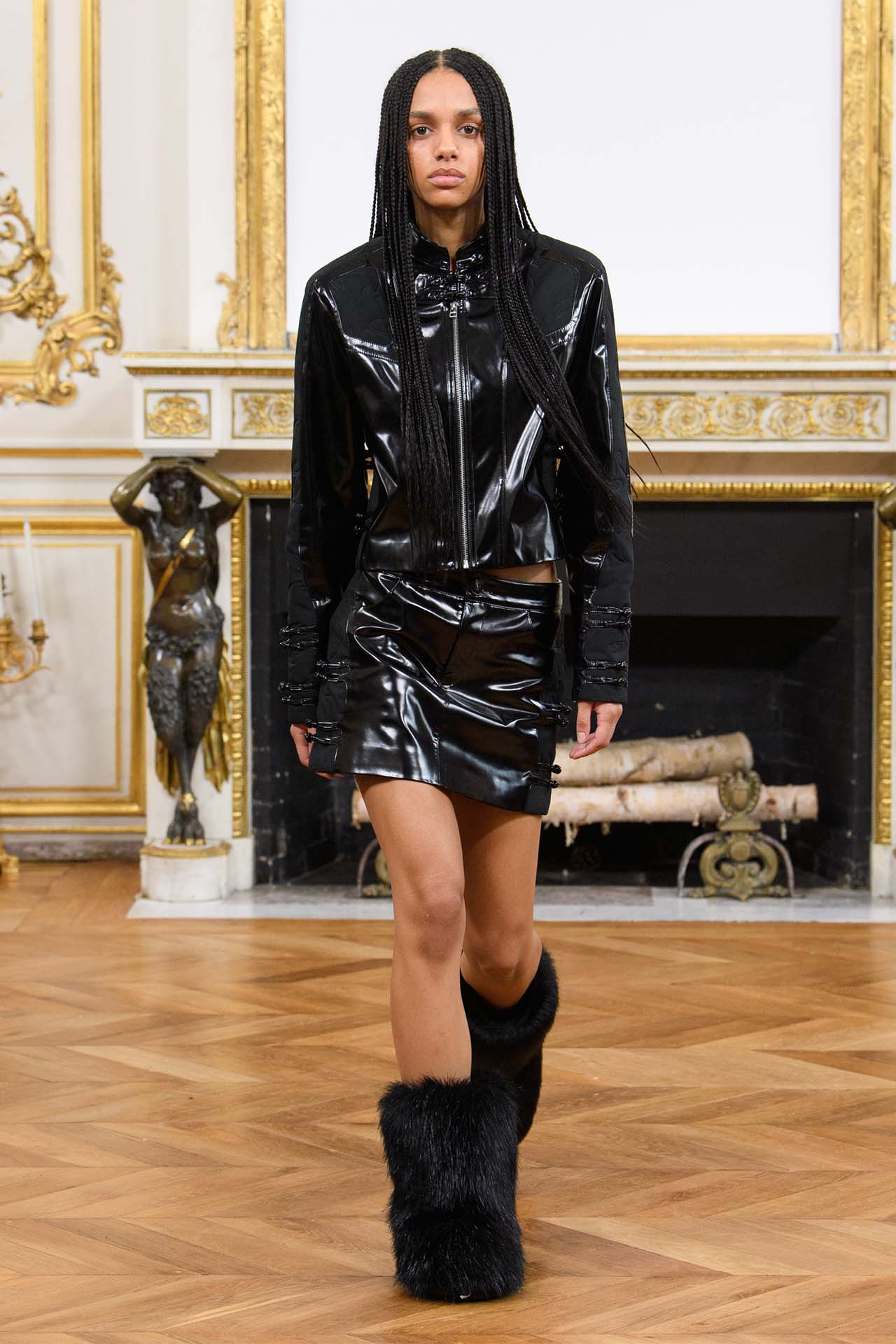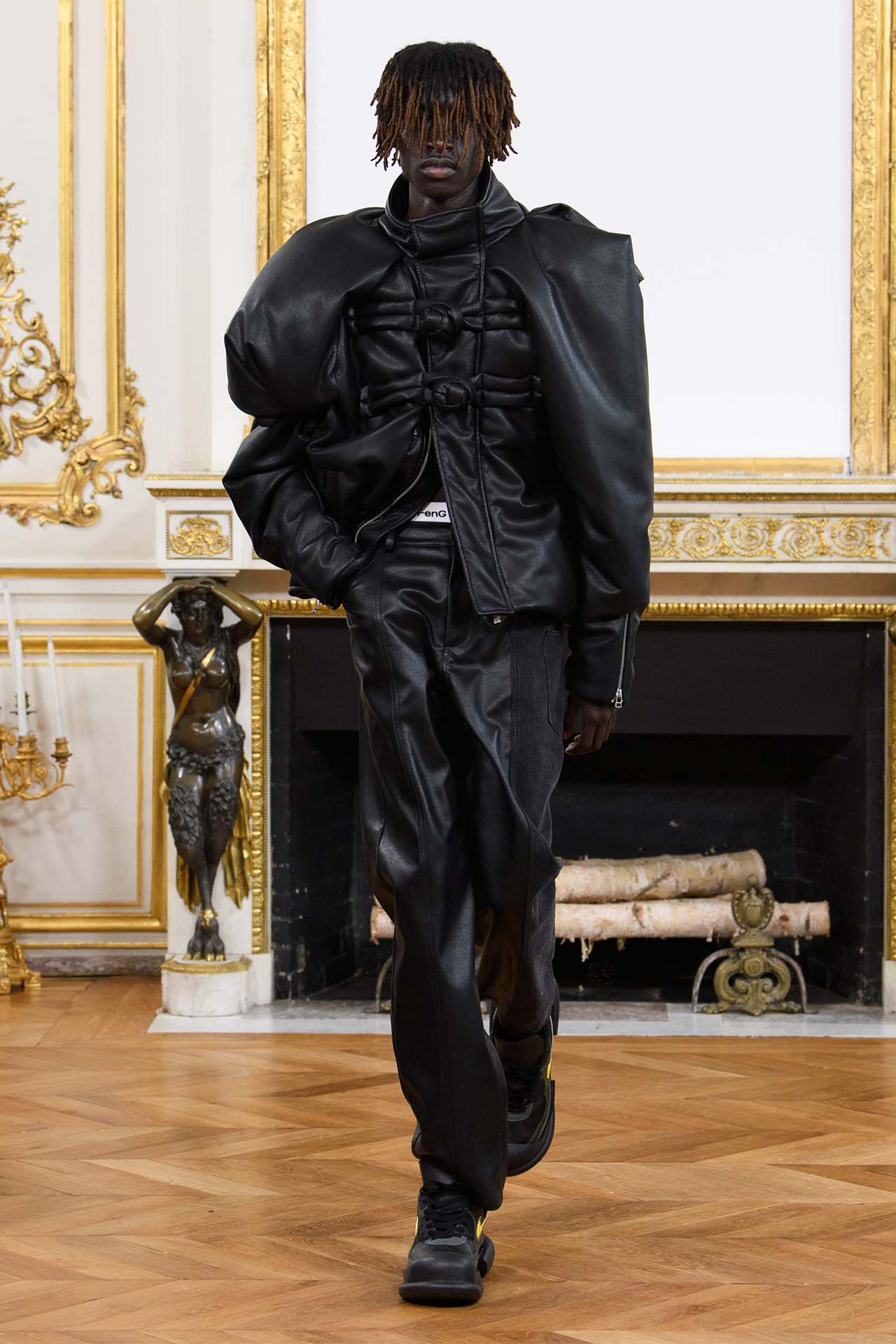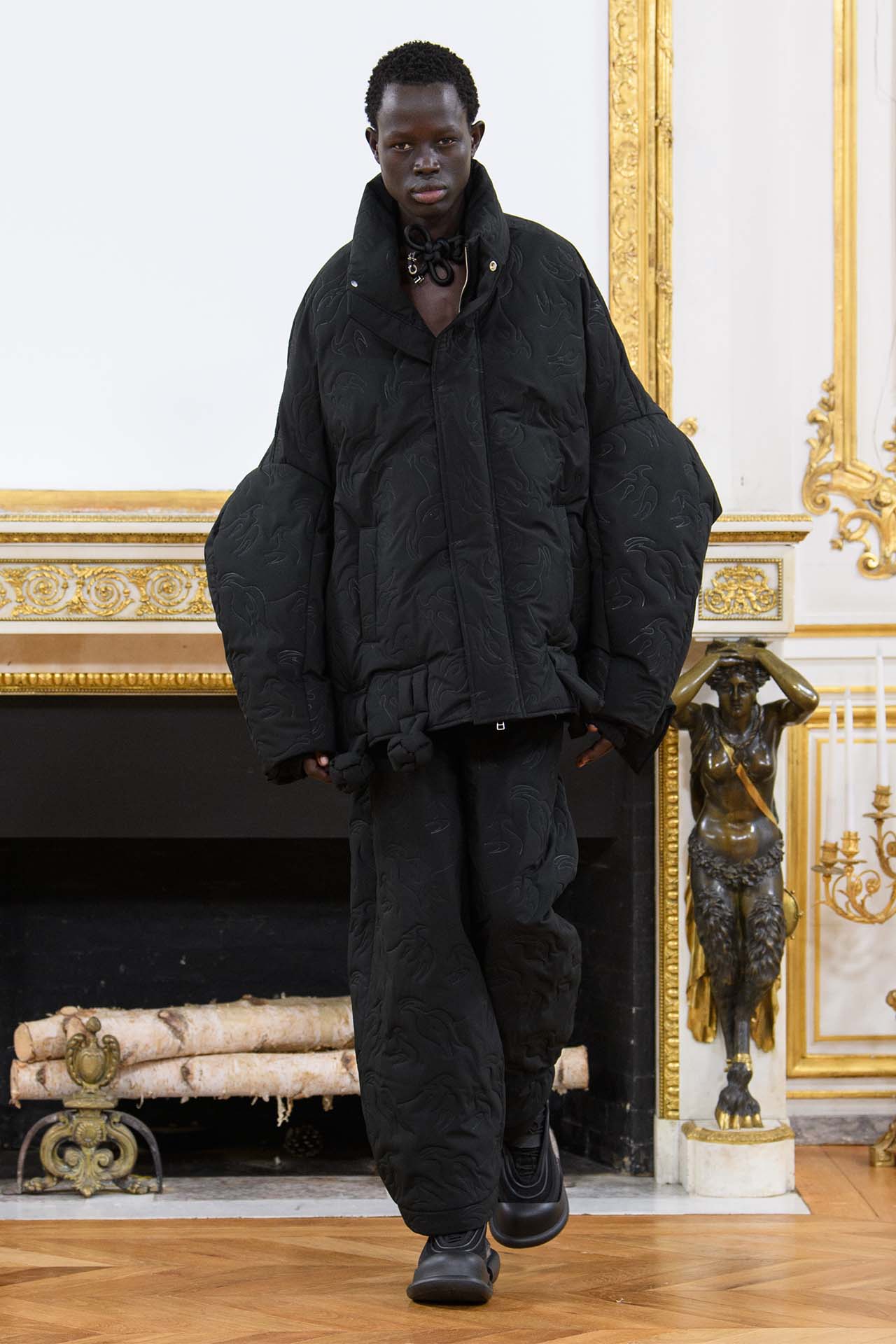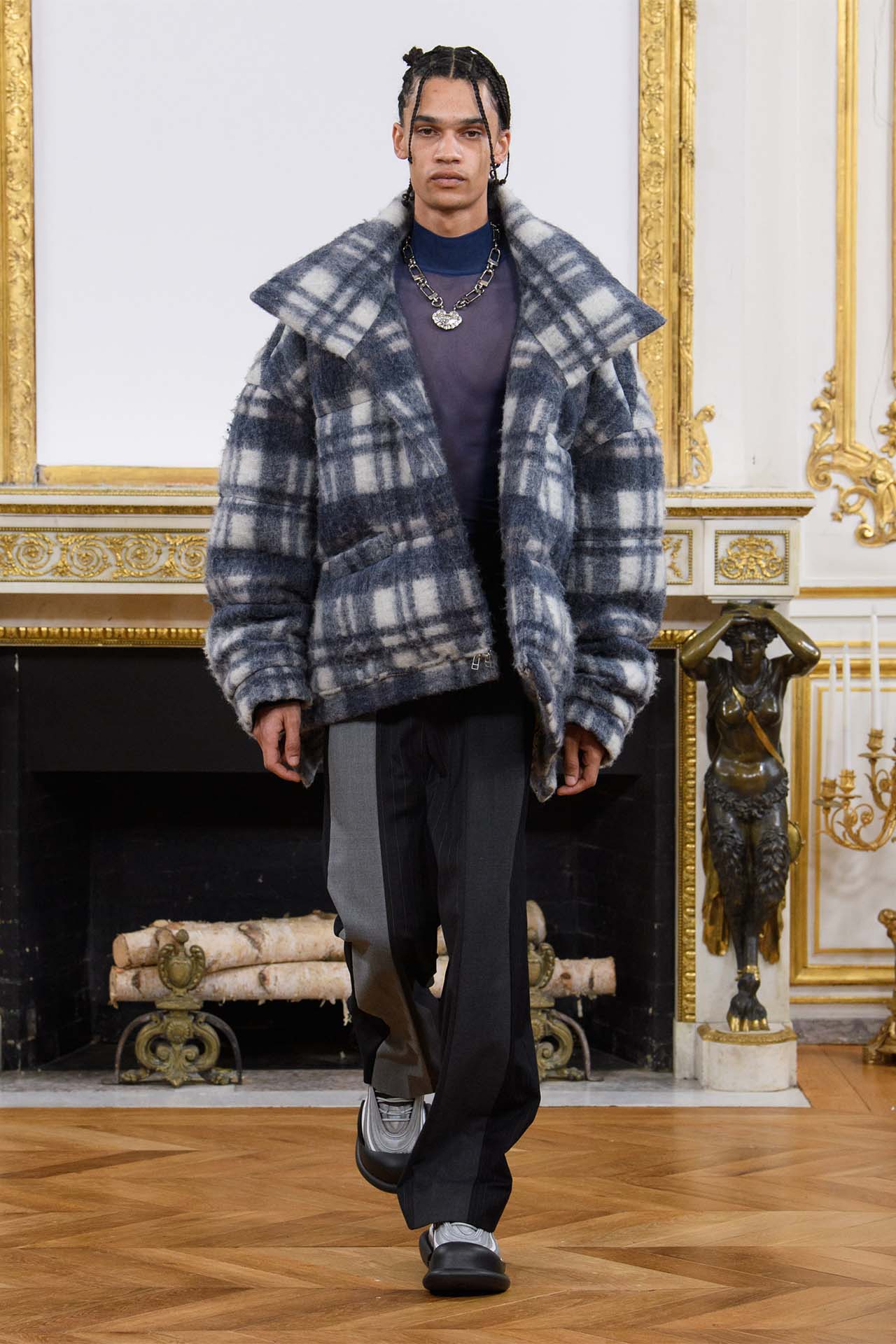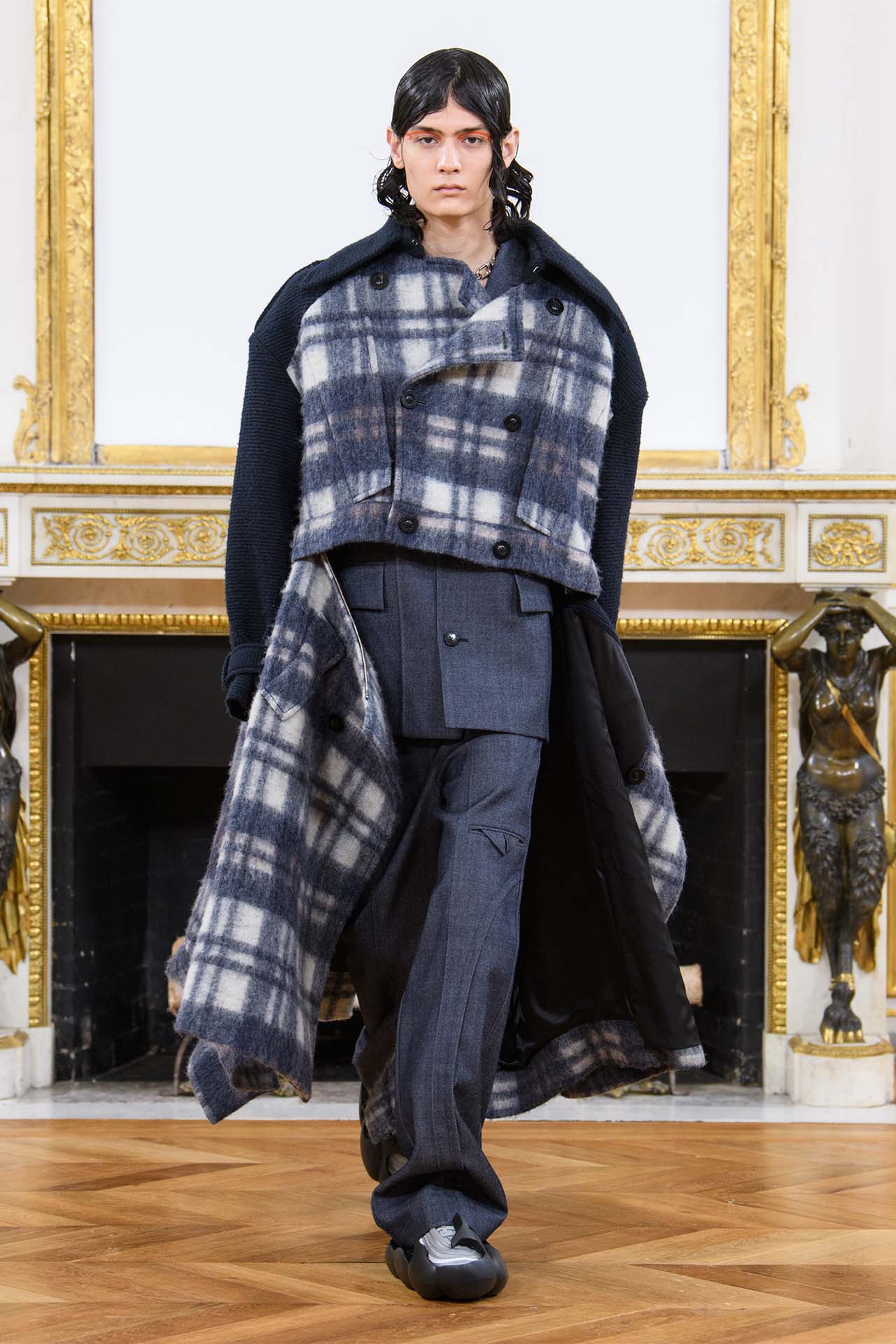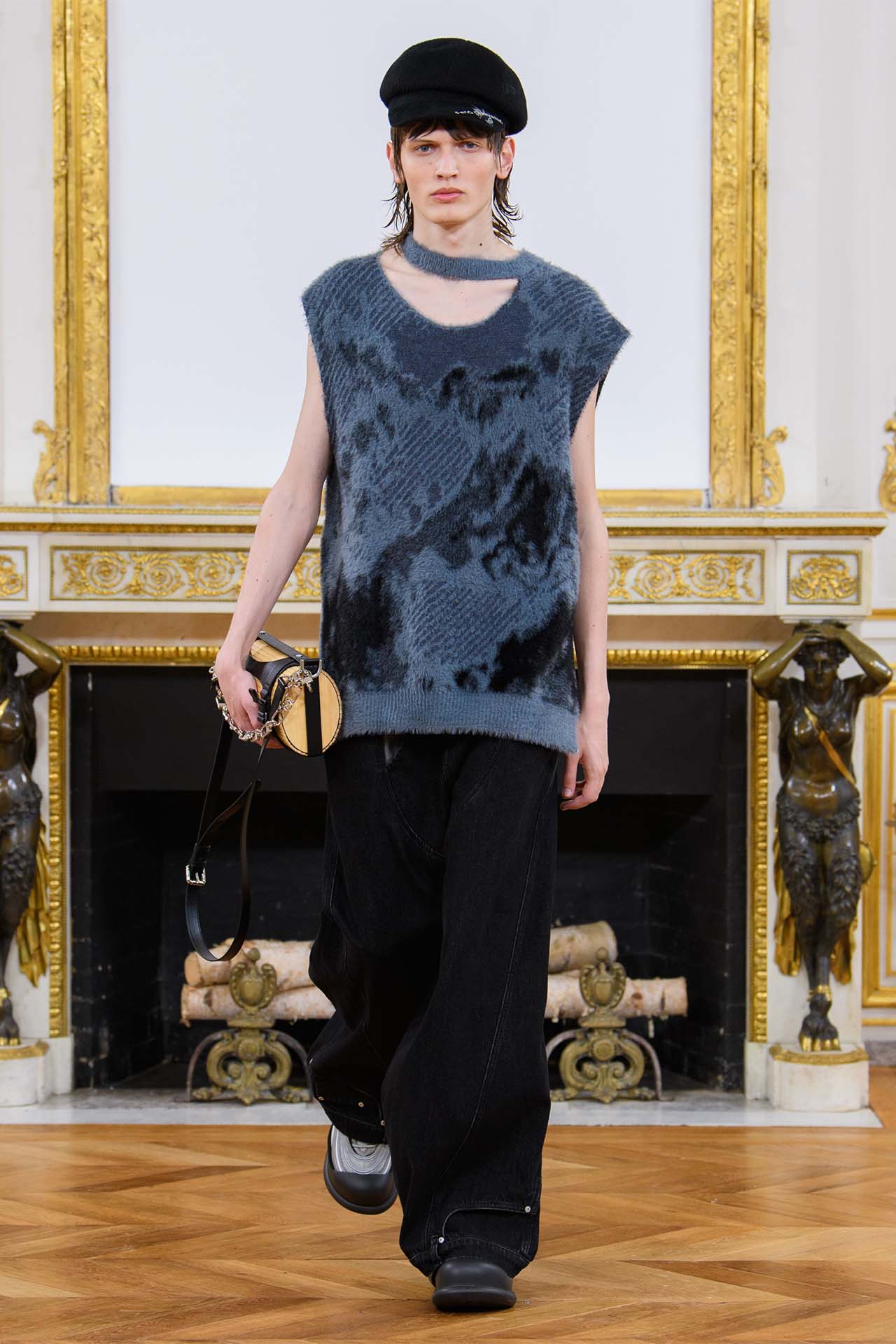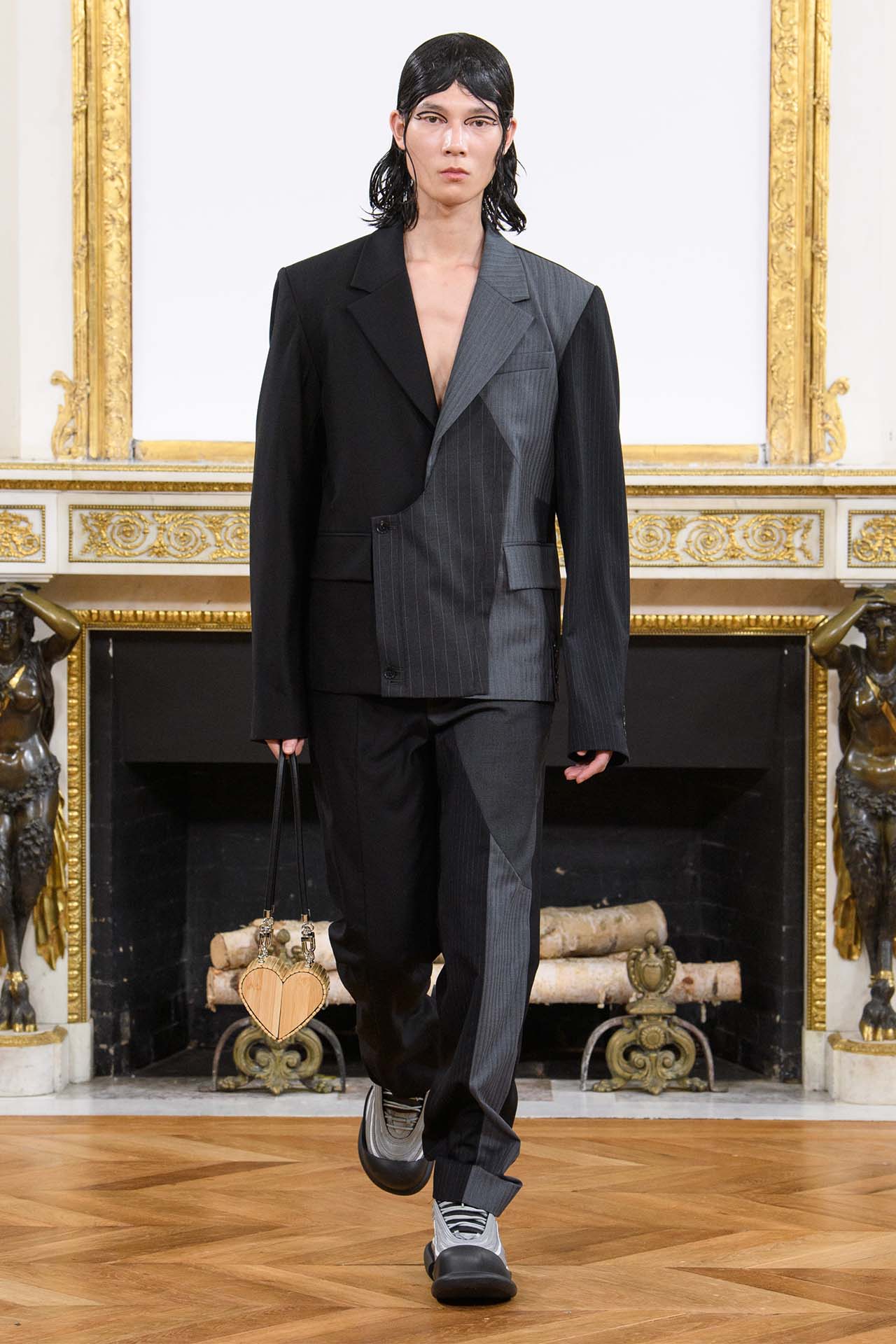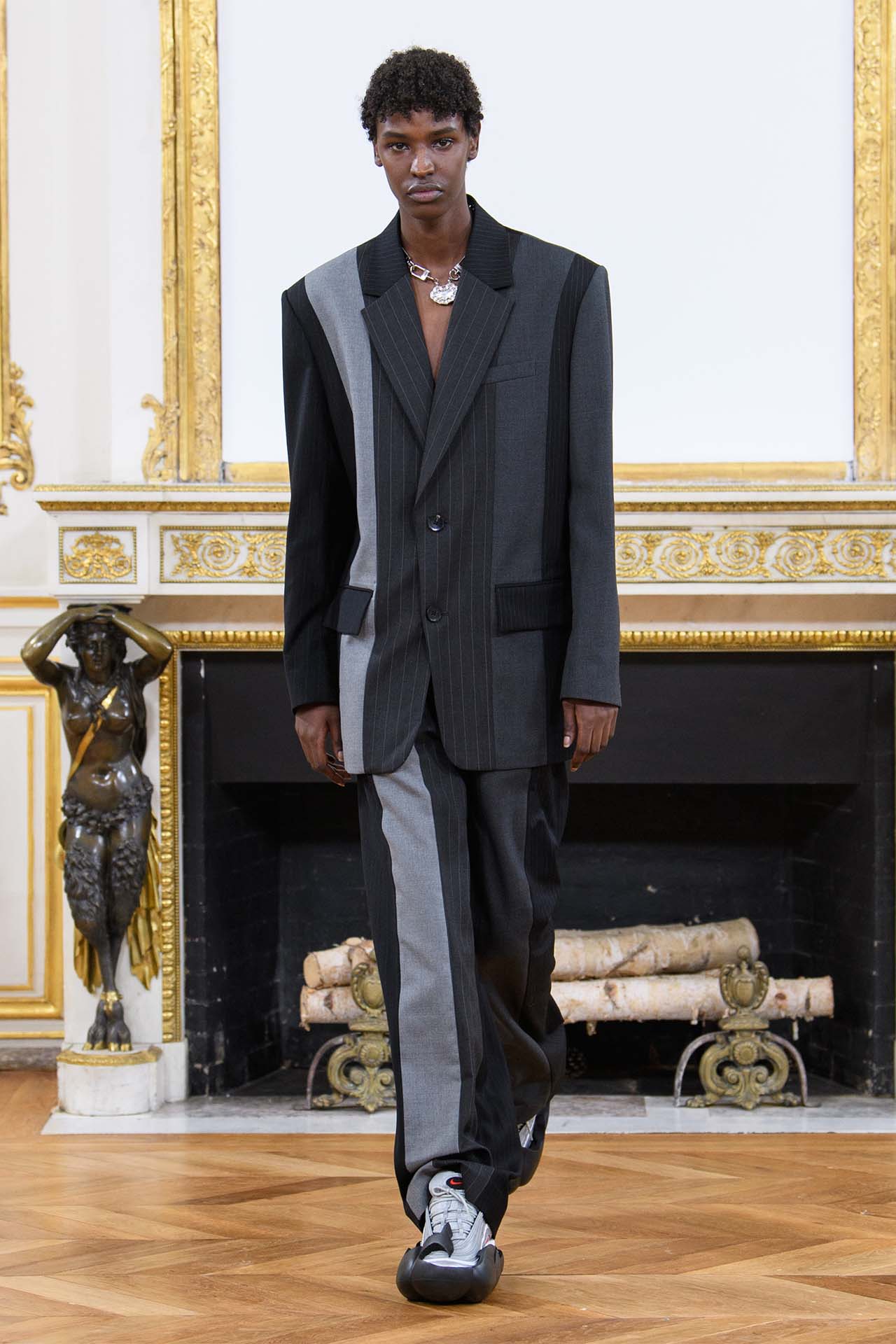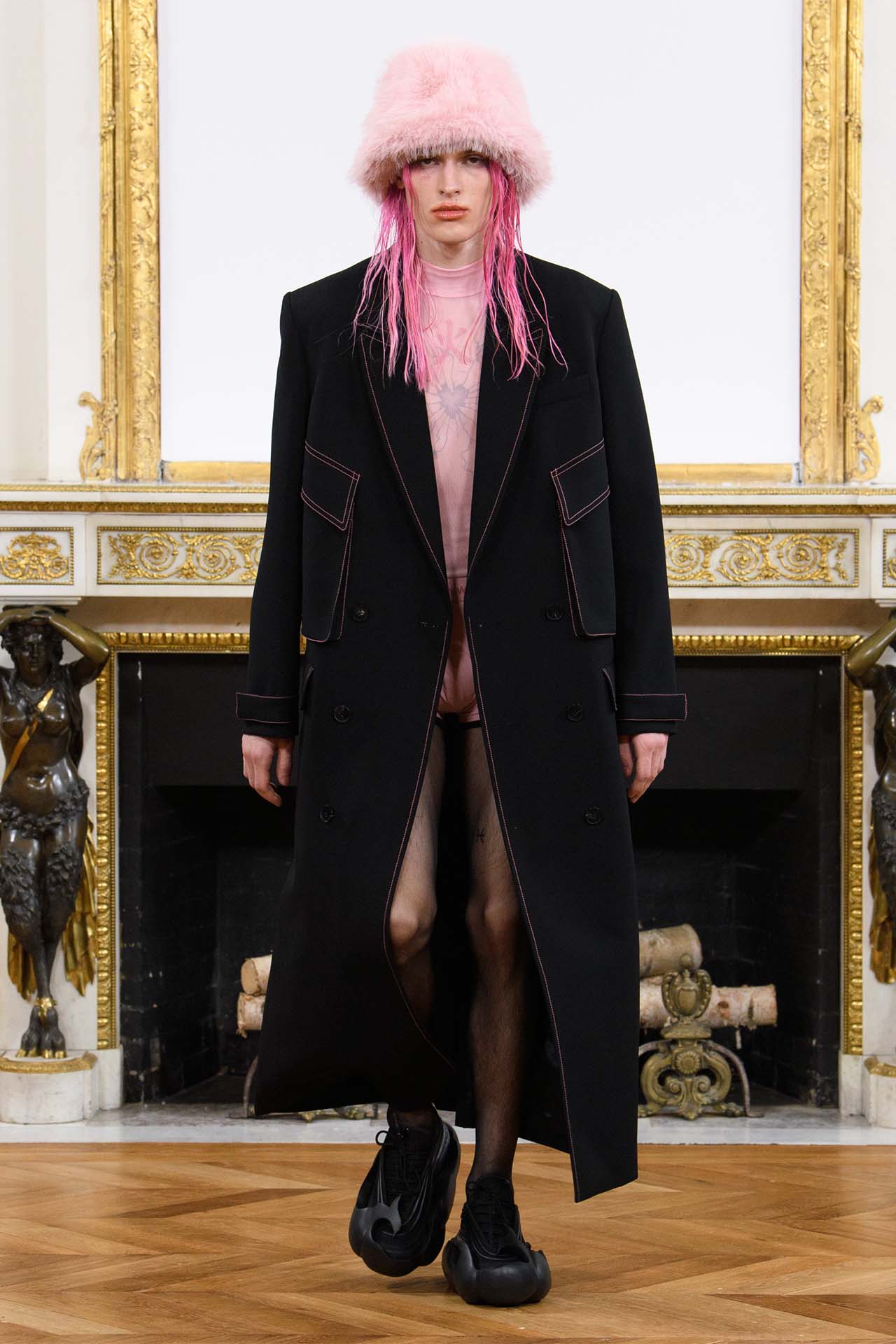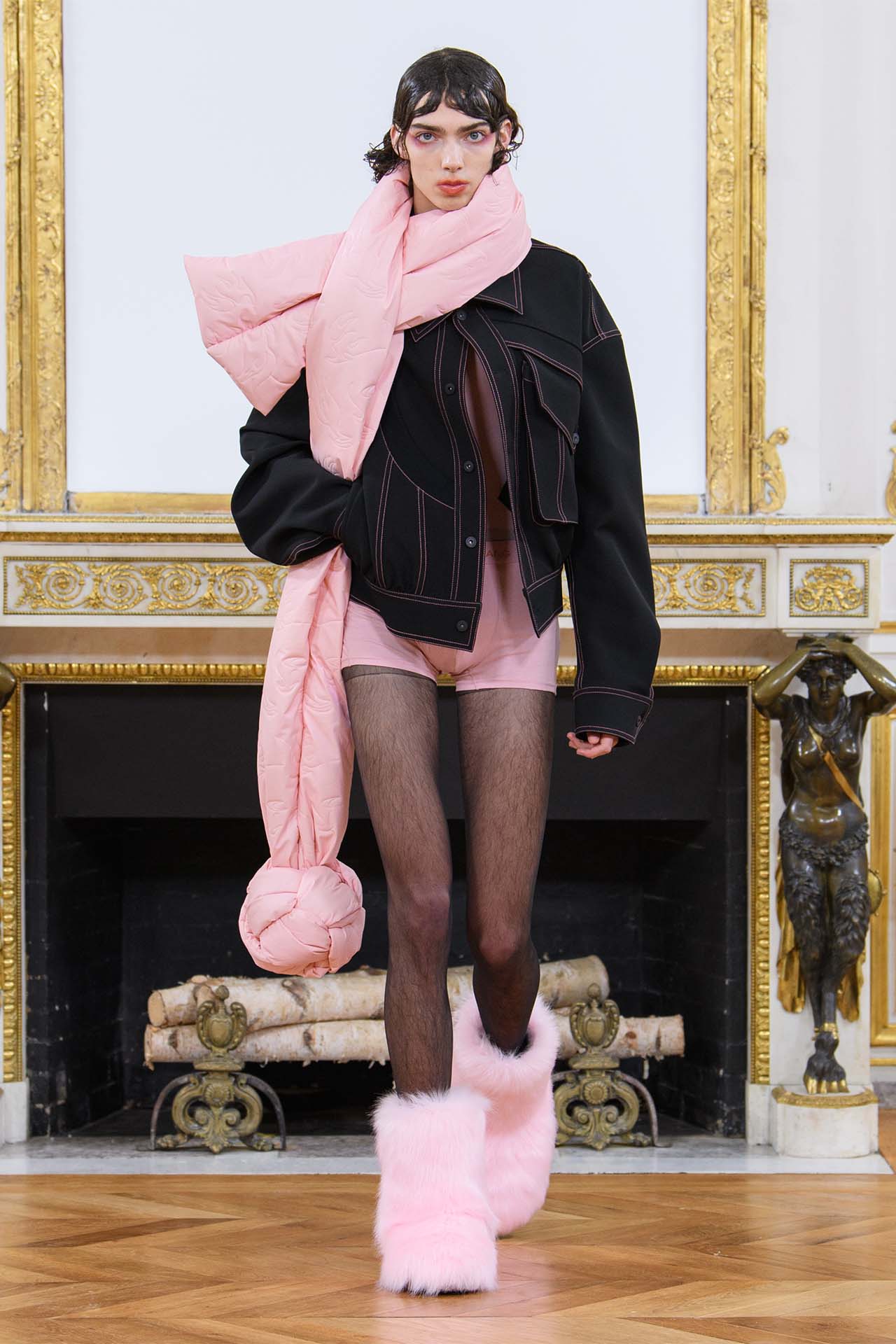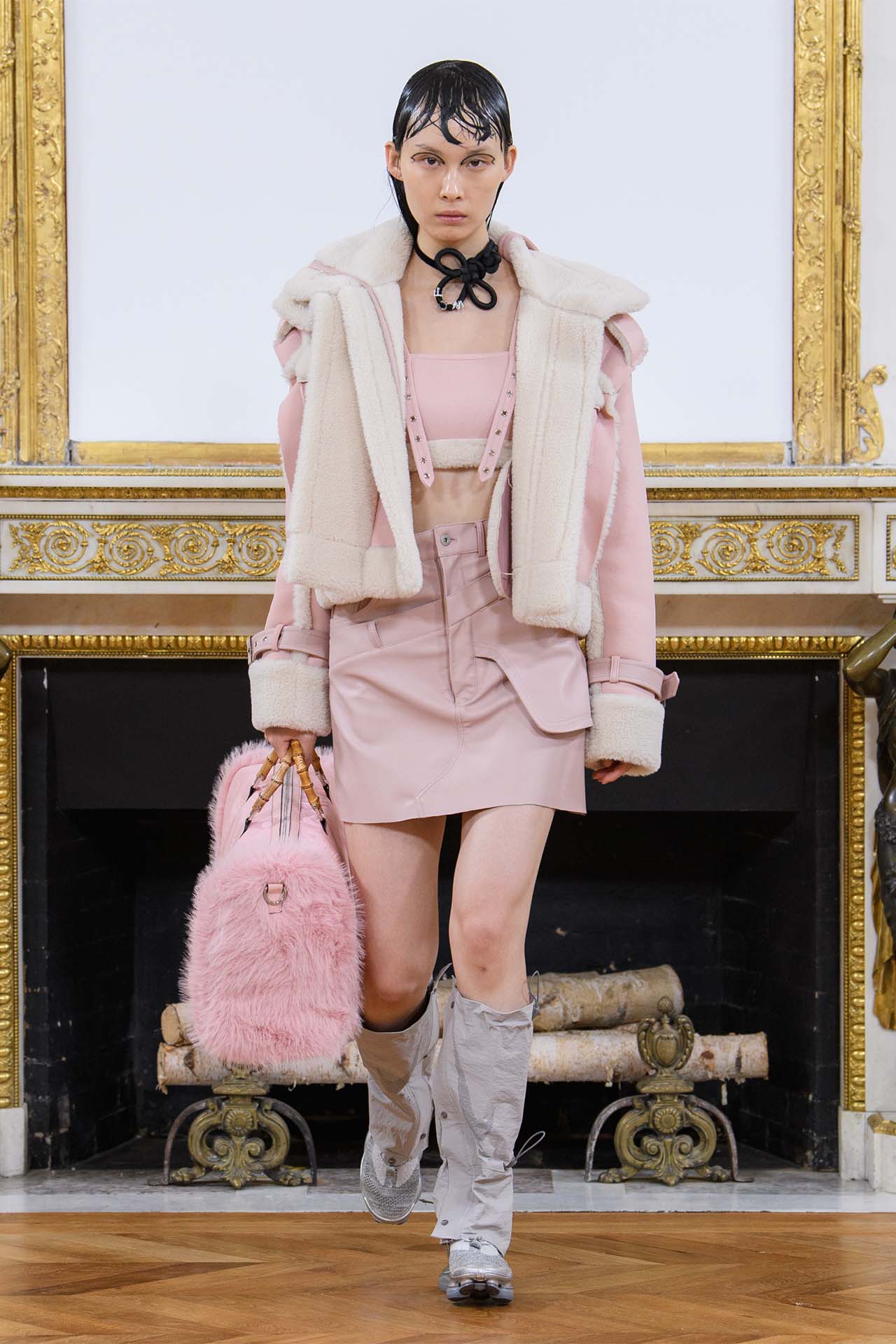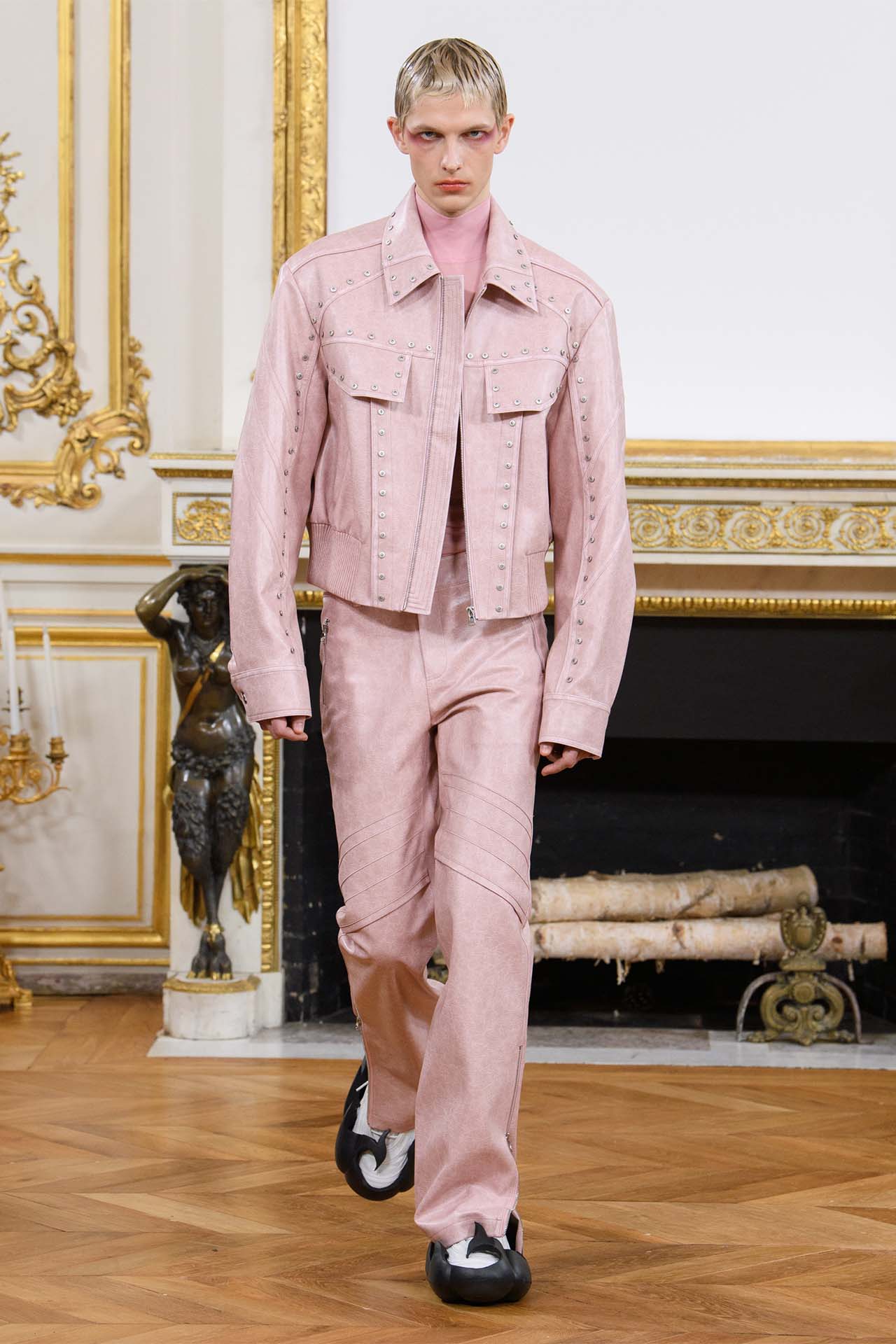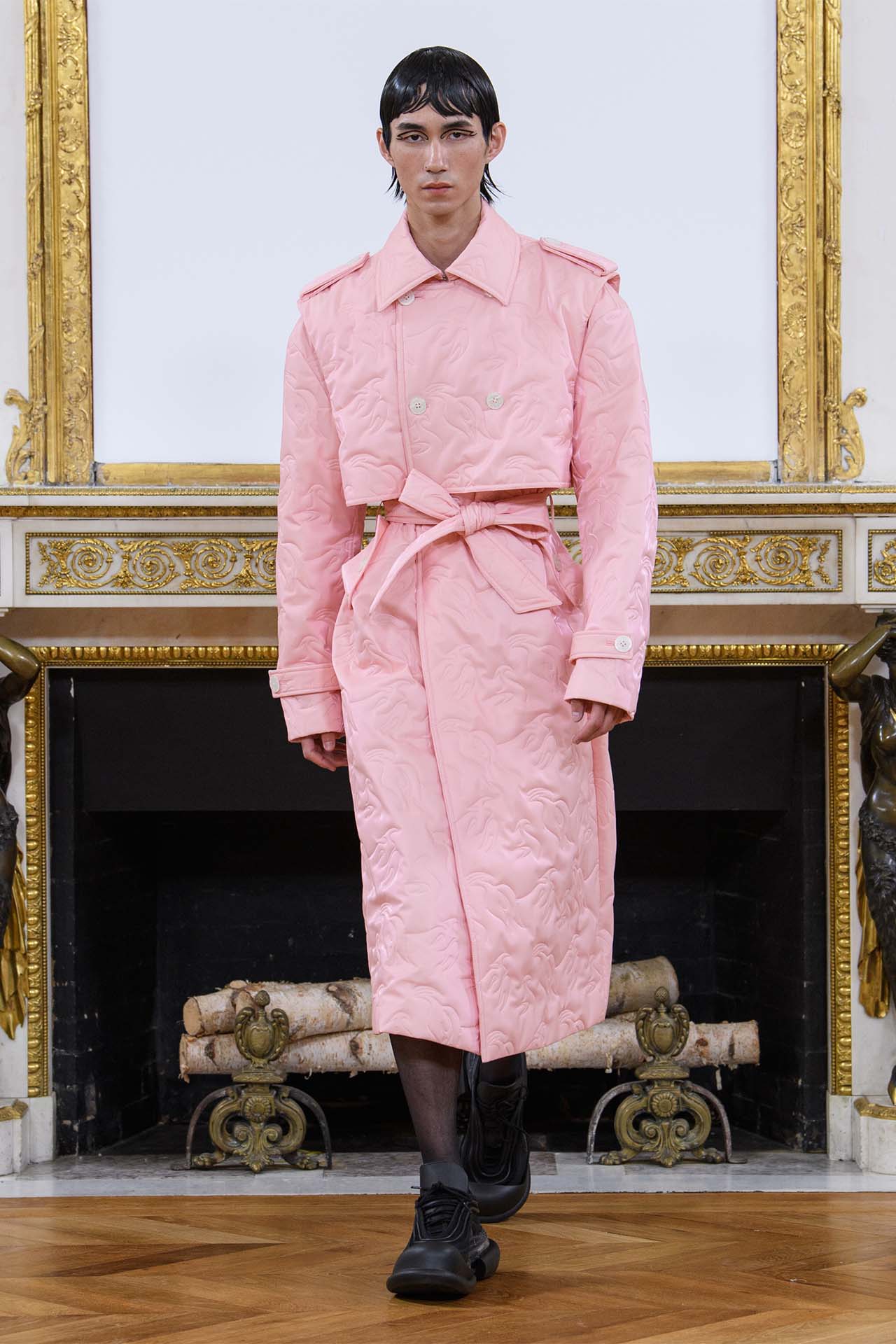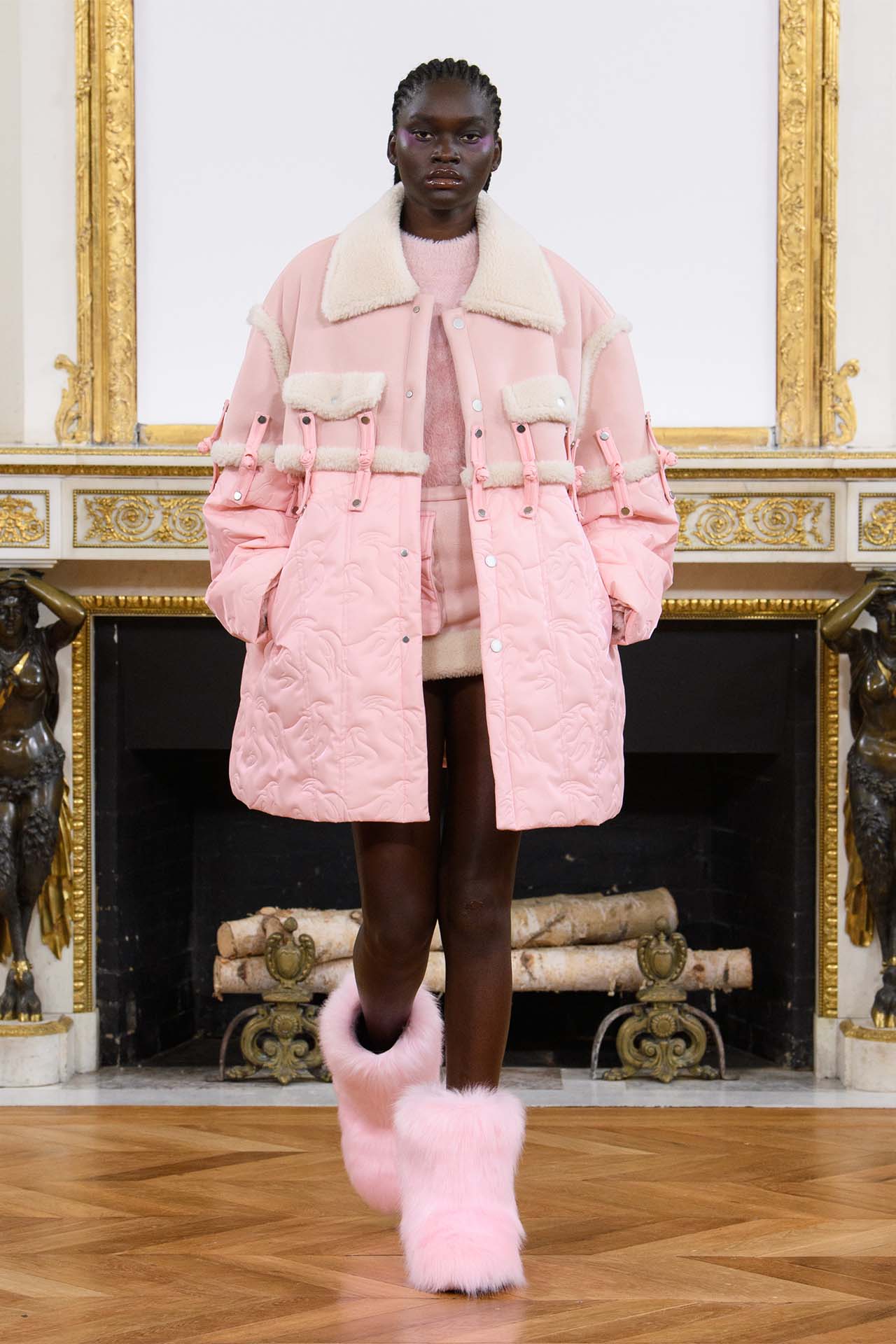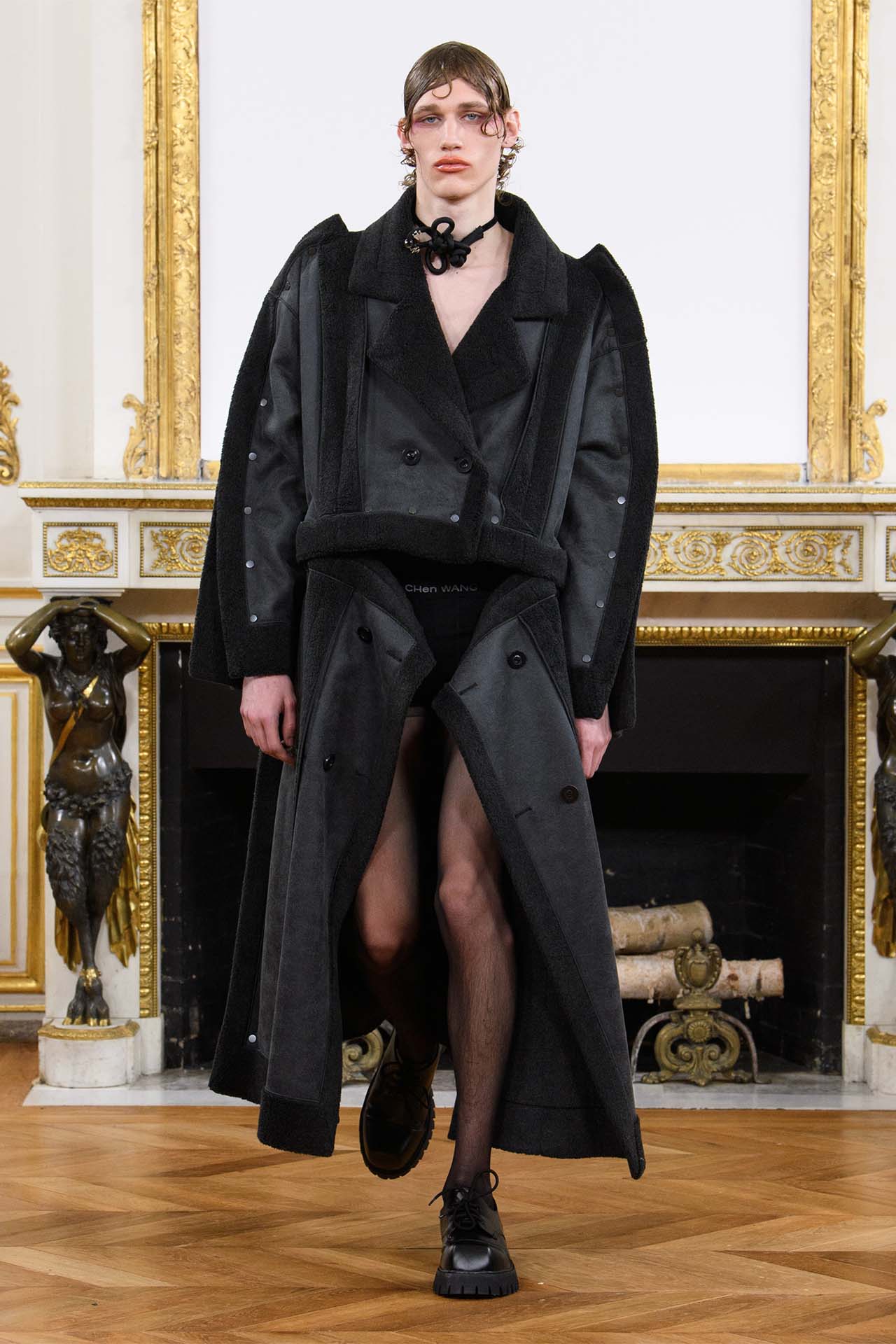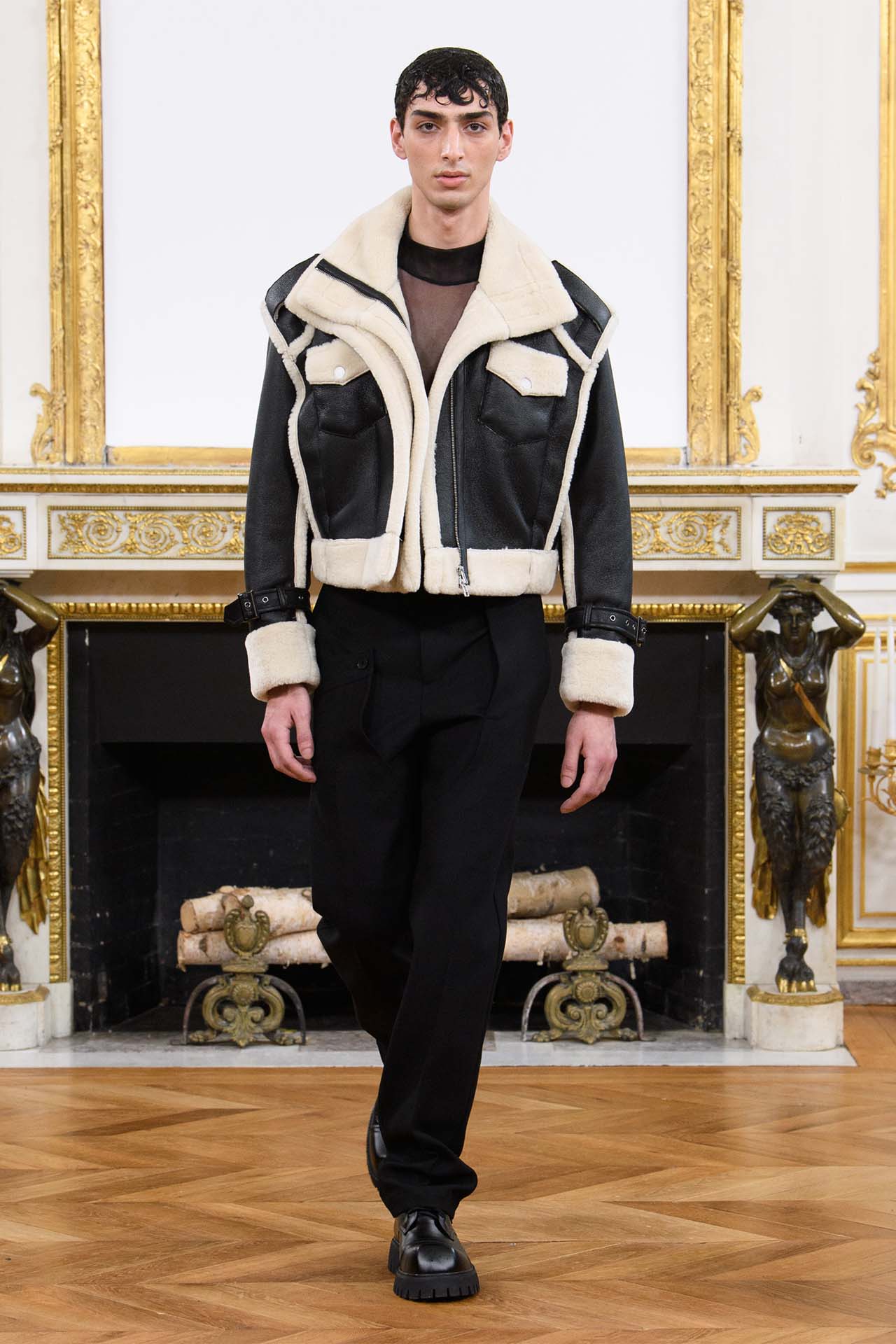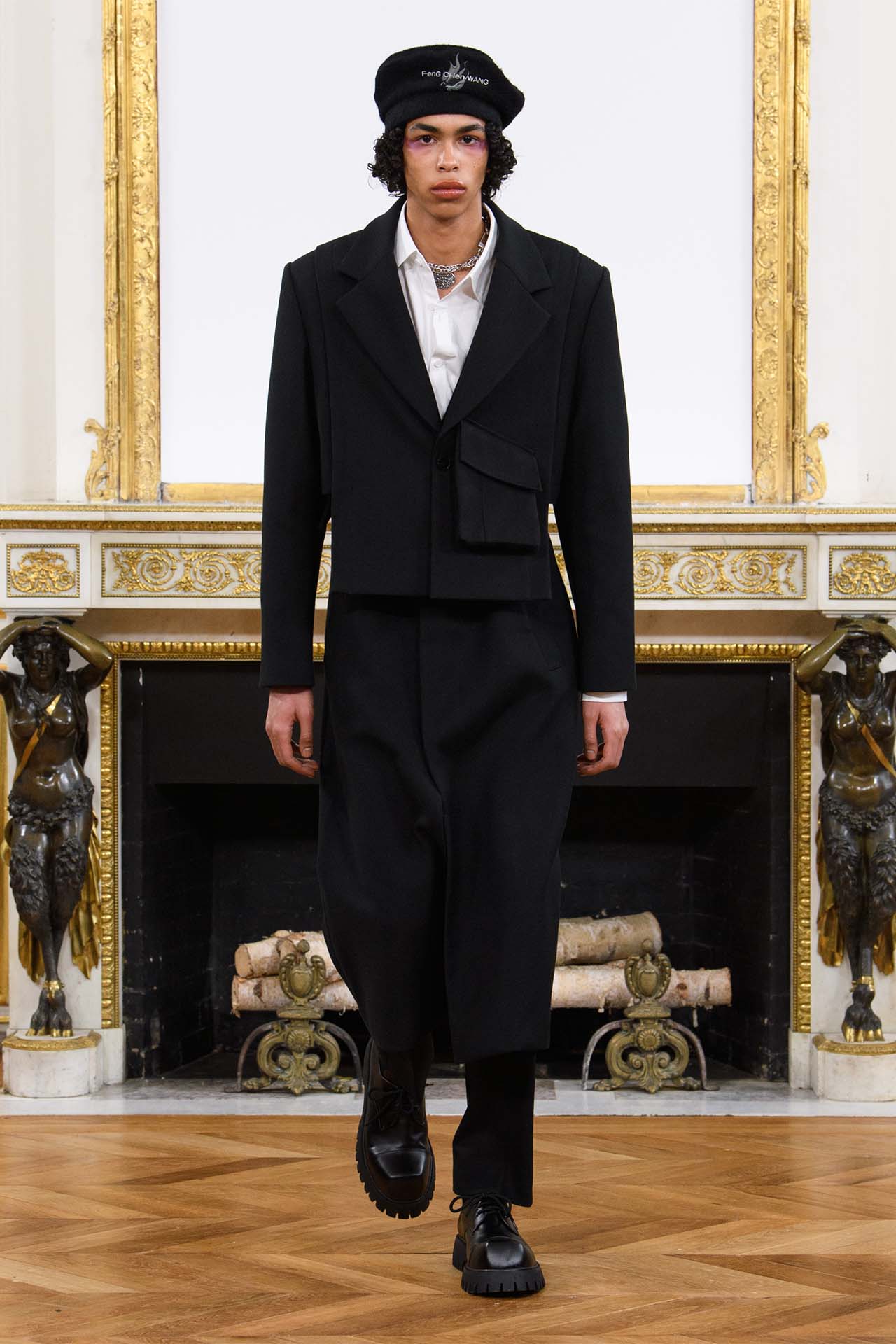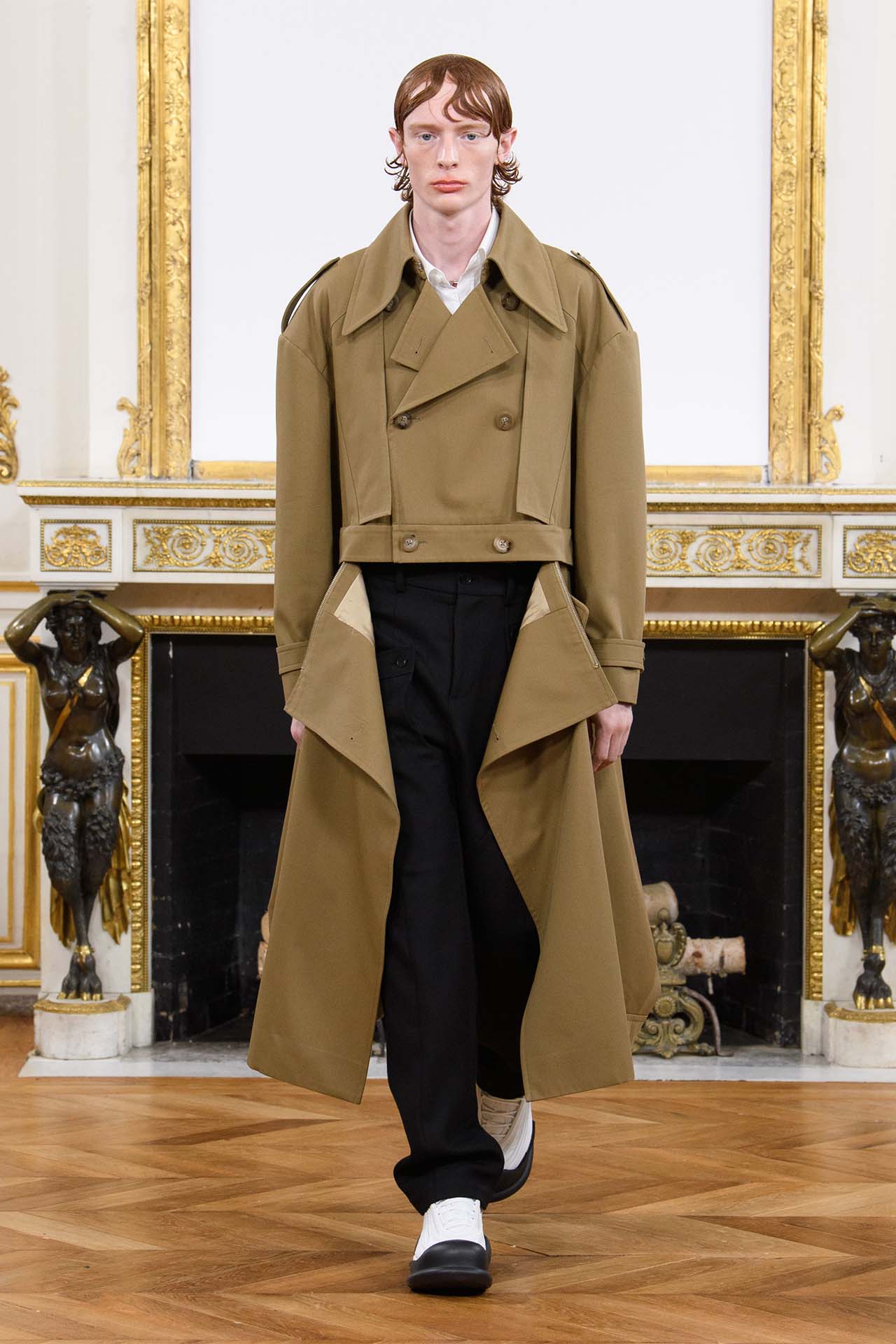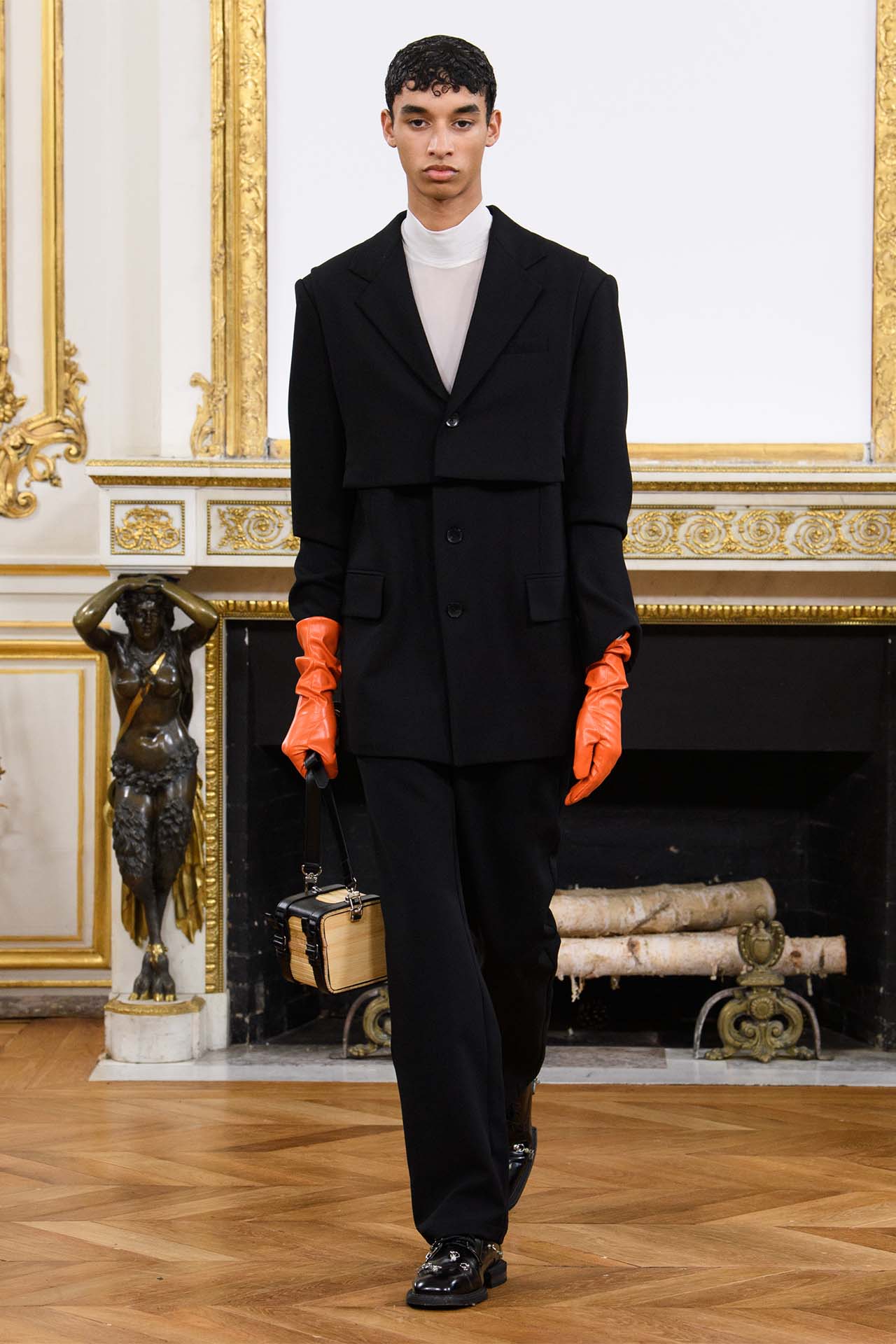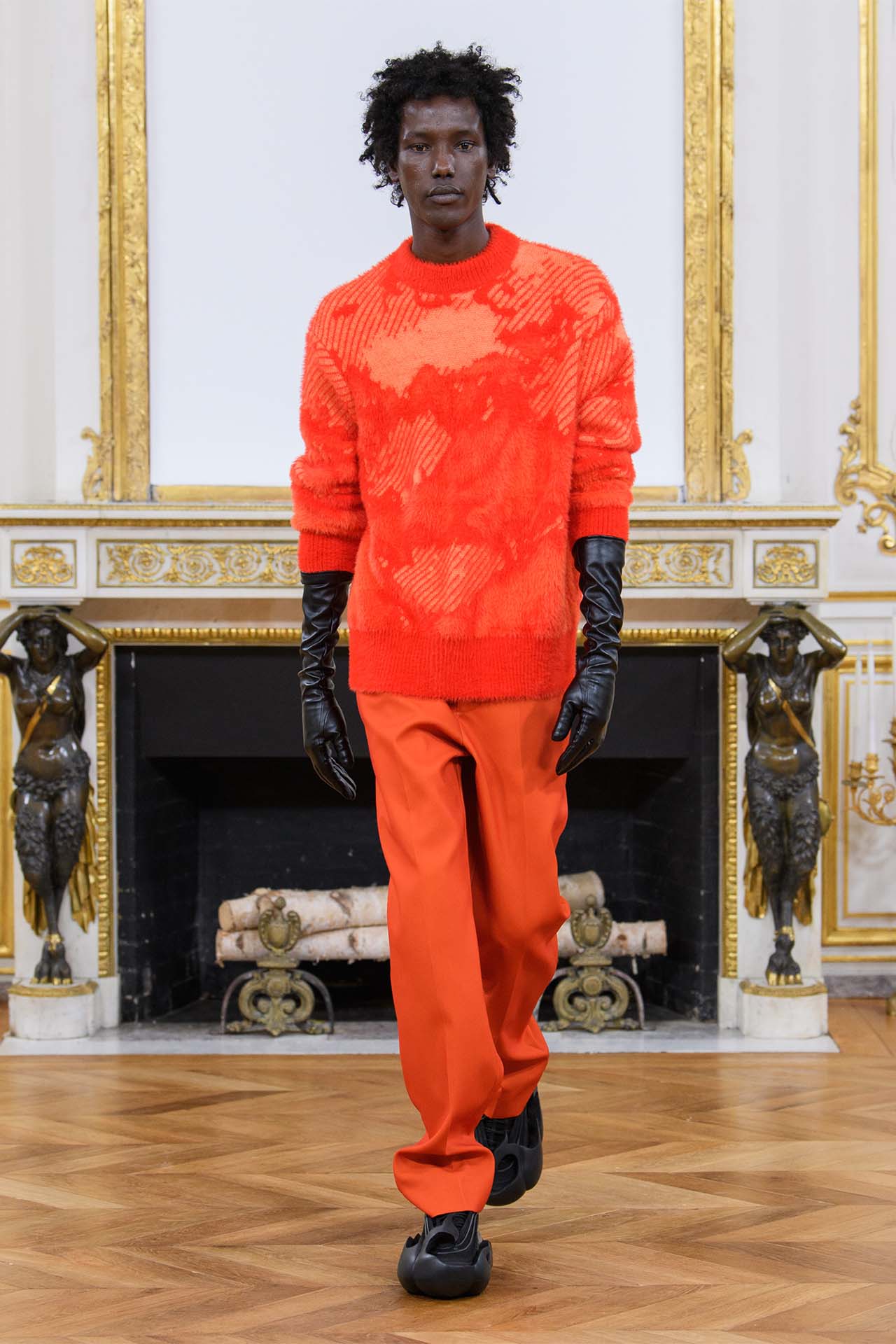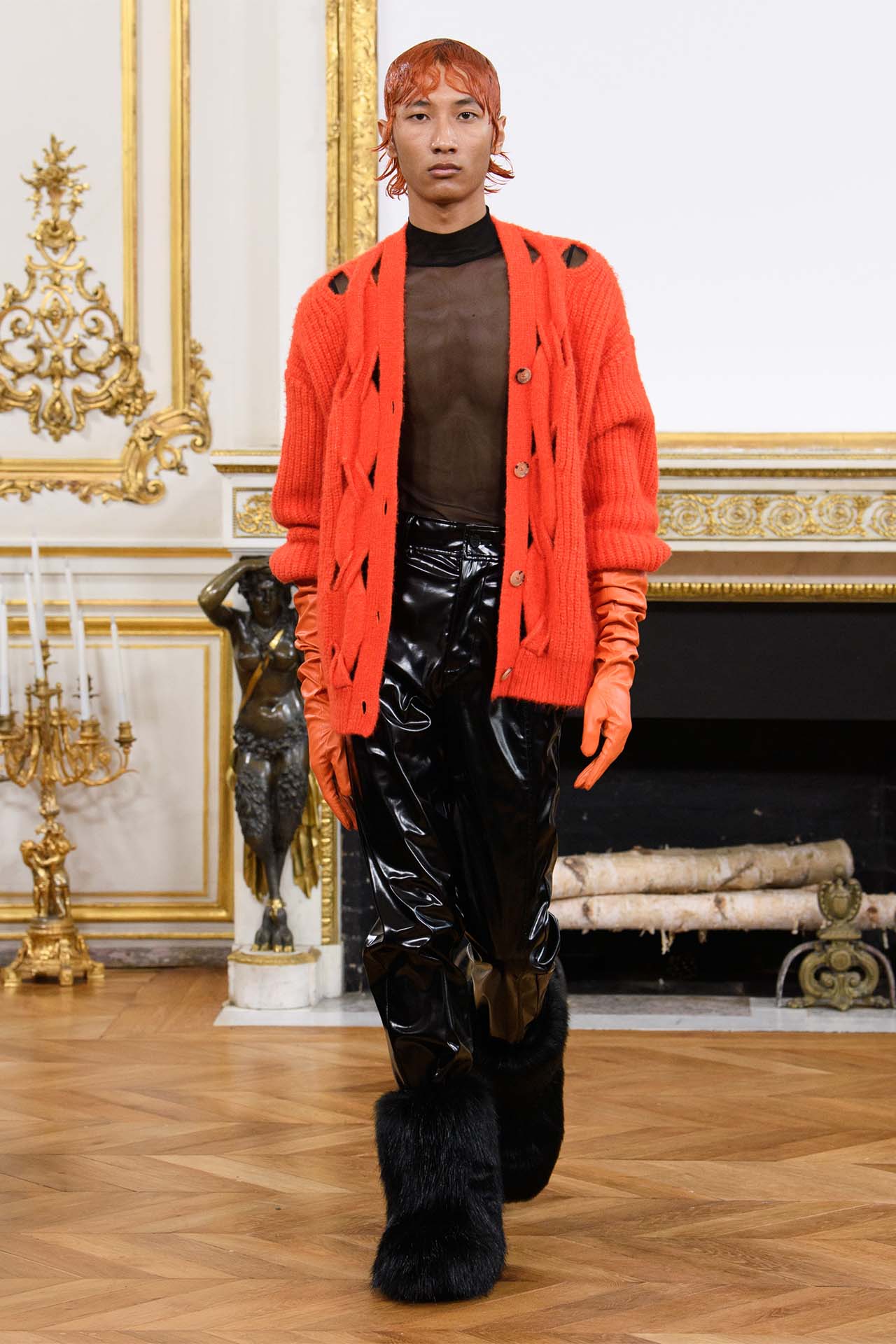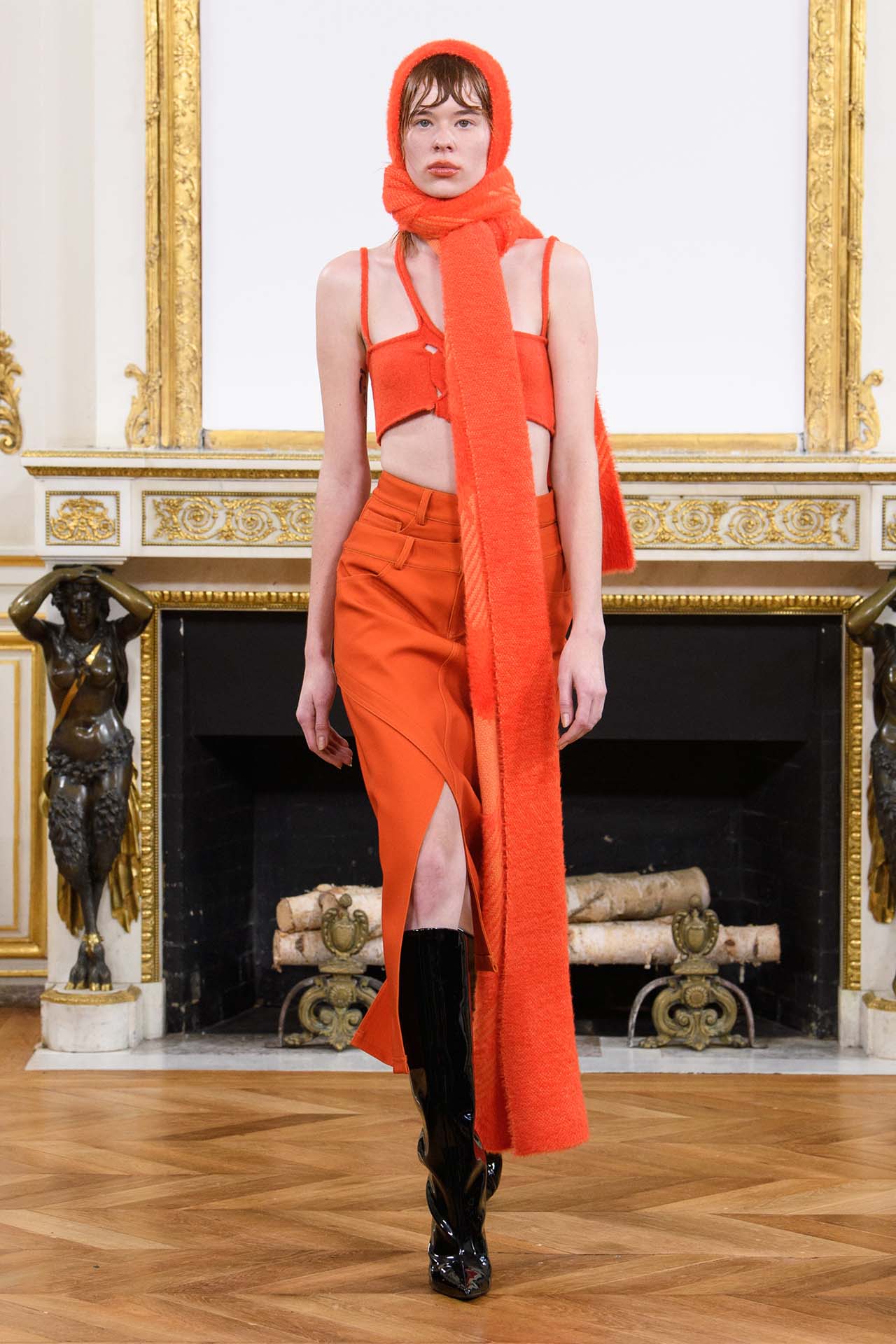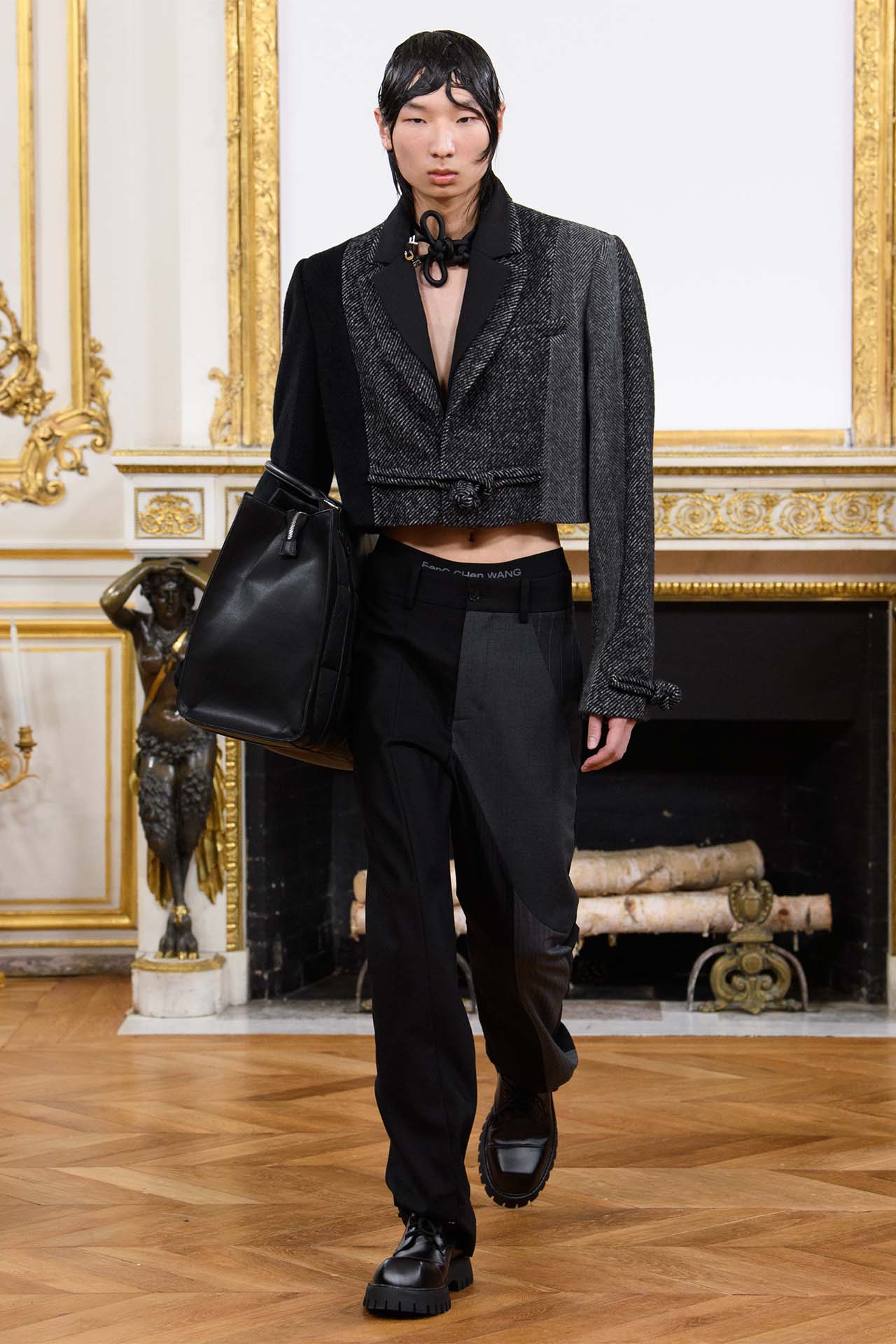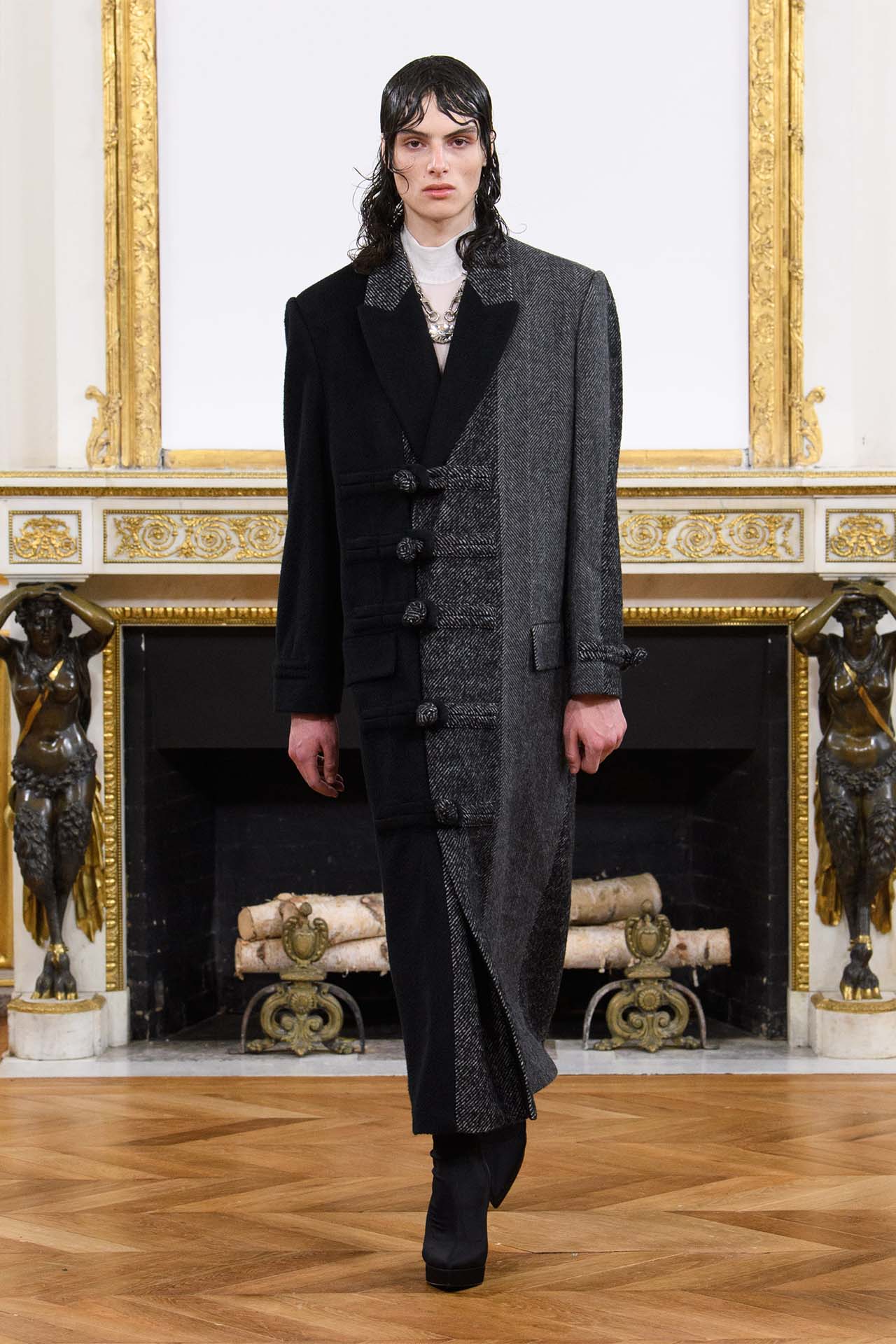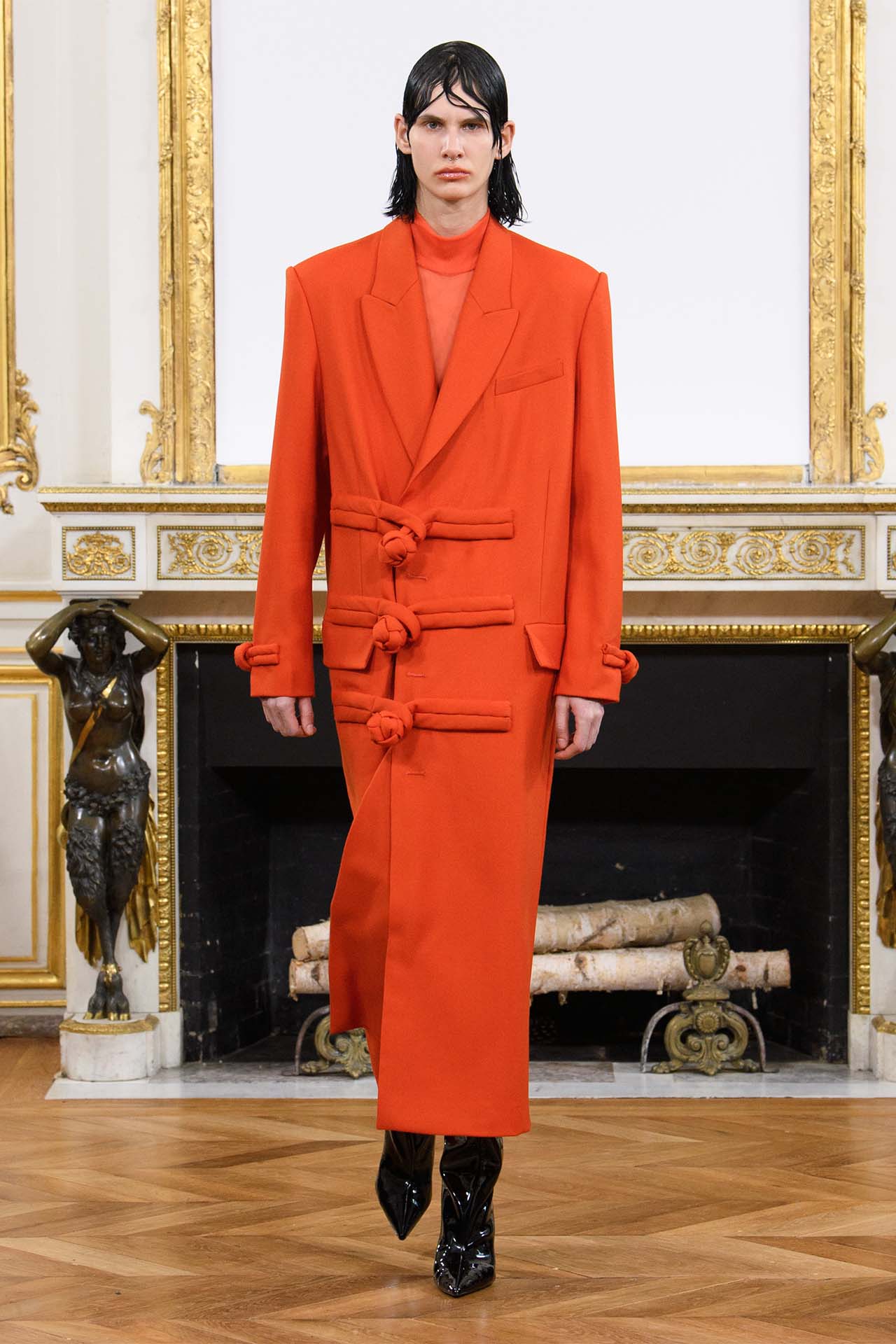 AUTUMN WINTER 2023 RUNWAY
The idea of connection lies at the very heart of Feng Chen Wang's Autumn/Winter 2023 offering – not only between individuals, cultures and communities, but time periods too: the present and the past. 
This season features much of this 'meeting' and 'knitting'; much coming together of disparate parts: from the male and the female, to the eastern and the western; the traditional and the modern. Feng's gender-liberated sensibility was on clear display, as well as her union of traditional Chinese techniques and modern western styles; and her seamless incorporation of tailoring and denim. Even the colour palette follows this alchemical approach – for amid a cool sea of black, white, grey, indigo and khaki, comes a blaze of warm pink and fiery orange. 
This season, Feng was thinking especially about the original Chinese "Hundred Families Robe" tradition, whereby, 100 days after giving birth to a child, parents will visit 100 people – from family members to friends and neighbours – and receive a piece of cloth. These fabric donations are then sewn together into a patchwork robe, a shared symbol of love. Similarly, this season, Wang gathered surplus fabric from seasons past, splicing them together in a way that is not only sustainable but symbolic. 
The phoenix – the Feng Chen Wang signature motif – appears in a printed quilted fabric and a printed denim, which melds old and new with the incorporation of a traditional Chinese landscape painting technique. On this denim, the motif appears as a literal 'blueprint' via the designer's also signature indigo dyeing technique. The motif appears throughout the collection, across clothes, accessories and remade Nike footwear. 
This season introduces the traditional Chinese knot – a precursor to the modern button. Feng vividly remembers her grandmother waking up every single day and fastening the knots on her blouse. Beyond the function of fastening two different parts of a garment, these knots take on the meaning of bringing two separate entities together; knotting together generations, cultures and communities. Wang's own version of these knots appear sized-up, making a statement on coats, jackets, and scarfs. 
In a time when society is more fractured than ever, and we are leading ever more isolated lives, Feng's collection extols the beauty of unity, of community and coming together.
Creative Director: Feng Chen Wang
Stylist: Anders Soelvsten Thomsen
Hair Stylist: Ali Pirpadez
Makeup Artist: Tiziana Raimondo
Casting Directors: Oliver Ross, Manon Sassy
Runway Photographer: Giovanni Giannoni
Runway Videographer: Cassian Thomas De Cruz
Lookbook Photographer: Marc Hibbert
Backstage Photographer: Luke Paige
Backstage Videographer: Syndi Huang
Roving Photographer: Michael Zhao
Music Composer: Ben Brunnemer
Producer: Daniel Hettmann Production
Text: Ted Stainsfield
COLLECTION CONCEPT